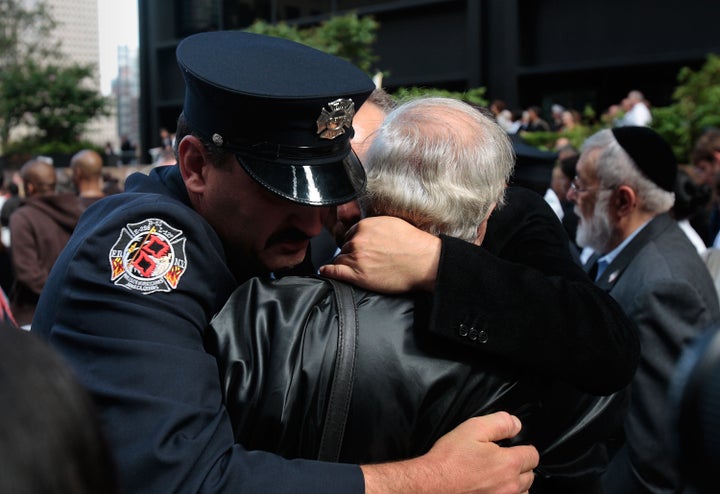 It was about 7:15 a.m. Mountain Standard Time when the phone rang that Tuesday morning, Sept. 11, 2001. We were packing our suitcases, preparing for the second leg of our Colorado vacation. Suddenly, a cry rang out from upstairs. "Turn the television on! Hurry! Something horrible is happening!" As our friends scrambled downstairs, we bumped into one another in the rush to get to the television in the adjacent room. The screen came to life, and the first image I saw was the instant replay of United Flight 175, the second plane, flying into the south tower. I watched in horror over the next hour as the twin towers burned and then crumbled to the ground.
New York City had been my home several years before moving to Massachusetts. I had attended business meetings in those towers, ate at the Windows On The World restaurant. I knew tens of thousands of people worked in those buildings. And the most horrifying thought of all -- I had family and friends who worked there. Despite my psychological paralysis, I kicked into gear, calling the car rental company to see if I could change my local use contract to a one-way, 2,000-mile trip with a drop-off in Massachusetts. All I wanted to do was get home.
As the 10th anniversary of the Sept. 11 attacks on our nation draws near, we find ourselves bombarded with a multitude of "Remembering 9/11" documentaries and special reports featuring images that are seared in our memories. In an online article for the American Psychological Association, Bridget Murray Law wrote, " ... these detailed recollections can be as clear as something that happened yesterday, right down to the dialogue, the weather and even what people were wearing when they heard the news." The return of these frightening "flashbulb memories" and anxiety about the possibility of new terrorist attacks can take a toll on us.
The anniversary of a traumatic event, such as Hurricane Katrina or a personal loss, can be a powerful reminder of earlier reactions to the tragedy, triggering renewed feelings of anxiety, helplessness and sorrow. These reactions can interfere with our daily functioning. Have you noticed any changes in your normal behavior in recent days? Is your sleep less restful and more fitful? Are you having nightmares? Have you been feeling a little more edgy and irritable? Are you more easily rattled?
As the anniversary looms, your stress levels may increase. Recollecting how you managed your strong feelings in the days and weeks following 9/11 can help you cope with any anxiety and distress you are experiencing now. Preparedness is a vital aspect of resilience. The stronger our resilience, the better we are able to cope with these triggers.
So to best understand the myriad emotions this anniversary will stir up in you, think back to Sept. 11, 2001. Recall how you felt in the hours, days and weeks following those horrific events. The following questions can help you to tap into the resilient skills and attitudes that helped you bounce back 10 years ago.
What was your immediate reaction?
Did you immediately reach out to family members and friends?
Did you find yourself glued to the news channels throughout that day and the days that followed? How did you feel watching the news? What emotions are the current replaying of those events stirring in you?
How safe did you feel then? How safe do you feel now? What, if anything, has changed to make you feel safer?
Did you drink more alcohol, smoke more or start smoking cigarettes since the attacks? Are the current replays and discussions about the attacks reviving those behaviors?
Did you participate in any religious or community memorial services?
A key to managing your stress, particularly during the coming days, is in recognizing your body's response to emotional conditions and taking steps to minimize or alleviate the stress triggers. That's why it is vital to be cognizant of the physical signs of stress -- racing heart, feeling jittery, shortness of breath, pounding headache, sweating -- and to minimize your exposure to those triggers. One very simple action you can take to alleviate your body's stress response is mindful breathing -- focusing on breathing in, then breathing out. If you do this with a little concentration you will begin to metabolize the stress hormones surging through your bloodstream and get your body back to homeostasis.
As we honor the memory of the more than 3,000 people who lost their lives in New York City, the Pentagon and in that field in Pennsylvania, we must remember to honor ourselves, too. Do so by embracing your resilience, by building and strengthening your resilient skills and attitudes each day.
Celebrate the enduring strength of our national psyche and the human spirit by focusing your anxiety in a positive direction. Participate in a community clean-up or a Habitat For Humanity build, help an elderly neighbor with chores. Pulling together is a classic coping mechanism. In central Massachusetts where I live, we are having another community-wide tornado cleanup blitz on Sept. 11 to help those affected by the June 1 tornadoes that ravaged 19 central and western Massachusetts communities.
"What is required of us," wrote Rainer Maria Rilke, "is that we love the difficult and learn to deal with it. In the difficult are the friendly forces, the hands that work on us. Right in the difficult we must have our joys, our happiness, our dreams: there against the depth of this background, they stand out, there for the first time we see how beautiful they are."
Rita also conducts stress management and resilience-building workshops provided by WorkTerrain, a division of KidsTerrain, Inc. and funded by the Massachusetts Dept. of Industrial Accidents, and she is actively involved with Maine Resilience, a program coordinated with the effort, materials and information offered by the American Psychological Association and the Maine Psychological Association through their Public Education Programs. Rita is an Associate Member of the International Positive Psychology Association (IPPA). Visit her online at www.ritaschiano.com and Red Room, where you can read her blog.
Related