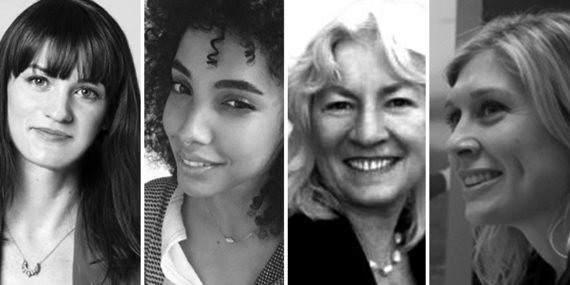 The most successful people in life display it after suffering a major setback. Top athletes need it to overcome a crushing defeat. Teenagers use it to get over a high school crush. The "it" is called resilience.
Resilience is defined as the capacity to recover quickly from difficulties. It's a form of mental toughness and focus that requires discipline. Playing sports in grade school, I first learned the significance of practicing, positive thinking, and the importance of being a good teammate.
But as an adult, I had to delve into how to apply resilience to bigger, life-altering challenges. There was no road map when I lost my husband to sudden cardiac arrest. Resilience is the process of moving forward--even when you may not feel like doing so.
I channeled the grief of losing my husband into redefining my life's purpose by starting a foundation in his name, the Ucal McKenzie Breakaway Foundation, which teaches Boston city youth about life and healthy living through soccer. I branched out further when I left consulting to build a business to design apparel products that support the foundation's mission.
Experts say resilience can be learned and developed by anyone. Athletes train their bodies and mind. You can do to the same to develop resilience. Resilient people are able to effectively balance negative and positive emotions to achieve a goal.
I have found inspiration and wisdom in the stories of individuals who have faced tremendous adversity and did not give up. I remember reading about Marie Tillman losing her husband Pat Tillman, an NFL player who passed away during his service in Afghanistan. Marie experienced an enormous loss. But she has gone on to find love again, grow her family, and build a new business.
Marie illustrates that going through adversity can help build confidence in overcoming future challenges in life. Marie says, "I've found that many of the difficulties I've faced in my personal life have helped me in business. It's an understanding that things are sometimes hard and don't go your way but you still have to get up every day, push forward and try."
Resilience is hard work. Marie states, "There were many times along the way when I didn't know if I would make it but struggling through and getting to the other side has given me a sense of calm. There's no easy path it's the day-to- day step by tiny step that takes you somewhere new."
Resilient people are able to find self-worth in their life, whether it is their career, family, friends and faith, so that when one area presents a challenge, there are other positive areas to draw strength from.
Nikisha Brunson is co-founder and editor-in- chief of UrbanBushBabes.com, a lifestyle website celebrating natural hair, arts and culture. It has become a fast-growing platform for women of color with over 350,000 weekly visitors.
Nikisha describes her childhood and formative years as a struggle--a dysfunctional family upbringing that left her damaged. She dug deep into her spirituality, prayer, and the strong example her mother set.
Nikisha says, "The first time I felt I demonstrated resilience was when I was pregnant with my son Jaden at 16 years old. Once I found out I was pregnant, I made the decision to make sure I was going to be a parent my son could look up to. So I graduated with honors in high school and went straight to university at age 17, getting my BA in psychology and my Master's degree in teaching. I never stopped trying to better myself mentally, physically, and spiritually."
How you think about a problem can have huge effects on your ability of processing what the challenge in front of you is. Studies have shown that one of the central elements of resilience is perception and a mind over matter concept.
Do you think of an event as traumatic, or as an opportunity to learn and grow? Judy Wicks is an entrepreneur, author, speaker, and mentor. I had the pleasure of hearing her speak at a conference a few years ago. She seeks to build a more compassionate, environmentally sustainable and locally-based economy. She started the popular restaurant White Dog Café in Philadelphia.
Judy shares her thinking of positive outcomes as a response to adversity makes all the difference. Judy mentions, "The first time I experienced what I think of as resilience is when the clubhouse I built as a ten-year- old child was damaged by some mean-spirited boys and I rebuilt it bigger and better than before."
Later in my business dealings, "I was cheated out of an agreement to become an owner of the business that I had run for ten years. Rather than stewing about it, I started over again and opened a new restaurant down the street that soon became more popular than the one I was forced to leave", said Judy.
Resilience is a life-long process of dealing with life's ups and downs. If you focus on your long-term goals, and adjust when life changes the plan, you too can build resilience in your life.