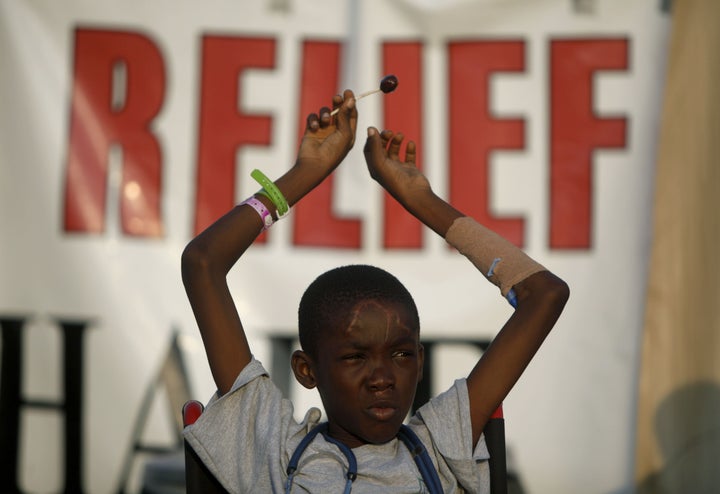 In May, four months after Haiti was struck by a massive earthquake, we searched for signs that life in Port-au-Prince had returned to normal. What we found was that the rebuilding process was in many ways a building process for so much of the country's infrastructure.
So, "returning to normal" was hard to define, but we did discover a few things that are quintessentially Haitian -- for good or for ill.
Like many other Caribbean and Third World countries, Haitians have created a cheap, efficient mode of urban mass transit. Colorful shared taxis called tap-taps transport Haitians around the quake-ravaged capital of Port-au-Prince. The vividly designed vehicles maneuver around UN convoys and massive craters in the street.
The little ones are souped-up pickup trucks with benches in the back. And the big ones are cartoonish autobuses. Everywhere you look at rush hour, there's a tap-tap overflowing with commuters. Owners pay $1,000 to outfit petite tap-taps and twice as much for the large ones.
Meet a mild-mannered tap-tap driver, Derrick Darius, whose vehicle has Wyclef Jean on the back, and hear from the artists who paint these windows unto the Haitian soul:
Another video that we produced deals with a more serious subject: security. There are 19 countries that contribute to the UN peacekeeping force in Haiti, but we thought Jordan's experience was particularly compelling.
Of Jordan's 4,000 blue berets around the world, 540 are in Haiti. Along with an army battalion and two police units, Jordan sends a highly-disciplined SWAT team. This MINUSTAH contingent recreates Jordan in the Caribbean.
After six years in Haiti, the Jordanians lost three men in January's earthquake. One recent addition to the force -- deputy commander Nader al-Qudah -- is proud to represent Jordan on his 4th peacekeeping mission.
Hear how the Jordanians deal with dehydration and dengue fever, while restoring normalcy to a country longing for stability:
In addition to security problems and economic malaise, one of the biggest challenges of the post-quake era has been to find decent housing for the millions whose homes were severely damaged.
A UN-led relocation brought 7,500 of the most vulnerable homeless Haitians -- less than 1% of the total Internally Displaced Persons -- to new planned camps outside Port-au-Prince, like Corail and Camp Hope.
But the vast majority of IDPs still live in makeshift tent cities with limited services like Petionville Golf Club and Belleville. The United Nations Office for the Coordination of Humanitarian Affairs aims to construct 130,000 temporary wooden shelters -- but the hurricane season has already begun.
The newer camps are clearly a huge improvement from the chaos and despair of makeshift tent cities. However, in the poorest country of the Americas, meeting urgent humanitarian needs is very different from long-term development:
REAL LIFE. REAL NEWS. REAL VOICES.
Help us tell more of the stories that matter from voices that too often remain unheard.