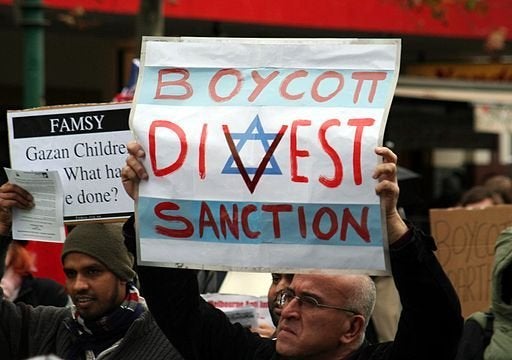 A disturbing number of Congressional Democrats have joined their Republican counterparts in co-sponsoring a bill (S. 720/H.R. 1697) effectively criminalizing support for boycotts against Israel or companies doing business in the country or its occupied territories.
If passed, the legislation would make it a crime to support or even furnish information about a boycott directed at Israel or the Israeli occupation supported by any entity of the United Nations, the European Union, or other "international governmental organization."
And the penalties are draconian, including fines of up to one million dollars and up to twenty years imprisonment.
Introduced by Representative Peter Roskam, Republican of Illinois and Democratic Senator Ben Cardin of Maryland, the bill thus far has 46 Senate supporters, including fourteen Democrats; and it has 63 Democratic cosponsors in the House.
The bill's House co-sponsors include Minority Whip Steny Hoyer of Maryland, Joseph Kennedy of Massachusetts, Colleen Hanabusa of Hawaii, and California Representatives Ted Lieu, Adam Schiff, Jimmy Panetta and Eric Swalwell. Senate support supporters besides Kirsten Gillibrand and Democratic leader Chuck Schumer of New York, Ron Wyden of Oregon, Richard Blumenthal of Connecticut, Richard Bennet of Colorado, and Maria Cantwell of Washington.
The American Civil Liberties Union has come out strongly in opposition, saying the bill "would impose civil and criminal punishment on individuals solely because of their political beliefs about Israel and its policies"; that it would "include penalties for simply requesting information about such boycotts"; and therefore "seeks only to punish the exercise of constitutional rights."
David Cole, the ACLU's national legal director and a Georgetown law professor, says the bill would "prohibit even the act of giving information to a U.N. body about boycott activity directed at Israel." The bill "threatens severe penalties against any business or individual who does not purchase goods from Israeli companies operating in the occupied Palestinian territories and who makes it clear—say by posting on Twitter or Facebook—that their reason for doing so is to support a U.N.- or E.U.-called boycott."
As a result of pressure from critics, some of the bill's supporters may be backing down. Confronted about her support for the measure by constituents attending a town hall on July 31, Senator Gillibrand stated that she had not understood the implications of the bill and would urge them to rewrite it to be sure it "does not apply to individuals" and only targets companies.
Boycotts have been used for decades to target governments which engage in occupation and repression and corporations which support them. Such campaigns have at times been successful in forcing policy changes, and have drawn opposition from Washington. But this proposed bill is unprecedented and particularly dangerous.
For forty years, it has been illegal for U.S. companies to honor the Arab League boycott of Israel—and no U.S. company does so. Disturbingly, the proposed legislation redefines "Israel" to include "territories controlled by Israel"—that is, the West Bank and other Arab territories under Israeli occupation. 
Even moderate pro-Israel groups like J Street—which strongly opposes boycotts targeting Israel—has come out in opposition due to the bill equating "Israel" with the occupied West Bank. The group says the bill would "undermine decades of U.S. policy toward the Israeli-Palestinian conflict, bolster the settlement enterprise and harm the prospects for a two-state solution," in addition to "giving Attorney General Jeff Sessions the power to prosecute any American who chooses not to buy settlement products for a felony offense."
The bill appears to target Presbyterians, Congregationalists, Quakers, and other religious groups as well as colleges, labor unions, and others who have supported or could potentially support boycotts or call for divesting from companies supporting the occupation and settlements—even if they do not endorse boycotts of Israel itself.
The bill is an apparent response to resolutions passed last year by the United Nations Human Rights Council (UNHRC) over U.S. objections that addressed Israeli violations of international humanitarian law in the occupied territories and called for companies to "avoid, identify, assess and address any adverse human rights impacts related to their activities."
The bill text states that, in so doing, "the UNHRC targeted Israel with a commercial boycott" even though there is actually no mention of a boycott in these resolutions. And while the  UNHRC resolutions re-affirm Israel's right to exist, the bill accuses UNHRC of "systematic, politically motivated assaults on [Israel's] legitimacy designed to stigmatize and isolate Israel internationally."
Interestingly, Congress has had no objections to the UNHRC's far harsher criticisms of domestic human rights abuses by Syria, Sudan, and other countries not allied with the United States.
Stephen Zunes is a professor of politics and coordinator of Middle Eastern Studies at the University of San Francisco.
REAL LIFE. REAL NEWS. REAL VOICES.
Help us tell more of the stories that matter from voices that too often remain unheard.