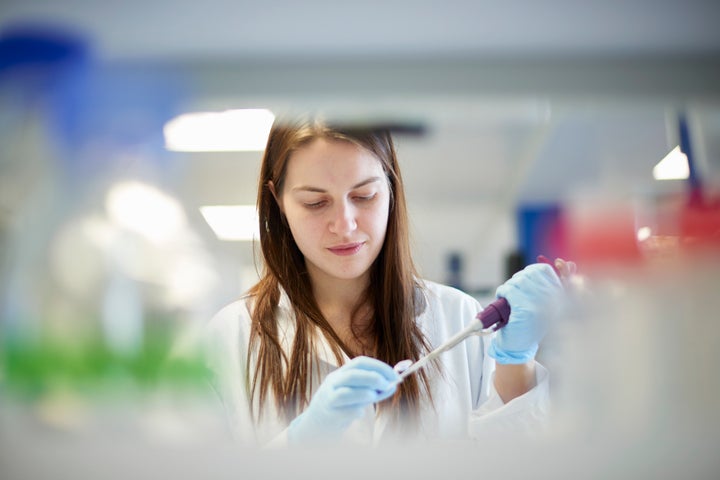 As Americans hope for a year of health and prosperity, it's an opportune moment to consider a resolution that can deliver both wishes: the nation should commit to a dramatic acceleration of innovation in the life sciences that can bring us closer to curing diseases and saving more lives.
New capabilities in genomics, computer engineering and big data analysis are converging to open doors for scientists, placing them within reach of achieving breakthroughs in customizing diagnoses, therapies, medicines, and even replacement body parts that can improve health outcomes by making personalized medicine a true reality.
Even so, progress has been frustratingly incremental. Ten years ago Steve Jobs introduced the iPhone, a technological wonder that revolutionized the everyday lives of people around the globe, and Apple has since sold more than one billion iPhones. By comparison, medicine, in most cases, is still practiced as it was a decade ago.
Science can do better. We can dramatically accelerate medical innovation if government, industry, academia and non-profits all commit to creating environments that are more receptive to innovation.
The Bill and Melinda Gates Foundation is starting the year by setting an important precedent, requiring open access to all published research the foundation sponsors. By eliminating embargo periods during which publishers require payment to access articles and data sets, the Gates Foundation is making it faster, easier and more affordable for researchers to find new information that may influence their work, while allowing providers to access the latest studies that can improve patient care. Other funders of research should follow suit.
Foundations and government can accelerate innovation by sponsoring more science challenges and prizes designed to spur innovation. The White House Office of Science and Technology Policy recently launched a campaign to encourage federal agencies to create programs such as the Breast Cancer Startup Challenge that led to the creation of startup companies dedicated to developing and commercializing early-stage technologies designed to combat breast cancer.
Federal, state and local governments can build more tax structures that pave the road to scientific progress. Research and development tax credits, as well as investment credits incentivize life science companies by allowing them to offset their expenditures with credits against their taxes, and even receive refunds, as New Jersey and Massachusetts allow. Such programs not only promote medical research, but also fuel health sciences jobs growth, one of the fastest expanding sectors in our labor market. New York City is well aware of the potential, committing $500 million to promote life sciences innovation, including the construction of a facility to host research and development partnerships, modeled on the new Cornell Tech science and engineering campus that includes research and development in health technology. The City forecasts this investment will generate 16,000 new jobs.
While the Food and Drug Administration has worked to accelerate the drug approval process, it can do more to speed delivery of efficacious medicines to patients in cases when other industrialized nations have already approved a medicine, which would free FDA inspectors to devote more time to examining truly new innovations. For example, the FDA approved Bexsero to treat meningitis B in January of 2015, more than two years after Europe OK'd the drug. Swifter approval could have lessened the severity of meningitis outbreaks on college campuses. In cases like this, when advanced regulators who have safety standards similar to those of the United States have already completed their analysis, reciprocity of approval makes sense.
The FDA can also incentivize pharmaceutical companies to invest more in pursuing new therapies by extending patent protections following a drug's regulatory approval. The Orphan Drug Act established a seven-year exclusivity period for medicines addressing rare, "orphan" diseases and the Affordable Care Act rewrote regulations for biologics, creating a 12-year exclusivity period for new drugs made from proteins manufactured in living cells. Both of these regulatory changes have succeeded in helping to deliver new medicines because biotechnology and pharmaceutical companies know they have a chance of generating substantial income if they can achieve breakthroughs. To motivate innovators and those who fund them, government must help ensure there will be economic upside at the end of the research tunnel, given the fact that the cost of developing and gaining approval for a new drug is over $2.5 billion, and the process, on average, requires more than a decade.
As government incentivizes industry, companies and their investors, academic medical centers and scientists must all embrace the risk that is inherent in medical research. Most new compounds never make it from the laboratory to the clinical testing stage, and only one of every ten new drugs successfully moves through clinical trial to receive FDA approval. Even so, innovators must be willing to fail, because it's part of the process of discovery that eventually leads to medical innovation.
Unfortunately, medicine tends to be a risk-averse field. Health care organizations need to adopt a bolder approach to exploration, similar to innovative, entrepreneurial technology companies, even large, established ones, where risk is embraced. Life science companies and academic medical centers need to determine how to invest most intelligently and follow a disciplined process to understand what projects have the greatest potential impact. This can be achieved by improving transparency, communication and procedures, to optimize an organization's capabilities, and increase its potential to innovate.
If our nation can accelerate biosciences innovation in 2017 through steps like these, we can achieve breakthroughs that will transform medicine and improve patient care, while also generating job growth and economic expansion.
Related