Not too long ago a good friend of mine sat down with my partner/husband and me and complimented our courage in "trusting God to pilot our ship."
I knew this was just a kind introduction to what she really had to say.
She had been providing administrative support to our concert and music production business for several years and she had a pretty good insider's look into our work.
Then, she got serious and said something along the lines of "a ship can't get to its destination if it doesn't have one."
In other words, set a destination, an intention, and then ask God/the Universe/a Higher Power to get you there.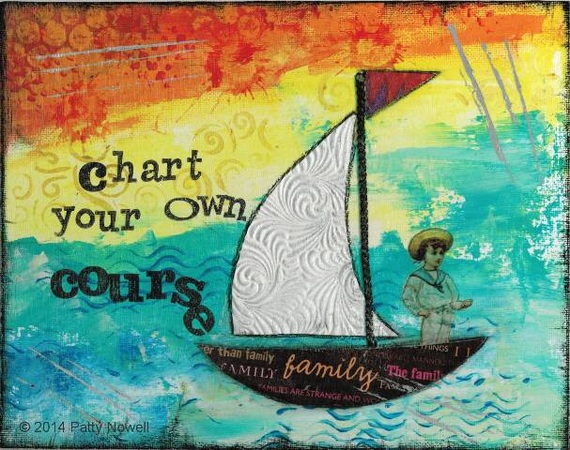 Is it possible to forget this very simple truth? Yes.
We get busy with keeping the ship sailing -- feeding the crew, cleaning and polishing it, mending the sails, and making sure it is ready to weather storms and choppy seas. But when we are always busy cleaning up yesterday's mess, we don't have the time or energy to look up and see what's on the horizon. We get into a lot of storms this way, and we sail from port to port without ever reaching a desired destination.
When my friend confronted us with this challenge, I had long unfinished lists and incomplete tasks piled up so high that all I was doing was playing catch up. I was exhausted, stressed, and hoping that God knew what he was doing, because I certainly didn't any more...
When this image of an aimless ship hit me like a huge wave, I woke up.
"Time to pick a destination and ride with confidence, girlfriend!" I heard a little voice inside me say.
Because if God wanted me to just float around he would have made me kelp, not human.
CHART YOUR COURSE AND STAY ON IT
The first step I took was attending a webinar on self-growth, productivity and performance. It reminded me of the line I heard many times before but somehow didn't have the courage to try myself.
"Set your destination and God will get you there," or "the Universe will conspire to help you."
I found many great resources online that helped me make this mental shift in perspective -- from passively surrendering to a cloudy notion of "God's will" to an active, joyful, and empowering journey, confident in divine assistance along the way.
Here are the steps and resources I worked through:
1. Set your Intention. The absolutely necessary first step. Intention is the bigger picture, the "why" behind your actions (check out Simon Sinek's TED Talk on having a "why"), a purpose that gives meaning to your work/personal goals. For example, my intention that year was to awaken -- to become aware of the many areas of my life where I was falling into old patterns, which then prevented me from moving forward.
2. Set your Goals. This is the destination for where you want to be. There are so many wonderful blogs and books on goal setting, make sure you pick one that works for you and your style. I found that visual mind-mapping works best for my long-term goals because I enjoy my day-to-day work and have a tendency to focus too much on the task at hand and losing sight of the larger vision.
Here is where I like to spend a lot of time making sure that my goals fit into what I believe is the life I am created for, fit my "why" and also serve and benefit others.
3. Accountability. What moved me along to actually stick to my intentions and my goals was my weekly mastermind group. We meet each Monday, review our accomplishments and set goals for next week. It's like having a workout buddy. Each mastermind session is led in an ordered fashion so that the group stays productive and focused.
4. Mentorship and Guidance. I thought this was an area that's simply not important -- why pay for an online course or a coach when there is so much FREE content out there? But the money I invest into professional coaching and online courses pays itself back -- not once, but many times over. Think of it as investing in yourself.
I find that a block of three sessions with the right coach can make a life-changing difference, but sometimes we need long-term support. My first coach offered an online course with email support for a year at a very reasonable price. In the first few months, she helped me solve some issues and move ahead -- something that my therapist couldn't do in several years of therapy. (Radiant Health Institute where I got my certification, has a great list of certified Holistic Life Coaches.)
5. Connection. Each day, connect with the Divine. For me, it's what keeps me motivated, excited and alive. It feels like connecting or "plugging" with the Source of Life, Love, and Light that brings purpose (and energy) into everything I'm doing. However you may get connected, do...
Some days when my to-do lists and tasks get overwhelmingly long, a quick scan of a video taken from the International Space Station reminds me instantly that we are all a part of one human family -- living together on one small planet. When we become aware of how we are all connected, our goals and our lives take on a larger purpose.
Using these steps, my husband/partner and I restructured our concert and music production business, produced two full seasons of Waking Up In America TV show and launched two new brands -- all in less than two years.
Most importantly, I shifted from an energy draining and life-sucking "stuck" point into a refreshed creativity and energizing new current.
So set your intention, envision your goals and with all sails set, enjoy the ride!
DISCLOSURE: I did not receive any compensation or complimentary services from any of the mentioned businesses in the process of writing this blog.
Related