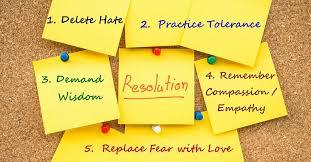 Every year, I compile a photo book of my favorite pictures. Looking back on 2017, the year started with lots of energy and activity. By the time December rolled around, not so much. I felt worn down by the bitter cold and constant political chaos created by Trump and his followers. Drained. Disheartened. Depleted. As the frigid new year dawned, I was pretty much out of the picture.
Making my annual photo book reminded me that it was time for an attitude adjustment. Looking back to January of 2017, after digesting the results of the 2016 election, I resolved to resist. Following an amazing trip to Cuba, I participated in the Women's March in Chicago on January 21 and felt an energy and sense of commitment and hope. Those photos were incredibly uplifting.
The next batch of photos that did not include my grandkids (which I confess are most of my pictures), from February to April, were filled with moments of celebration. 2017 was the year Cherry Preschool marked the 25th anniversary of its founding. As I was the director who worked so hard to establish this school, I organized reunions with the founding board and staff. Those photos are precious to me, as was the experience of being with these most amazing people. In April, we celebrated "the little preschool that could" with a very special party.
Nostalgia continued to be a theme. In August, there were pictures of my husband and me going to our old family vacation spot of South Haven, Michigan. More photos followed of visiting with close friends and family and celebrating our 49th anniversary. In October, there were pictures of us at our 50th college reunion in Ann Arbor.
Amidst a lot of this looking back, we did have a major looking-forward event. Our youngest daughter, who had been a divorced mother of three with sole responsibility for her kids, married a great guy with three kids of his own. Yep, a little Brady Bunch thing. We added numerous photos of our three new grandkids. We also celebrated birthdays for our other eight grandkids. My photo book was filling with pictures celebrating eleven beautiful children. Yes, I am blessed on a personal level.
And yet, I noticed as the year progressed in my photo book there were fewer and fewer pictures of my husband and me actually doing anything other than taking photos of our expanding group of grandchildren. There were no more photos of me to add to November or December other than a couple with one of my granddaughters who enjoys putting me in an occasional selfie.
As I approached yearend in my "Memories of 2017," I realized I had withdrawn from signing petitions and sending money to the political causes that fill my inbox every day. Yes, I continued to blog about my causes: my opposition to Trump's policies, healthcare as a right, gun safety, issues related to special education, our divided country, the right of athletes to #take the knee, #MeToo, unjust educational policies, and support for public schools. But I have to confess I ended the year burned out.
I begin 2018 thinking a lot about the upcoming 50th anniversary of 1968. Aside from getting married that year, I remember it as being filled with generational and political divisiveness, racism, and violence. It was the year Martin Luther King and Robert Kennedy were assassinated and our cities erupted in flames. The war in Vietnam and the draft continued and intensified. Nixon became president. Much like now, I felt like life was out of control.
Our country didn't survive the terrible period of history fifty years ago by people quietly accepting injustice. President Obama often quotes Martin Luther King Jr.: "The arc of the moral universe is long, but it bends towards justice." But arriving at that justice is not a passive act of faith. Going back to the original source of the quote, a 19th century abolitionist and Unitarian minister named Theodore Parker, helps me frame what I have resolved to do in 2018:
We cannot understand the moral Universe. The arc is a long one, and our eyes reach but a little way; we cannot calculate the curve and complete the figure by the experience of sight; but we can divine it by conscience, and we surely know that it bends toward justice. Justice will not fail, though wickedness appears strong, and has on its side the armies and thrones of power, the riches and the glory of the world, and though poor men crouch down in despair. Justice will not fail and perish out from the world of men, nor will what is really wrong and contrary to God's real law of justice continually endure.
Granted, I was 22, not 72 back in 1968, but no excuses. I have resolved to put myself in the picture more. I'll put on my hat and march again on January 20, the Women's March to the Polls. I have resolved that when I put my 2018 memory book together, in addition to cute photos of my grandkids, I will look back on doing more to ensure that justice prevails.
Calling all HuffPost superfans!
Sign up for membership to become a founding member and help shape HuffPost's next chapter
This post was published on the now-closed HuffPost Contributor platform. Contributors control their own work and posted freely to our site. If you need to flag this entry as abusive,
send us an email
.