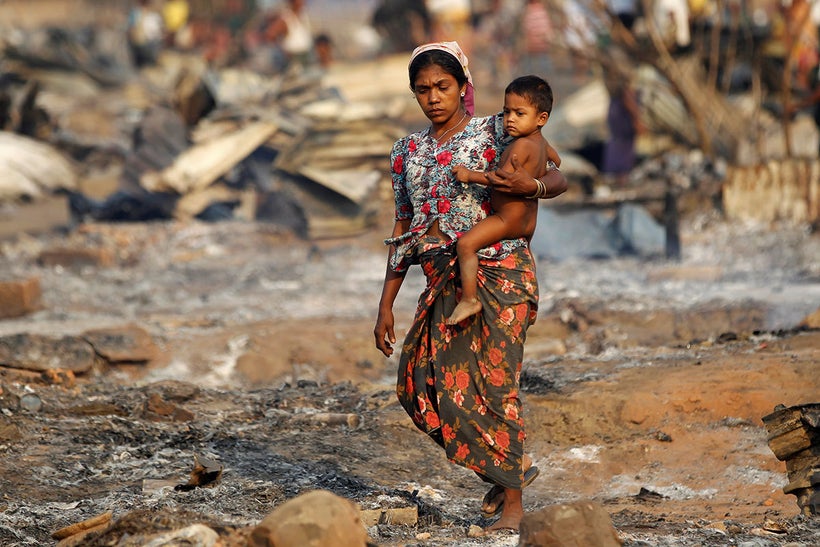 In the state of Rakhine, in Myanmar, Buddhist make up the majority of the population, and Muslims are the minority. The Muslim minority are called Rohingya Muslims. However, the Myanmar government would rather refer to the Rohingya Muslims as Bengalis because their ancestors migrated to Rakhine, Myanmar from Bengal in the neighboring nation of Bangladesh. Consequently, Rohingya Muslims are perceived as outsiders, foreigners, and even unwanted immigrates by their Buddhist neighbors in Rakhine.
Today, Rohingya Muslims are stateless: Not accepted by Bangladesh. Not wanted by Myanmar.
The Myanmar government holds the position that Rohingya Muslims are migrants from Bangladesh and Myanmar's constitution does not include them among indigenous groups qualifying for citizenship.
Consequently, the military and state police have been quick to deny Rohingya Muslims protections or due processes accorded to Myanmar citizens. Subsequently, Rohingya Muslims resorted to forming their own militia groups to protect and defend themselves from attacks.
The most common excuse used by Myanmar Buddhist in Rakhine to wage xenophobic attacks on Rohingya Muslims were accusations of sex related crimes.
Reports of sexual assault, sexual harassment or rape of Buddhist women by Rohingya Muslims men, has led to mass killings, clashes, arson, and threats of extermination.
According to the BBC reporting, the rape and murder of a young Buddhist woman by a Rohingya Muslim male sparked off a deadly chain of events in June 2012 which left 200 dead and thousands of Rohingya Muslims displaced. In August 2013 rioters burnt Muslim-owned houses and shops in the central town of Kanbalu after police refused to hand over a Muslim man accused of raping a Buddhist woman. A June 2014 rumor that spread on social media that a Buddhist woman had been raped by one or more Rohingya Muslim men led to widespread violence that left several people dead.
In October last year, Rohingya militants attacked several security checkpoints and killed scores of police officers. Conversely, Myanmar's security forces responded by launching counter-terrorism operations against Rohingya insurgents. According to Amnesty International and Human Rights Watch, the anti-Rohingya operations involved arbitrary killings, systematic rapes, the burning of houses and forced expulsions of locals.
At the height of these operations, the UN reported that around 87,000 Rohingya Muslims fled to Bangladesh following the start of the October violence.
On August 25, violence broke out again in Rakhine when around 100 armed Rohingya Muslim militants attacked security guards in the border region with Bangladesh. Nearly 400 people were killed, the majority of them Rohingya Muslim militants, according to reports.
According to UNHCR, the UN Refugee Agency, roughly 60,000 have arrived in Bangladesh since the violence erupted on August 25.
Currently, there are at least 150,000 Rohingya living in Bangladeshi camps, mostly in squalid conditions.
Rohingya Muslims are seen today, as one of the world's most persecuted minorities. Each year, thousands of Rohingya Muslims flee from Myanmar and Bangladesh in a desperate attempt to reach mainly Muslim-majority countries like Malaysia and Indonesia. More than 620,000 Rohingya Muslims have had to flee Myanmar in what is the world's fastest mass exodus since the 1994 Rwandan genocide.
Myanmar is one of Asia's most ethnically diverse countries and people are watching to see how the government handles tensions between its many communities. However, the country's ethnic problem can be resolved primarily through citizenship. Rohingya Muslims feel they are part of Myanmar and want protection from the state. Full citizenship for the Rohingya minority would guarantee their equal access to all services, civic liberties, rights, and protection. Consequently, Rohingya Muslims would disband their militant groups.
The international community must pressure the Myanmar President Htin Kyaw, and Myanmar State Counselor Aung San Suu Kyi to establish a clear strategy and timeline for the citizenship verification process of Rohingya Muslims. This process can begin with the revision of the Myanmar citizens' rights law of1982.
Despite the recommendations of the Rakhine Advisory Commission, headed by former UN Secretary-General Kofi Annan, Myanmar's government has so far refused to grant citizenship to the Rohingya, partly because it objects to the use of the term "Rohingya". Myanmar says it is ready to grant Rohingya Muslims citizenship if they identify themselves as Bengalis - a term which Rohingya Muslims object to strongly.
"If this issue is not addressed, it will continue to cause significant human suffering and insecurity, while also holding back the economic and social development of the entire state," the Rakhine Advisory Commission report said.
The resolution of this conflict now hangs on the name Rohingya versus the name Bengalis. Should Rohingya Muslims accept the name Bengalis in exchange for citizenship and peace? Or Should the Myanmar government offer citizenship to Rohingya Muslims as Rohingyas? Aung San Suu Kyi who is winner of a Nobel Peace Prize and leader of the National League for Democracy. She has a chance to re-posit herself as a champion for peace, and justice.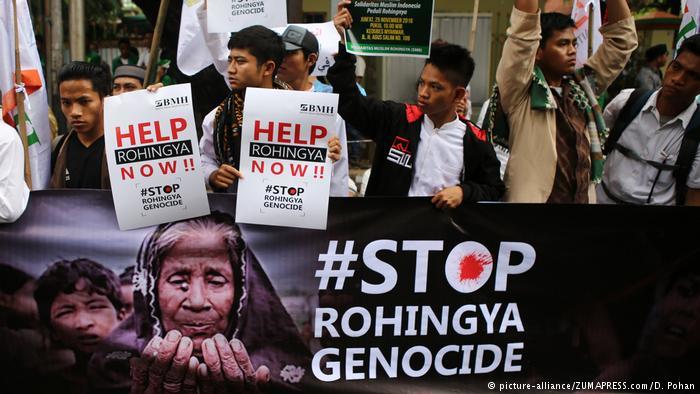 REAL LIFE. REAL NEWS. REAL VOICES.
Help us tell more of the stories that matter from voices that too often remain unheard.
This post was published on the now-closed HuffPost Contributor platform. Contributors control their own work and posted freely to our site. If you need to flag this entry as abusive,
send us an email
.