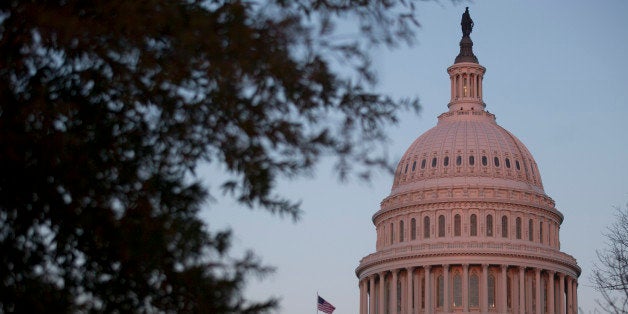 Looking back on the past year, I am amazed by all of the remarkable moments that we have shared as Americans. The Affordable Care Act expanded the promise of affordable, quality health care for millions of Americans. The Defense of Marriage Act (DOMA) was struck down, extending federal benefits to same-sex couples nationwide. And even in moments of crisis -- in the wake of the Boston Marathon attacks; the tornado in Moore, Oklahoma -- Americans were determined to recover and become even stronger than before.
I wish that I could say that I observed that same mentality in Congress over the last year. But, unfortunately, obstructionism was still the name of the game in Washington, D.C. The Republican party's government shutdown that lasted 16 days and cost the economy $24 billion offered a clear illustration of the dysfunction in Washington. But it doesn't have to be that way.
All of this brings me to my new years' resolution -- a pledge that I hope my colleagues in Congress and every voting American will consider. In 2014, let's resolve to end obstructionism and push for a more constructive dialogue with each other. Let's look for answers to our tough challenges. Let's talk to one another and try to find common ground, even when it seems difficult.
Having become frustrated with short-term fixes and small thinking, I published a book in October, For the Next Generation, to sound an alarm about how the increasingly toxic political tactics in Washington are harming our future. After all, if we are not accountable for fixing what's broken, the gridlock that has dominated Washington for so long will merely get worse. And all of today's problems will be heaped onto our children.
That's not the future most Americans want for their kids. So what can we do about it?
In Congress, we need to act on pressing issues which have the majority of Americans' support. We need to pass immigration reform which has been waiting for a vote in the House. And we need to raise the minimum wage and pass commonsense gun reforms that the American people need and want. On all these issues and many more, we need to stop the bickering, put aside the "my way-or-the-highway" attitudes and get things done because the more Congress puts off solutions to these problems, the more our next generation suffers.
And the single most important way that we can all resolve to do better in 2014 is to vote -- and vote for candidates who are willing to make a commitment to work together to get things done. In my view, to combat the paralysis caused by Tea Party Republican intransigence, we need to elect Democrats up and down the ballot and ensure Democrats hold the Senate and take back the House. As we head into an election year, it is within the power of each and every voter to end the gridlock that has plagued our legislative process.
The start of a new year makes me feel hopeful and empowered, a feeling I hope others share. The possibilities for 2014 are boundless and it is in all of our hands to make sure we leave our children a nation that is greater, stronger, and more resilient than it was yesterday.
REAL LIFE. REAL NEWS. REAL VOICES.
Help us tell more of the stories that matter from voices that too often remain unheard.