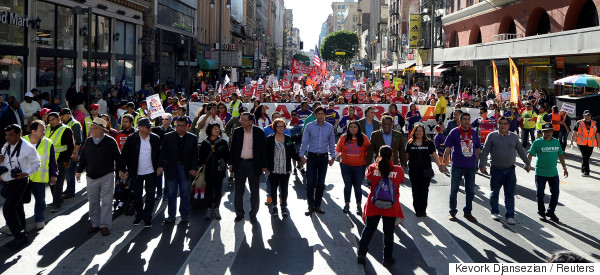 New Year's resolutions are important to me. They are an opportunity to remind myself that I have power over my actions to make change. They are an inspiring promise to myself.
When I woke up on the first day of 2017, going over my own resolutions to change, I realized how important this promise of change had been all year long. Obama was not the only one who ran under the assurance of political change when he took office, Trump did as well. It seems that as a society we're drawn to the promise of change -- even at the highest level. But political change isn't a one person or one party job and it doesn't happen overnight. As a nation we can't tune in once every four years, vote 'change' and go home for another four years. We can't dramatically overhaul the entire system every presidential election and expect long lasting and rooted policy. No, democratic political change happens every day, and it starts with all of us.
Feeling the frustration of seeing the system work against my beliefs post-election, I wanted to move beyond agonizing, I wanted to organize, so I challenged myself to call my representatives. In order for them to speak for us they needed to hear about the issues we care about. For the people, BY the people. But one thing I noticed was how awkward it sometimes felt to make that phone call. When I asked my friends what they were doing to make change they also seemed to feel alone in their action. Were our calls, our emails really making change? So I started to organize weekly meetings.
Setting up in local cafes and coffee shops, my friends and my team committed to put aside an hour each week to reconnect with each other and our political system. While these meetings have been helpful for me in getting reacquainted with individual political action, I also realized that not everyone has a group of politically active friends. That's why my resolution for 2017 is to use my platform and Facebook Live to create an online forum for change, to bring the same feeling of community and comfort to all of my friends and followers. Once a month I will broadcast what it's like to call your representative, the White House, or find new resources and leaders that help explain our political system.
Change is slow and sometimes unnoticeable. It is a series of small shifts in yourself and in your community. That is why I want to make political action routine and community-based. If we hold each other accountable to take action, together we will make a difference.
I am not alone in this political resolution. Since November, so many people I look to for guidance have recommitted to taking action. House of Cards creator Beau Willimon started the Action Group Network, business exec and advocate Michael Skolnik has created a newsletter linking to actions to oppose the incoming administration, and this week voters flooded the GOP with calls demanding the independent Office of Congressional Ethics be upheld. There is an avenue for everyone and it is working. Now it's up to us to keep it going.
Support HuffPost
The Stakes Have Never Been Higher
Popular in the Community