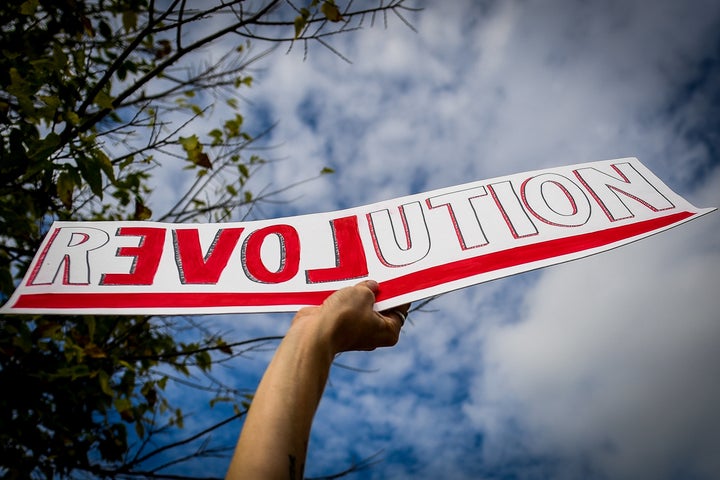 Five years ago, Emily Bookstein was fresh out of Stanford, debt-free thanks to her grandparents. Her dad had just given her $10,000, money he had put aside for her college education but ended up not needing. She now works in tech, and her most recent salary was $104,000.
This is Bookstein's "money story," a term the nonprofit Resource Generation (RG) uses as part of its work to help wealthy millennials give their money to groups fighting social, economic and racial injustice. The idea of the money story is to get people to be open about their relationship with money – how much they have, where it's from and how it's benefited them.
In a society where talking about wealth is almost on a par with talking about your sex life, revealing oneself as rich doesn't always feel comfortable.
This was certainly the case for Bookstein. Post-college and becoming increasingly politicized, she was in denial about her privileged position, "not in denial in the sense that I thought I didn't have it ― I definitely knew that I did ― but I was trying to distance myself from it," she says.
Adam Roberts, now an RG staffer, says he was also keen to keep his wealth under wraps before the nonprofit "kicked my butt into gear." Roberts used to give less than $200 a year, but as part of RG, he's now giving more than $50,000.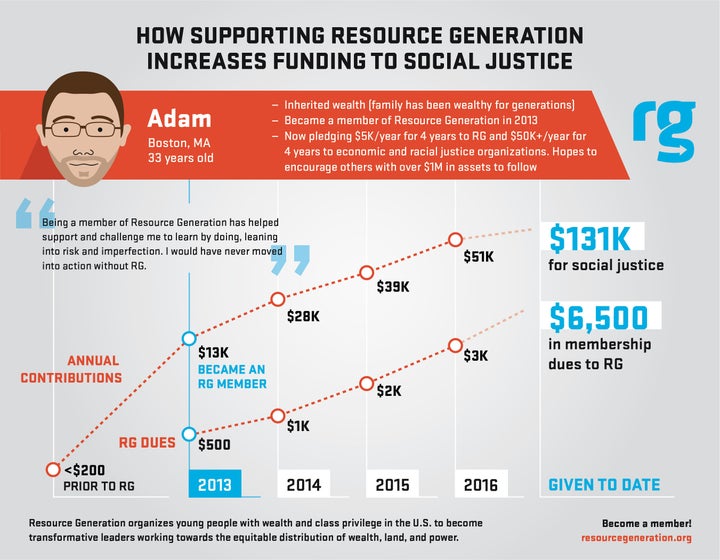 There's a collective silence around money and class, says Iimay Ho, RG's executive director: "It's a totally intentional part of what keeps inequality so normalized."
RG aims to break this. The 20-year-old organization works with around 500 members ― all between ages 18 and 35 and in America's top 10 percent by wealth ― through 17 chapters across the U.S. "There's a pretty broad range of experience," says Ho, "from a tech worker from a working-class background to someone who inherited a trust fund."
The idea is to help them to understand where their wealth came from, how it's connected to inequality, and how to "move" it (to use RG parlance) to grassroots movements. There's practical education on how to budget, be accountable and evaluate organizations to make sure money is put directly into the hands of those affected by injustice. There's also campaign work aimed at pushing for "structural change" around issues such as health care, taxes and workers' rights.
"We are not funders," says Ho, "so there's no mechanism where we pool money and make decisions about where it goes out. What we do teach is our social justice philanthropy principles."
Ho has her own money story. Her parents are Chinese immigrants who came to the U.S. as grad students. Her mom built up a successful insurance business and Ho's parents now have assets of more than $1 million.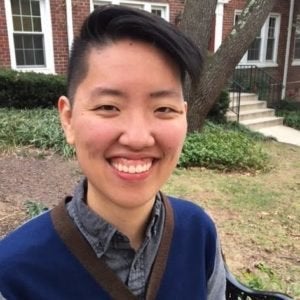 Growing up in a wealthy white suburb of North Carolina before heading to the University of North Carolina, where she became involved in activism, she struggled with her identity. "This whole time I have no debt, I'm secretly wealthy. I'm with other people who identify as Asian, as queer, and my whole life experience is so different to theirs," she says.
A desire to be "more authentic" was her catalyst to join RG, originally as part of its D.C. chapter, before becoming a staff member in 2014 and taking up the executive director role last year.
RG is operating at a time of sharp divisions in the U.S. Between 1963 and 2016, families in the top 1 percent saw their wealth increase sevenfold, while families in the bottom 10 percent went from having no wealth to being, on average, $1,000 in debt.
The inheritance system is set to make things worse, says Richard Reeves, senior fellow in economic studies at the Brookings Institution, a public policy think tank. "As income inequality becomes wealth inequality, that's much easier to pass on generation to generation," he says. An estimated 34 to 45 percent of wealth in the U.S. is inherited, and baby boomers are set to transfer an estimated $30 trillion to their children.
It's this mounting inequality RG wants to fight; just don't call it philanthropy. "Private philanthropy is a way to continue to hoard and accumulate wealth," says Ho, "and because it's voluntary … if redistribution is up to individuals to give money away, we're never going to restructure the economy."
RG differentiates itself by stressing that those most affected by social injustice should be the ones who decide how the money is spent.
For Hanna Mahon, who sits on the board of her family foundation and is also part of a dog walking collective in Washington, D.C., it was squeamishness around traditional philanthropy that led her to RG. "There are huge contradictions in trying to do social justice philanthropy where I'm still a wealthy white person acting as a gatekeeper."
Through her RG membership, 26-year-old Mahon has focused her family foundation's giving "to actually help shift power dynamics in the world and help shift inequality." It currently gives to 15 social justice organizations led by people of color.
"If redistribution is up to individuals to give money away, we're never going to restructure the economy."
Race is a big issue for RG. "The history of wealth inequality and accumulation is a history of institutionalized racism," the organization says. In 2016, the average wealth of white families was seven times greater than that of black families.
When Elizabeth Baldwin, who is of Indian descent and was adopted by a white family, initially came across RG, she says "it wasn't as people-of-color-oriented as I would have liked it to have been."
Since then, she's been heavily involved in the organization's push to include people who don't have a traditional white American background. She also set up a group to consider how to genuinely support grassroots anti-racist groups. "It's not just putting a Band-Aid on everything; it's really going to the root of [injustice] and the cause and saying, OK, what are we going to do to change this part?" she says.
Of course, it's easy to mock RG's members for being wealthy and woke. "In a perfect world, we might want a situation where you aren't able to accumulate such wealth, that public policies don't allow for that to happen," says Reeves. But that's not where we are, he adds. He praises RG members' efforts to use their money, power and influence to try to shift the debate on inequality.
"A big problem with inequality is failure of people to recognize it and [instead] to see themselves as the winners," Reeves says. The myth of 'work hard and get rich' starts to look shaky when people are more open about how much the system was stacked in their favor, he adds.
Many RG members say that it's a choice between doing nothing or really examining their relationship with class and wealth. "My life is an example of things that are unfair and [that] I want to work against," says Bookstein, "but I think that's also what motivates me, because I can constantly see the way that the system is working to my advantage, and that's what motivates me to fight harder against it."
Meet Some Of RG's Members
Elizabeth Baldwin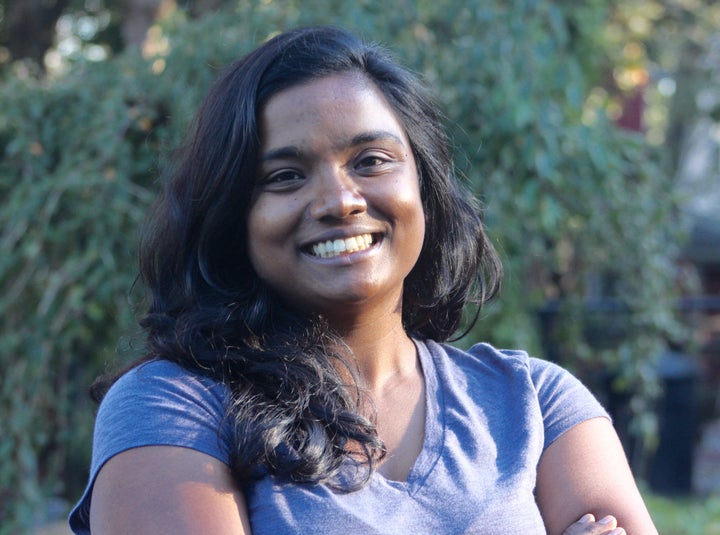 Location: Cambridge, Massachusetts
Job: Not currently working
Yearly giving before RG: $100
Yearly giving after RG: $10,000
Emily Bookstein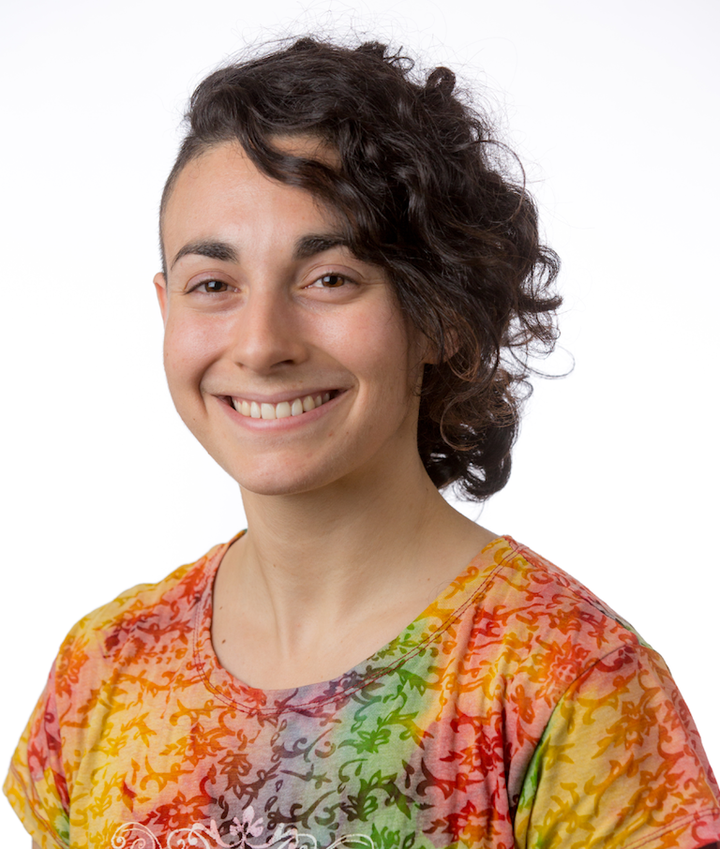 Location: Portland, Oregon
Yearly giving before RG: minimal
Yearly giving after RG: $15,000
Hanna Mahon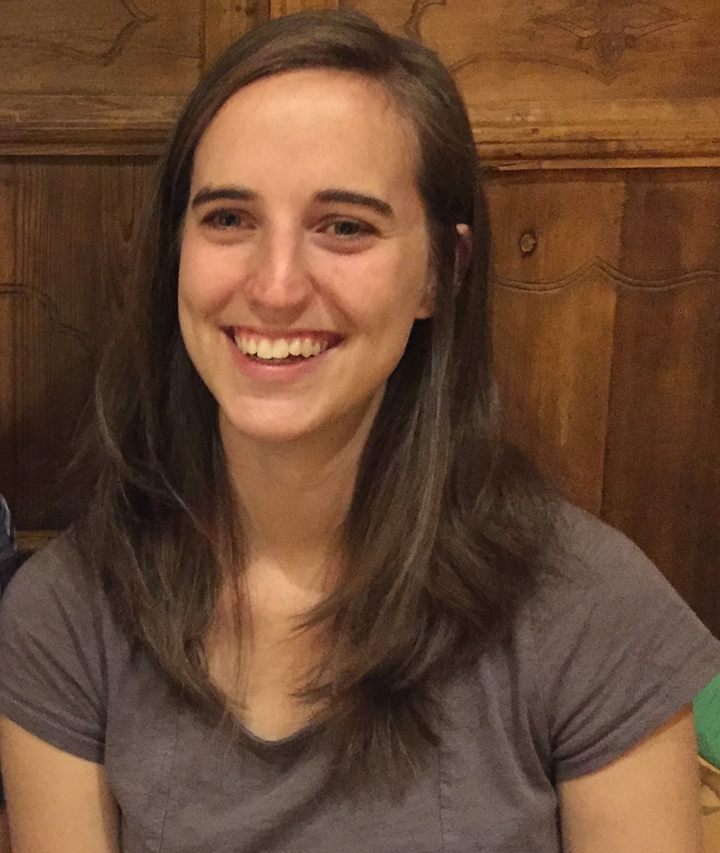 Location: Washington, D.C.
Job: Dog walking collective
Yearly giving before RG: less than $100,000 (through her family foundation)
Yearly giving after RG: $1 million (through her family foundation)
Adam Roberts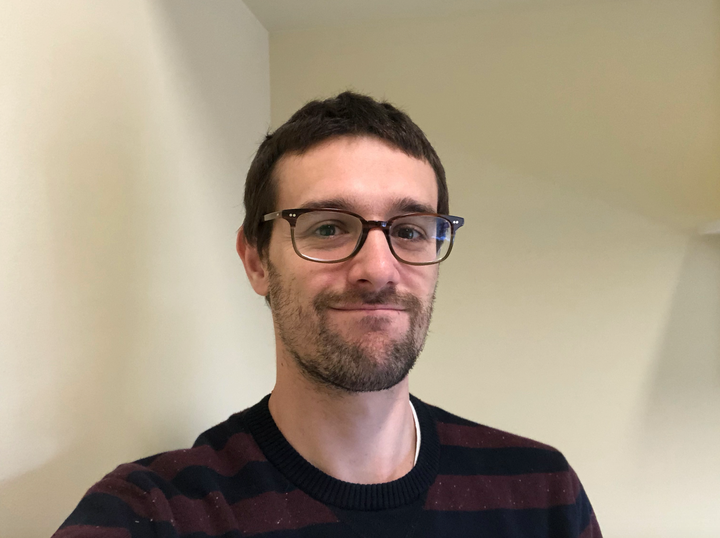 Job: National Organizer, Resource Generation
Yearly giving before RG: less than $200
Yearly giving after RG: $55,000
For more content and to be part of the 'This New World' community, join our Facebook Group.
HuffPost's 'This New World' series is funded by Partners for a New Economy and the Kendeda Fund. All content is editorially independent, with no influence or input from the foundations. If you'd like to contribute a post to the editorial series, send an email to thisnewworld@huffpost.com
Related