Scot Peterson said he was following training he had received as a Broward County sheriff's deputy when he decided to remain outside, despite being armed, during the Feb. 14 massacre at Marjory Stoneman Douglas High School in Parkland, Florida, according to a statement released Monday by his attorney.
"The allegations that Mr. Peterson was a coward and that his performance, under the circumstances, failed to meet the standards of police officers are patently untrue," Joseph A. DiRuzzo III, Peterson's attorney, wrote in the statement.
"Mr. Peterson is confident that his actions on that day were appropriate under the circumstances and that the video (together with the eye-witness testimony of those on the scene) will exonerate him of any sub-par performance," he continued.
Peterson, 54, resigned his position as the school's resource officer last week after Broward County Sheriff Scott Israel suspended him over his apparent inaction during the shooting.
Israel told reporters at a press conference Thursday that video from the Feb. 14 shooting captured Peterson doing "nothing" as gunfire rang out from within the school.
"What I saw was a deputy arrive ... take up a position and he never went in," Israel said, adding that Peterson should have "went in" and "killed" the shooter instead.
But Peterson said he had believed the gunfire was coming from outside the school, which prompted his decision to seek a "tactical position" outdoors, DiRuzzo wrote. 
Broward County Sheriff's Office "trains its officers that in the event of outdoor gunfire one is to seek cover and assess the situation in order to communicate what one observes to other law enforcement," according to DiRuzzo's statement.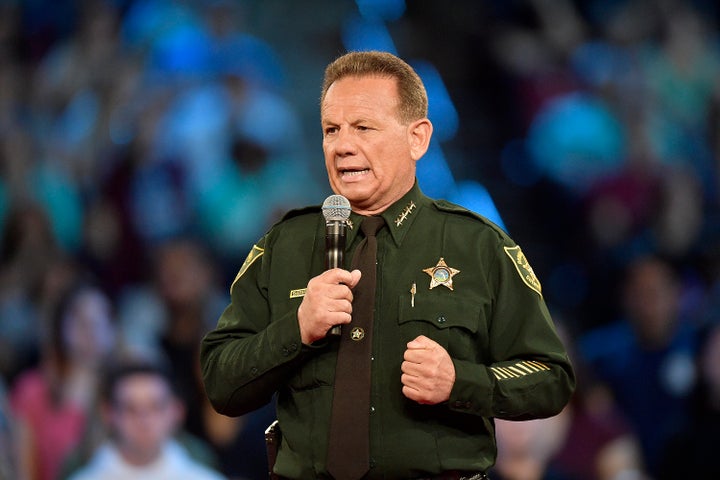 Israel has faced backlash from lawmakers after the Coral Springs Police Department reported four of his deputies, including Peterson, had opted to remain outside of the school while responding to the shooting. 
Over 70 Republican members of Florida's House of Representatives signed a letter to Gov. Rick Scott (R) on Sunday, urging him to suspend Israel for "incompetence and dereliction of duty." They accused Israel's office of failing to take the appropriate actions after receiving at least 18 phone calls between 2008 and 2017 from community members concerned about suspected gunman Nikolas Cruz prior to the shooting.
Scott directed the Florida Department of Law Enforcement on Sunday to "investigate the law enforcement response" to the shooting.
"I exercised my due diligence," Israel said Sunday during an appearance on CNN. "These deputies received the training they needed."
A representative for Broward County Sheriff's Office did not immediately respond to HuffPost's request for comment. 
"Mr. Peterson is looking forward to cooperating with the Florida Department of Law Enforcement's investigation, which we hope will detail the events of that tragic day and which we believe will ultimately clear Mr. Peterson's name," according to DiRuzzo's statement.
Peterson, who served as the school's resource officer since 2009 after joining the Broward County Sheriff's Office in 1985, said he had received "glowing" annual performance reviews from his superiors. Records showed Peterson had been twice nominated for School Resource Deputy of the Year and won in 2014, CNN reported.
"I really believe I'd run in there even if I didn't have a weapon, and I think most of the people in this room would have done that too," he said.
Read the full press release from Peterson's attorney below:
REAL LIFE. REAL NEWS. REAL VOICES.
Help us tell more of the stories that matter from voices that too often remain unheard.