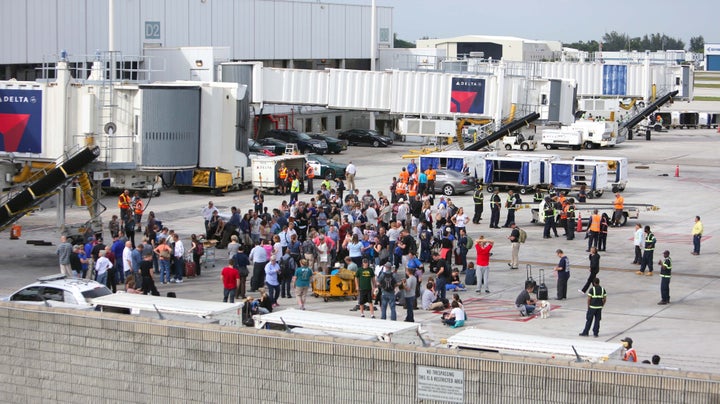 Recently there was yet another horrifying mass shooting that claimed the lives of five innocent people at a Florida airport. As news of the tragedy unfolded and legal experts speculated about whether this would become a death penalty case, I read about the shooter's history of mental illness and a pit formed in the bottom of my stomach. I have seen this kind of tragedy before, in my own family.
In April 2006, my brother, Andrew, and I found my mother Timmie O'Neil and my stepfather Craig Stumpf murdered in their Charbonneau, Oregon home. I remember telling the police, "I know who did this."
I knew that my mentally-ill brother, Joseph, was responsible.
Joey is the youngest of five O'Neil kids and we all grew up together in a loving, Catholic family. As time went on, his behavior became increasingly odd. We knew he was not well, but we never understood how bad things had become until it was too late. My mother and stepfather had taken Joey in at the time of their deaths because we were all trying to find a way to help him. It was only right before it happened that we started admitting the problem openly to each other and using the term "mentally ill."
I don't know how we got through the weeks and months after our loss, or how we dealt with the surreal experience of seeing our brother rightfully charged with aggravated murder. Prosecutors argued for a death sentence for Joey, although in the end we were fortunate that he accepted a plea deal and is serving life without parole. When I think about him, I try to remember what Sister Helen Prejean said, "People are worth more than the worst thing they have ever done in their lives."
A death sentence means years of appeals, court hearings, and reliving the grief and the pain for the families of murder victims. As the years grind on, there's no resolution and certainly no closure. By contrast, once Joey was convicted and sentenced to life, I knew I would not have to set foot in a courtroom again.
We have a system that's so focused on vengeance it doesn't stop to think about healing.
Having lost both my mother and stepfather to murder, I've joined a club no one wants to belong to. Through speaking with other people who have experienced the devastating loss of a loved one to murder, I know we have a system that's so focused on vengeance it doesn't stop to think about healing. We pour millions of dollars into seeking and defending death sentences, but where are the funds to support families through the painful transition that comes when you lose a loved one in the worst way possible? Where are the resources to get help for a loved one with mental illness before tragedy strikes? After our family's tragedy, we were offered little to nothing in support by the State of Oregon. It didn't begin to address the emotional, psychological, financial and other damage caused by murder.
We could be doing so much more to help the families of murder victims and to prevent these types of horrible crimes from occurring in the first place. A new report by Harvard Law School's Fair Punishment Project recently revealed that as many as one in four people on Oregon's death row exhibited symptoms or had a diagnosis of a severe mental illness at the time of their crimes. How have we let that happen?
An academic study released in November of last year by Lewis & Clark Law School and Seattle University examined the financial cost of seeking the death penalty and revealed in detail the millions of dollars that are being spent on death penalty cases. Pursuing a sentence of life without parole is approximately half the cost. What could we do with even a fraction of that money to help the healing process and to provide practical support to families that have lost a loved one? What kinds of resources could we provide to treat mental illness?
These reports are evidence that it is time for Governor Kate Brown to end the use of the death penalty in Oregon by commuting the sentences of those on death row to life without parole. I believe she has the courage and foresight to do this. Then we could direct some of that money to the services and support that murder victim families actually need to survive, to heal and, hopefully, to flourish, and to try to prevent these tragedies in the first place. It will surely prove to be a far worthier investment than the relentless pursuit of death sentences in a state that does not carry out executions.
Calling all HuffPost superfans!
Sign up for membership to become a founding member and help shape HuffPost's next chapter
BEFORE YOU GO