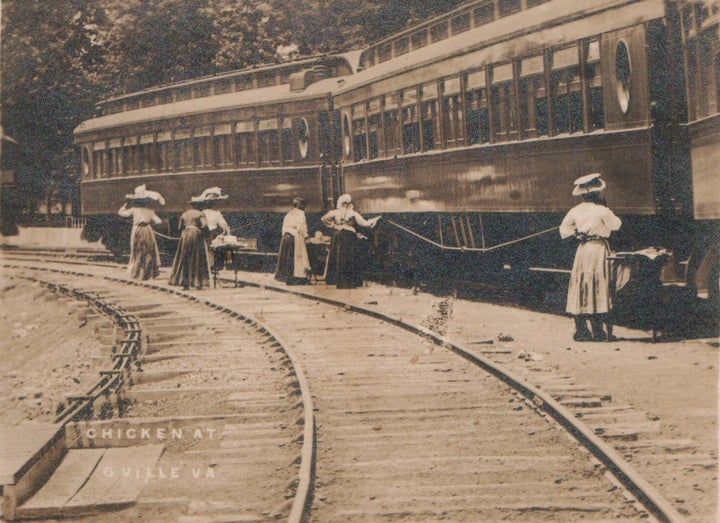 Black cottage food producers are America's unsung culinarians.
Mrs. Hines lived in the house behind ours. She, like any number of black women who migrated from the South to northern cities, sustained her household right in her kitchen. For decades, Mrs. Hines sold yeast rolls.
Anyone within 50 feet of her house could smell baking bread in the air. The closer one walked to her front door, the stronger and more irresistible that scent became. Once that door opened it would take an act of God not to rush into her kitchen and lose one's dignity in an effort to get to those doughy bits of goodness. It also took great restraint on her part to keep from smacking hands reaching over her treasures and her income. Mrs. Hines was a cottage food producer. Those yeast rolls were sold to neighborhood women, churches, mom and pop restaurants, and rich white families in the suburbs. Those yeast rolls kept her lights on, paid her mortgage, and funded her church hat collection.
She was one of many women who cooked to survive. My grandmother supported quite a few of them on our street alone. The lady next door cleaned and cooked chitlins (chitterlings), another lady baked our Christmas rum and fruit cakes, and we would purchase fried fish plates (perch, slaw, spaghetti and two pieces of white bread) from the ladies at the storefront church around the block. Whether they were cooking to contribute to a building fund or host a family reunion, these women used what was available - food - as their own form of economic development. The money stayed in the community and food enabled them to do more, own more, be more.
It was not until I read Psyche A. Williams-Forson's Building Houses Out of Chicken Legs: Black Women, Food & Power (UNC Press, 2006) that my appreciation for Mrs. Hines and other black women with kitchen enterprises grew. Williams-Forson, professor of Women's Studies and African American Studies at the University of Maryland has amassed a body of work that examines the ways in which black women have used food as a means to economic self-sufficiency and empowerment through commerce. Building Houses chronicles the lives of many black women who cooked, catered, were restaurateurs, and cottage food producers from slavery to the 20th century. The women featured in her book who captivated me the most were the waiter carriers of Gordonsville, Virginia.
Waiter carriers sold fried chicken dinners to train passengers directly from the platform. Law prohibited them from boarding the segregated cars, so dinners were either passed through windows or passengers de-boarded to purchase food. Gordonsville's waiter carriers supported families and built houses out of chicken legs. As their cottage economy grew many of the women had their wares stolen by whites who would sell the dinners as their own. Ultimately, air conditioning (closed windows), dining cars, and food vending regulations drove waiter carriers out of business.
Perhaps it is the cautionary tale of the waiter carriers that both inspires me and scares me in regard to modern black cottage food producers. There are women who are creating micro-businesses in their homes as I type. I am the customer of at least two who sell sweet potato pies and plates of really good home-cooked food. Given that I cannot cook well, I will probably always rely on what I call 'the plate economy' to feed me. If I and others fail to help our providers move into the future, state laws and regulations could threaten their ability to supplement their incomes or make a living.
Cottage food laws exist in every state. Some states are friendlier to 'the plate economy' than others. Virginia, home of the waiter carriers, is surprisingly one of the most charitable states in its support of domestic kitchen enterprises. Two men who were food entrepreneurs in college, vending food from their dormitory room, David Crabill and Cameron Dutro are the creators of Forrager an active online community of cottage food producers. They keep forum members updated on changing laws while providing a safe space to exchange ideas. If you know any woman (anyone) selling food prepared from their own kitchens, then send them to Forrager to learn more about their rights.
Another way to help cottage food producers is to point them in the direction of local small business solutions organizations like SCORE that provide some free services. If they are older, consult with local and state AARP offices to see if they offer services for small enterprises. A few major cities have incubators specific to food businesses. New York City has the Food Business Pathways Program. There is Rutgers University's Food Innovation Center. Programs like Chicago's Good Food Accelerator is great for the cottage food producer looking to expand their operation. A favorite program is the Salus Center Kitchen at St. Louis University (St. Louis, Missouri), which has a community kitchen that is also an incubator for small food businesses. Many of the Salus Center's participants provide baked goods to local restaurants and food businesses.
Black cottage food producers are the unsung culinarians in our communities. The beauty of these women is that they make a way out of no way with food selling their fish plates, chicken legs, rent and card parties, yeast rolls and pies. Maybe they are like my childhood friend's niece selling dessert jars out of her dorm room. Whoever they are and wherever they are, they deserve the accolades along with our money. They also deserve protection under the law as well as the financial freedom.
Related
Popular in the Community