Nana Palaitsaki, Greece's First Lady of TV Journalism is dedicated to saving Greece through an ambitious documentary that seeks to undo the negative connotations associated with the financial crisis.
After 30 years of journalism, Nana Palaitsaki has done almost everything in front of and behind the camera. She started as anchorwoman in 1990 in Greece, and she was the face of breaking news in the biggest and most popular and accurate TV networks of the country.
Trained by CNN in all aspects of production—as a reporter could cover almost everything. She was the first female Greek reporter to survey the Gulf War when, shortly after Saddam Hussein's invasion in Kuwait in August of 1991 she found herself in Israel, carrying a camera weighing 40kg.With no team or camera operator, she did it all by herself.
Upon returning home after the first phase of the war, her philosophy in life changed. Palaitski left Greece as one of the most popular and beloved TV hosts, yet after the end of the Gulf War, her philosophy towards life, changed. I spoke to the beloved journalist of Greek TV, their first Lady of Journalism, Nana Palaitsaki about how experiences in the field changed her perspective and how it informs the projects she's doing now.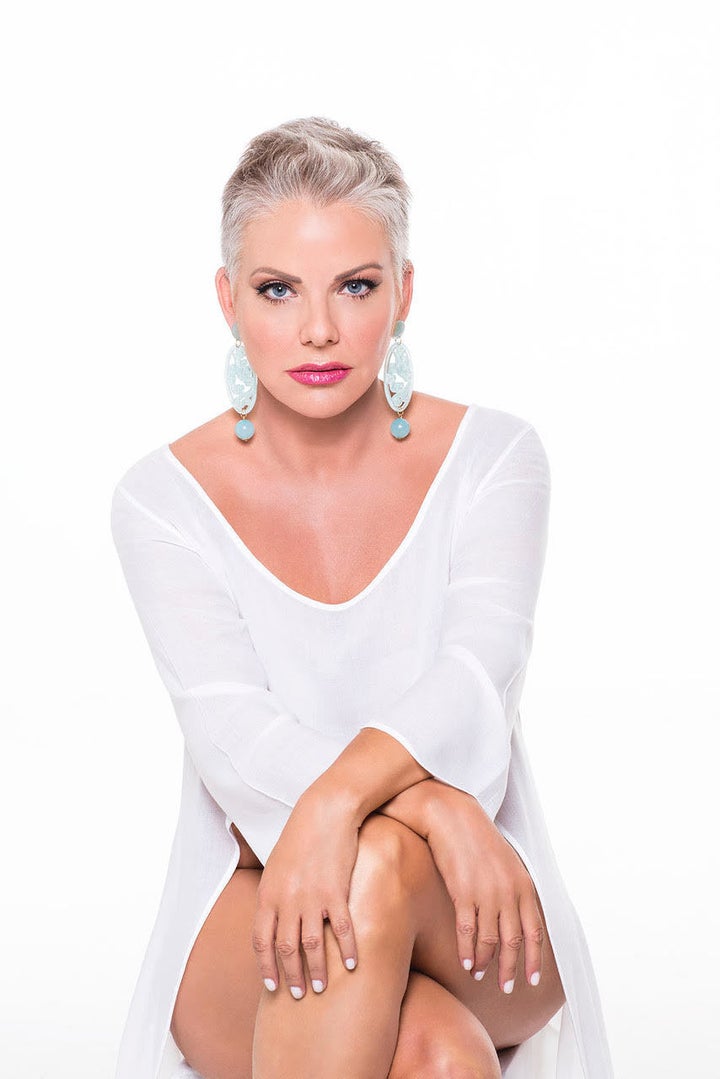 After 30 years at the forefront of Greek journalism, you're making a splash in the world of movies with a documentary
First of all, thank you very much for giving me the opportunity to talk with you and thank you deeply for giving me the chance to meet with such wonderful readers. As everyone knows, Greece has been experiencing an economic and humanitarian crisis since 2010. The industry that was hit first and most profoundly, as often happens in economic recessions, was the media. Virtually every major media group collapsed, thousands of people found themselves without jobs, and many of them, in order to maintain their healthcare rights, had to work under unacceptable terms and conditions. This pivoted what had been salaried positions to essentially freelance and contract positions. Unfortunately, working in this capacity led to long delays in payments, dismissals, and huge "discounts on means" of production. The working conditions, not only for our sector in Greece, but also for many others, under austerity, led to a virtual indentured servitude.
So, like many other professional journalists, I thought long and hard about what my next step was. Fortunately, two of my dearest friends and chosen family, Mrs. Francesco Vitali and Chris Siametis, had just founded 48filmproject.com. They saw my skill set, and talents as perfectly dovetailing with what they were thinking and proposed that with my wide network of contacts I would be the perfect person to lead a group of journalists, writers and scientists, in an endeavor to rebrand the negative image of Greece that was being projected by the global media. This led us all to the documentary Respect Greece, www.respectgreece.com whose main goal is to explain and educate the rest of the world, the impact that Greece has had on the world, particularly the west.
Is it safe to think that you "press the pause button" on your career as journalist, and start a new in cinema? Or is it something you will continue doing at the same time?
First of all, once a journalist, always a journalist! This virus is incurable—but I'm through with TV. Times have changed and I am one of those people who likes to follow the trends of their era. To follow the "young and the restless", I created Nana's Channel. An online magazine on the net, www.nanaschannel.com I also want to mentor and educate new colleagues, to come forth and fight, to progress. My engagement with "Respect Greece" caught me by surprise. I was talking to Franko on Skype a night in December 2016 and I told him how upset I felt about the humanitarian disaster that my country was going through. I felt the anger and depression of all Greeks at the same time. The documentary is for me the completion of a big cycle of professional life and I want it to happen because, when I have turned into "stardust," I want all the ideas, beliefs, views and meetings with great people to be there forever. It is the only legacy that I will pass on to my son Alexis, after my books. It will also be a good opportunity for all people, regardless of nationality, to learn the values ​​of "philotimo" and hospitality that have been born in my country.
A country that personally think, God has chosen to get the right energy and continue his duty.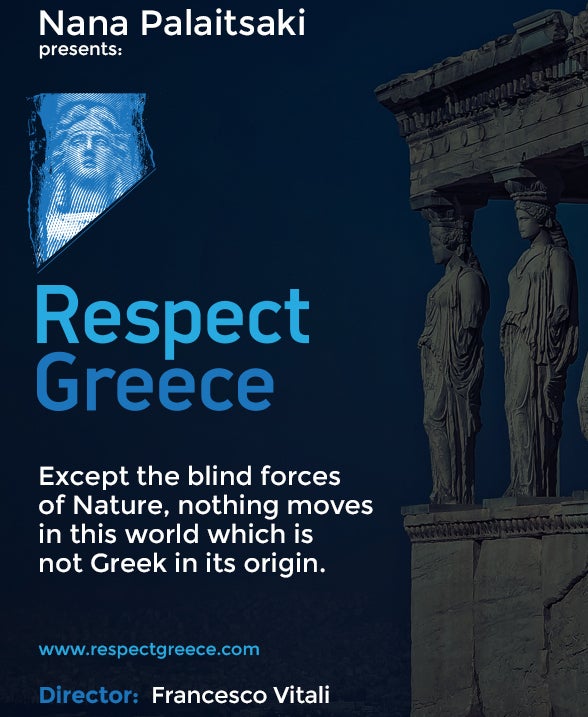 Why is this movie so important now?
At this time, the time of absolute decay, only art can give us a way out. You know, Antonio Gramsi stated that "when the old is not dead and the new is not yet born, we live in the monster age," thus evolving Plato's concern.
And because we all watch people frozen with fear, insecurity, terrorism, ignorance, we believe that the propagation of so many ideals born in Greece, such as democracy, philosophy, medicine, poetry, theatre, music, meditation, ethos, citizens participation in governance, control of the governors, all these are Olympic ideals and spirit that must emerge for the sake of our souls. To understand where we are going, we need to know where we came from.
Do you think that the actions of the EU towards Greece (which I think has become a humanitarian, not an economic problem) has irreparably damaged the Hellenic Republic's relationship with the rest of Europe, in particular Germany?
I absolutely believe that in the last 30 years in Greece, oath breaking state officials in co-operation with a large amount of those who handled public money have robbed the country and let the people broke. But governments of foreign states have also taken advantage of such factors in my country. The easiest is to shift responsibilities to "bad foreigners." But, as American friends say, "it takes two to tango".
I absolutely believe that in the last 30 years in Greece, oath breaking state officials in co-operation with a large amount of those who handled public money have robbed the country and let the people broke. But governments of foreign states have also taken advantage of such factors in my country. The easiest is to shift responsibilities to "bad foreigners." But, as American friends say, "it takes two to tango".
The greatest enemies of freedom in my country, unfortunately, are made "like Greeks." Traitors are not just the "others." The greatest betrayal was made by the greedy ones who ruled and desecrated the Greek people, but also by all those who exploited a nation who had not learned to owe anything to anyone. To a nation that other nations probably owe.
The international conventions, under the terms that they were signed, were not signed by the citizens, but by politicians who, unfortunately, as they publicly declared had even read what they signed. So now we have the most pernicious, egregious treatment of the Hellenic people, since the Pontian genocide in Asia Minor. Now that the economic crisis has spread into the rest of Europe, they share some of the same anxieties. This is war fought not with weapons, but class and economy. And we've already suffered catastrophic losses.
Respect Greece doesn't dwell on misery though—It is a documentary that projects love, spirit, morality, courage, and a clear image and understanding of the country and the importance and duty that the Hellenic Diaspora must step up and embrace. It is the power of a nation which, even in difficulties, continues to give light to the rest of the world.
How do you hope Respect Greece rehabilitates its image on the global stage?
What I want people to take away from this is how the foundations of Greek culture is intrinsically responsible for the great and indelible contributions we've had to western civilization. In an era where no one reads and many are ignorant and don't understand the profundity of history and how's it relevant to the present day. The very idea of ethos is Greek. And it is the ethos of Hellas that still inspire many innovations in contemporary 21st century culture. The hegemony of the golden age of Greece may not be as it once was, but it was and remains the founding subsequent ethos of the world today. As the great historian Sir Henry James Sumner Maine put it: "Except the blind forces of Nature, nothing moves in this world, which is not Greek in its origin."
At the same time, you are occupied business wise in a particularly productive field. You are about to release a series that bears your signature: NANACURE. How did this cosmetics line of your's came about and how does it relate to your ethos?
NANACURE, apart from my name, stands for NAtural, NAnotechnology and the word Cure. It is an excellent range of products very well suited to the needs of every woman. I have always carried within me the aspect of the entrepreneur. As a hard working woman in projective positions, I had to constantly look after my appearance. In order to be able to work under unbearable pressure, I allowed myself to give me a gift as a reward for achieving my goals. This gift was a cream, a scent, or a serum for the wrinkles around the eyes. The series of cosmetics idea came about because my attitude towards life is to care and love ourselves. Because if we don't, we shall never be appreciated and loved by other people. As a consumer I was experimenting and "flirting" with different brands, until I dealt with anti-aging and the developments around it, on the occasion of broadcasting with scientists dealing with the subject. The research I made, and after I tested, read and saw, resulted in the creation of the absolutely essential products a woman needs. So I got to work together with American chemists for the production, who are considered top of their own. And we create a very pure line for Anti-Aging, with 24K Gold powder, based in Nature, and Nanotechnology formulas, paraben free, alcohol and fragrance free, not tasted in animals, Hypoallergenic products for women who need more than a simple hydrated face cream. and we created Nanacure.
Nana's cosmetics line will be available all over the world next fall. For further information you can visit www.nanacure.com
Popular in the Community