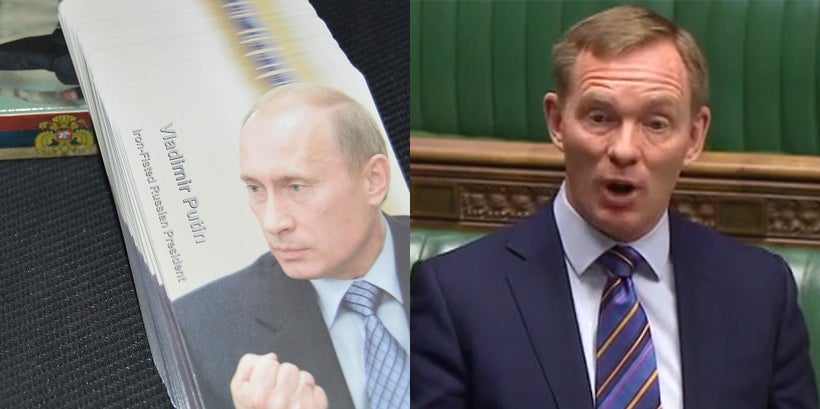 "Clear proof" is how a top ranking British Member of Parliament described Vladimir Putin's interference with the most recent UK election in 2015.
MP Chris Bryant, who made the allegation, was a top member of the UK Labour Party's leadership - roughly equivalent to the House Minority Whip in our Congress - up until the Brexit vote last year. In the aftermath of last June's referendum, he, and most of his party's leadership retired.
Uniquely, Bryant also held a full-time government role as the Undersecretary of State for Foreign Affairs - a real government position - and possesses a first-hand measure of personal knowledge about international intrigue.
Bryant's remarks landed with a thud
The Independent reports that the former Europe Minister said this in Parliament while pushing to sanction Russia's oligarchs and their agents:
"There is now clear evidence of Russian direct, corrupt involvement in elections in France, in Germany, in the United States of America, and I would argue also in this country."
"Many believe that some of the highest level decisions affecting security in the United Kingdom, in Germany, in France and in the United States of America are now compromised by Russian infiltration."
The broader topic of Chris Bryant's speech was international money laundering.
In his full remarks, Chris Bryant deplored Russia's bizarre, posthumous trial of lawyer Sergei Magnitsky, for whom American travel sanctions were named in 2012.
Specifically, Bryant specifically cited the need to immediately remedy the lack of UK sanctions to match America's bipartisan Magnitsky Act, and identified the lack of those restrictions as the root cause of a money laundering problem coming from the Mediterranean island of Cyprus.
He blamed London's overpriced housing market on a flood of dirty money from that english speaking, EU member island, which is notorious for Russian money laundering.
Speaking in the debate on the Criminal Finances Bill in the Commons this afternoon, he added: "(It has also affected) one of our closest allies… Cyprus, where much Russian money is stored away and laundered illegally and we are unable to prosecute in some of the cases we are talking about.
Cyprus also happens to be the only EU nation to give Vladimir Putin's Russia an agreement to use its military bases.
The island of Cyprus has endured multiple financial crises in the last decade, which have included bailouts by both Putin and by Russian oligarch bank depositors. 
Last year, The Guardian revealed that Putin uses Cyprus as an offshore district to park his money in the EU.
Shares of Ross' Bank of Cyprus were just floated publicly on the London Stock Exchange just last month, exactly one day before the inauguration of Donald Trump as America's 45th President.
MP Chris Bryant is by far the highest ranking member of the UK's government to unequivocally state that Russia has interfered with their electoral process.
Shamefully, Bryant stressed the urgency of the UK taking action against Russia primarily because of the utter lack of leadership from America in opposing the dictator whose aggressive cyber-attacks on western democracy have become the most pressing international crisis in decades.
That is why America's closest ally just publicly announced that our new President is no longer the Leader of the Free World, but a sadly subordinate man in the thrall of Russia's dictator, just one month into Donald Trump's term.
And once again, the presence of a major Russian money laundering haven buried within Cyprus' oversized financial sector has reared its ugly head in international affairs.
America has a president who owns not one, but two companies on the island.
REAL LIFE. REAL NEWS. REAL VOICES.
Help us tell more of the stories that matter from voices that too often remain unheard.
This post was published on the now-closed HuffPost Contributor platform. Contributors control their own work and posted freely to our site. If you need to flag this entry as abusive,
send us an email
.