When two prominent women in the NYC wellness cognoscenti unite for an electrifying mind/body/spirit collaboration, you get The Class x Mama Medicine, a 2-hour workshop co-taught by Jaycee Gossett and Deborah Hanekamp (aka Mama Medicine).
Wanting to know more, I recently joined a packed class of women in a beautiful loft in Tribeca. First, Gossett led us through 45, super-sweat inducing minutes of The Class by Taryn Toomey (TCTT), followed by Hanekamp's Medicine Reading ceremony. It was a full-blown sensory experience, blending sound and crystal healing, energy balancing, intuitive reading and spiritual guidance. Count me a believer! Afterward, Jaycee Gossett, Founding Teacher & Director of Training and Development, and Deborah Hanekamp, Seeress, Initiated Amazonian Shaman, Reiki Master and yogini shared their wisdom.
That was challenging and heart warming! Who came up with this idea?
JG: Just over a year ago, we opened our TCTT Studio Home in Tribeca. We were so excited to finally have a space to offer aligned workshops to our community. Deborah has a deep understanding of healing energies and shamanic practices that compliment the work of TCTT so beautifully. This particular workshop is The Class Express, a 45-minute experience of the original TCTT 75-minute offering. I focus the sequencing to prepare the body to receive Deborah's medicine and teachings.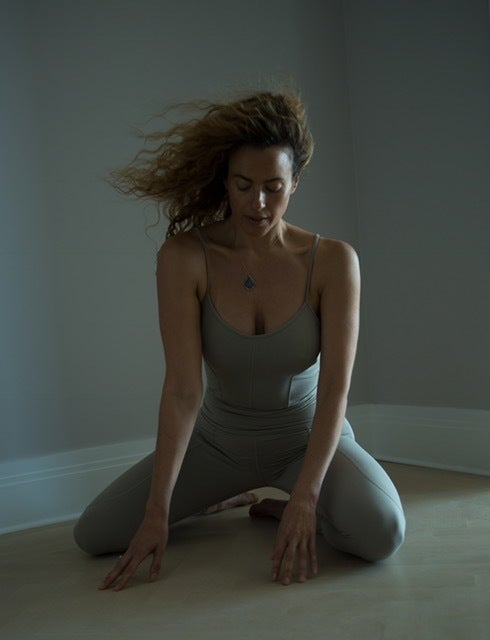 Deborah, what is it about Jaycee that you felt could optimize your Medicine Readings?
Jaycee is a very open, radiant being. Her classes help people to clear their energy and get in touch with their wild nature, making my work much easier when it's time for a Medicine Reading Ceremony.
How do the breathing techniques in The Class and Medicine Reading, respectively, combine to usher in profound healing?
JG: We use different breath techniques to altar brain waves and quiet the mind. The breath is fuel for the body to breakthrough perceived limitations and calm the nervous system as we intentional trigger discomfort.
DH: Our breath is one way to spirit, and the more connected we are to our spirit, the more balanced we feel.
The jumping jacks and squat thrusts are a welcome, old-school cardio challenge. What are the benefits of detoxing the lymphatic system before a medicine reading? Does it help one to be dripping in sweat?
JG: Hahahahaha! Yes, we love a good sweat and old school cardio here. We find that by using simple, repetitive calisthenics and plyometrics, we can thoroughly challenge the body to engage the mind. TCTT invites students to witness their resistance to discomfort and the result is an expansive, heart-opening, enlightened body-strengthening release.
DH: On the Medicine Reading side, when your blood is flowing so is your beautiful spirit.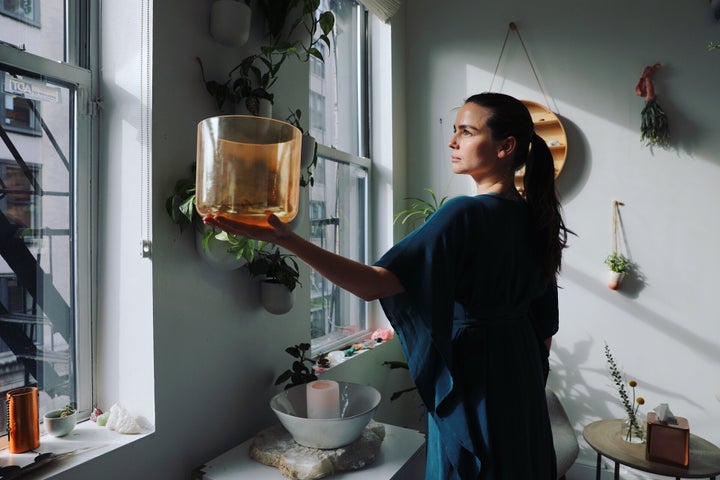 Deborah, can you share the aromatherapeutic benefits of rose oil during the Medicine Reading? And, the significance and beauty of bath ritual post reading?
Rose is a very high vibrational frequency and connection to our love. This is why it's one of my favorite plants to have in your bath and in my Medicine Reading Ceremonies. The bath works to sort of "seal in" the powerful energy you generated during the ceremony.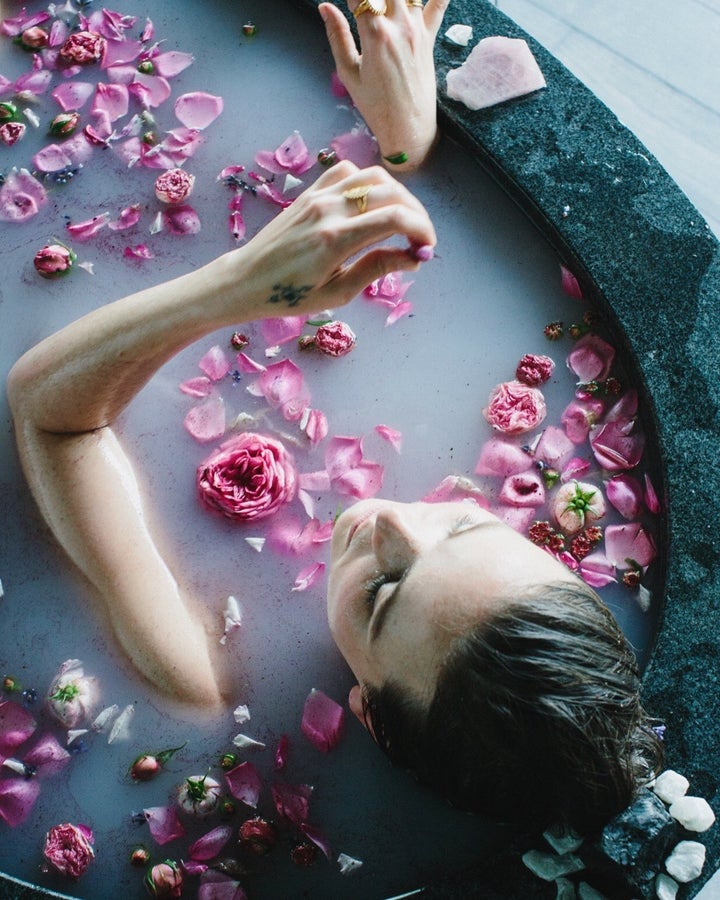 What is the most important healing practice you can do post-workout to maximize this high vibration for days? I loved the mantra we sang, "I am perfect as I am….ooh, ooh, ooh."
JG: Breathe, pay attention to where your energy is going. Choose to spend your time engaging in as many high vibe actions possible. The energy of what you put in your body, how you speak, the quality of your thoughts, your surroundings, etc. Obviously, not everything is in your control, so you do your best to balance out the energy of your actions, the energy in you and around you.
DH: And of course take a quartz crystal, Epsom salt and lavender essential oil bath.
How frequently do you plan on doing these powerful collaborations?
JG: We have been offering this collaboration at the TCTT studio every couple of months. Next month, The Class x Mama Medicine session will be: Saturday, February 17, 3pm-5pm