Changing ourselves changes the world. In 2013, a group of daily givers, myself included, committed to provide seed funding to a fledgling social change project every single day of the year. At the Pollination Project, we continue this practice of daily giving by making seed grants every day in 2014. We welcome you to join us in your own way! Here are the extraordinary people and projects that we supported this week.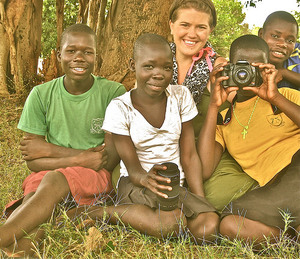 Tara Matthews, a Peace Corps volunteer in Kitgum, Uganda founded Kids Who Click, a program encouraging youth to capture and express emotions through journaling and photography. Though there is peace in the region now, many years of violence in Northern Uganda is still fresh in the minds of the children and young adults who grew up during a 20-year internal conflict. Each week the group of participants will be assigned a new emotion ranging from happiness to anger. With the help of mentors from The Refugee Project, the participants will address a particular emotion by sharing their experiences, writing stories and taking photographs. Tara remarks, "Health is not simply comprised of a strong physical state but also a wholesome emotional and mental state of mind."
In rural Western Kenya, Beatrice Makokha launched Maxing Out Microloans: Improving Livelihood for Youth and Women as a revolving micro-loan fund of $1,000 for youth and women-led small businesses. Maxing Out Microloans encourages the creation of formal business groups and providing mentoring and training. It will contribute to the improvement of rural Western Kenya by promoting local food security and nutrition, and building social capital and environmental health.
Steven McAllister is working with The Flow Factory, a community flex space in Sarasota, Florida, to revive their rooftop vertical garden. This garden will teach local youth about permaculture, while also providing produce for a pay-what-you-want café and produce stand. The funds cultivated through the cafe and stand will then be channeled through an economic development program to contribute back to the community. Steven's interest in alternative communities has led him to encourage The Flow Factory to invest in their projects with time, talents and resources in exchange for time dollars through the Common Wealth Time Bank. By promoting the flow of both money and produce into an underserved part of his community, Steven hopes to empower his fellow citizens with resilience and a greater sense of well-being.
As a professional book artist and educator in Dillsboro, N.C., Frank Brannon has developed the SpeakEasy Press, an art studio supporting the printing and revitalization of the Cherokee language. The SpeakEasy Press will provide a summer apprenticeship program during which current art students and recent college graduates will build their small business development skills while also supporting the local Cherokee language by printing in the Cherokee writing system. Developed by Sequoyah in 1821, the eighty-five character Cherokee syllabary was used in the Cherokee Phoenix newspaper in the Cherokee Nation before the Trail of Tears. Frank's vision is to "honor Cherokee printing history, and support language revitalization, by printing in the manner the Phoenix had been printed." He also points out, "The ability of any culture to print in its own language is a simple matter of social justice."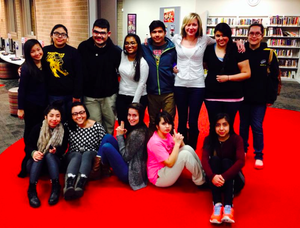 Lena Khader is an Oklahoma City educator who, at the request of her students, started Making HERstory, an after-school enrichment program that encourages young adults to freely express themselves, talk about social issues and brainstorm ways to better their community. Students will be encouraged to critically analyze themselves, their community and their society by discussing feminism, ethnic studies and how their own personal narratives can be used as a tool for social and political empowerment.
With a background in non-profit family services and a heart for helping others, Yolunda McGee founded Youth and Family Outreach to provide basic care items to families who are at or below the poverty level in rural communities in Northern Louisiana. Yolunda started Youth and Family Outreach to give families the essentials for a healthy lifestyle and to promote financial stability. They provide back to school supplies for children, basic supplies to people without homes and financial planning workshops. Yolunda explains the goal of Youth and Family Outreach is to "provide a service to individuals truly in need and [give] them resources that will make them stronger individuals to become better parents and citizens."
Julia Brennan is a Peace Corps volunteer in a health center in the rural foothills of the Rwenzori Mountains in Uganda. Through the Community Health Insurance Plan for Rural Ugandans, she is initiating a family-based health insurance program for 400 members of this low-income agrarian community. The idea of health insurance is largely unheard of in Uganda. However, with Julia's experience in starting the community's first health plan, she is enthusiastic about expanding it. One of Julia's goals is to encourage preventative medicine, as "the fewer members who fall sick, the more sustainable and low-premium the health plan can be."
Congratulations to our grantees this week for their outstanding work to bring justice, peace, health and compassion to their communities. These are just a few examples of what a little seed money can do when put in the hands of someone with a vision and a plan to change the world.
REAL LIFE. REAL NEWS. REAL VOICES.
Help us tell more of the stories that matter from voices that too often remain unheard.