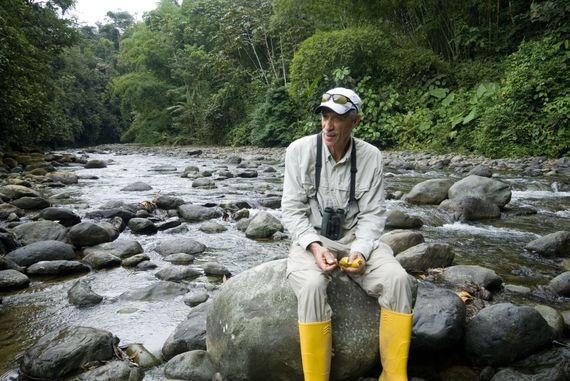 When I was 17, I read Malthus, and this began a lifelong interest in our fragile planet and specifically, the fate of my small but amazing country, Ecuador.
How could we, as human beings, ensure that our incredible world remain viable for future generations as the population grew, creating an even greater imbalance between us and our environment?
Today, these issues still inspire me, and over the years I have approached them in my roles as businessman, foundation president and politician.
I have always believed in the power of responsible capitalism to achieve greater social goals, and tourism, as an industry, is particularly well-placed to aid in saving unique, iconic locations, such as our beloved Galapagos, while supporting local communities' needs for employment and income. Human beings tend to see ourselves as leading members of a biological system, but it is so easy to forget that we really all form part of an essential whole.
We cannot afford to ignore, or even worse - destroy - any element without running the risk of toppling our own support structure. My experience at Mashpi has shown me my very small role in the universe.
When we found Mashpi, it was as if I had been unconsciously looking for a girlfriend, as if I had a vision of how she would be.
Ecuador is the world's most biodiverse country in terms of number of species/land area. Her Amazonian region, home to many native peoples, wildlife, and an infinite number of plant species, faces major development challenges including oil and mineral extraction, logging, and ranching.
But we discovered that the western flank of the mountains that form part of the Metropolitan District of Quito confronted similar challenges and had at least as much biodiversity as the Amazon proper - having come from the same basic geological formation before the Andes separated them millions of years ago. This region, part of the Choco rainforest which runs from Panama through Colombia to northern Ecuador, is one of the biological hotspots of the planet: our resident biologist has already identified over 400 bird species, hundreds of orchids, a new frog species, and countless insects, including 20-30 different species of bees, some of them with the most astounding iridescent colours.
At first, we bought Mashpi with the sole goal of conservation. Even that wasn't easy. My friends and I camped out on the property numerous times before conceiving of developing it as a sustainable tourism project. At some level, the lodge is a consequence of the many times I had to deal with very distinguished insects that we encountered during the night.
I realized that we had to build a glass bubble, architecture that would enhance the forest experience without competing with it, somewhere you could enjoy the incredible opportunity to explore this miraculous ecosystem during the day but retreat to a safe cocoon while you slept.
We located the lodge on the site of the old failed sawmill. This location forces guests to traverse 7 km of forest roads just to reach it and it cost us more money, but we chose it to avoid any additional damage to an already delicate environment.
The local community is heavily involved: 80% of our employees are from the area; local organic food production graces the tables; and we intend to sell 15% of the operation's shares, at face value, to the local community to provide a constant income stream and an incentive to protect the forest. We have negative CO2 emissions and we hope our guests continue to support our conservation efforts.
Today, the internet has transformed tourism as it has many industries. I personally love going on a beach holiday and drinking a beer, but now, from my armchair, I can look for a travel experience that is a journey that transforms me, both inside and out. Many travellers want to make a difference.
I share that desire, and over my lifetime I have been humbly blessed to have a sensitivity - a vision as it were - that has allowed me to bring numerous initiatives to life that have helped protect this incredible planet that we call home. I like to think that I have made some difference and that life will reward me with the continued opportunity to follow my passion of forging a clear path to another, more sustainable, form of development in Ecuador and around the world.
Pioneers for Change is a seed-bed for innovative thought. An activator of personal potential. A catalyst for collective energy. A community to drive social change.
Our annual, international Fellowship is open to anyone aged 28 - 108 years old. We gather change-makers -- a business person, a community person, an investor, a thinker or doer -- who are willing to harness their talents, energy and resources as a force for good. Pioneers for Change is an initiative of Adessy Associates.
Adessy Associates believes a better world is possible, and inspires and equips organisations and individuals to make positive change happen and contribute to a sustainable future. We focus on benefit for people, planet and profit and our bespoke services harness sustainability, innovation, consciousness and purpose. We are proudly B Corp certified.
About Roque Sevilla
Roque has been involved in three important areas: business, conservation and environmental matters, and public service.
As a businessman, he founded various companies that have proved leaders in different sectors of the Ecuadorian economy. He is President of Grupo Futuro, a holding company for the country's most important insurance group, which includes: Tecniseguros (1973), the country's largest insurance broker; Seguros Equinoccial (1974), leader in casualty insurance; Salud SA (1994), the largest health management organization in Ecuador; and, Seguros Equivida (1994), leader in life insurance.
As an environmentalist, he founded the largest and best-known environmental NGO of Ecuador, Fundación Natura, and served as its Chairman for 10 years. He was Vice-President of the Charles Darwin Foundation for the Galapagos and sat on the Board of World Wildlife Fund US (WWF - US).
As a civil servant, Mr. Sevilla has held numerous public offices, including: Mayor of the City of Quito (1998-2000), Member of the City Council of Quito, Member of the Constitutional Assembly of 1997, National Forestry Director, Member of the External Debt Negotiating Commission, and Chairman of the Yasuní-ITT Initiative. He has received several awards for his work protecting Ecuadorian nature including: The Order of the Golden Ark, by Prince Bernard of the Netherlands, the United Nations "Global 500" distinction, and the Order of Isabella the Catholic by the King of Spain.
He holds a degree in economics from the Catholic University in Quito, and a Master's Degree in Public Administration from Harvard University.
Popular in the Community