People who are closest to the problem or issue best know the solution, and civic engagement is a key process when problem-solving. Several months ago, I heeded Borough President Eric Adams' call to action and pledged to be one of 10,000 Concerned Brooklynites. On Monday night, I was honored to participate in the launch of his initiative.
As envisioned by Borough President Adams, 10,000 Concerned Brooklynites is a collaborative venture where like-minded residents convene on a quarterly basis to address issues then determine how to effectively deliver results. Welcoming a wide cross-section of attendees in the rotunda Borough President Adams said, "As governmental resources are drying up, we're looking closely at allocation of funds - especially when multiple organizations are doing the same thing - so as to eliminate redundancy."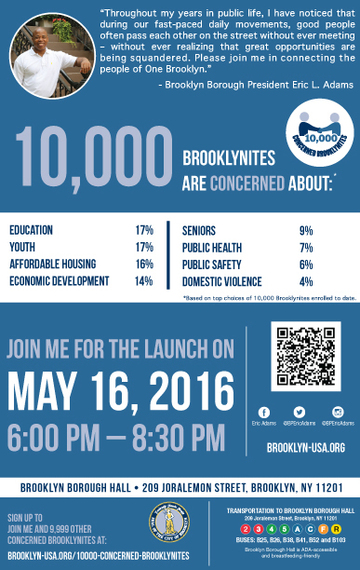 In launching his initiative, Borough President Adams has assumed the mantle of civic realigner. In his book, The Power of Social Innovation: How Civic Entrepreneurs Ignite Community Networks For Good, author Stephen Goldsmith lists the combination of steps the civic realigner may undertake: capitalize on a crisis or other high-profile event to build broad-based support; engage other actors, including providers, founders, and community and government leaders, to serve as partners; look to incorporate proven models of innovation; and employ data to measure success.
Given the ongoing gentrification of Brooklyn, it comes as no surprise that affordable housing ranks as one of the top three concerns among residents, after education and youth. During the breakout session, I participated in the workshop on economic development which is my main focus. Fellow attendees included a psychiatrist who will soon be opening his practice in Bed-Stuy; a supervisor at the Department of Sanitation; a retired banker who is also a landlady; an early childhood education specialist; several small business owners; and a community organizer who has been mobilizing her Bay Ridge neighbors for over forty years.
At the end of our ninety minutes session, we drafted a shortlist that will serve as a framework for strategic planning and provide ideal subject matter for data analysis:
Economic empowerment for women
Shifting mindsets to maximize social capital and circulation of income generated in/by the community to stay within the community
Educating homeowners against deed fraud
Educating small business owners how to pivot, especially in rapidly gentrifying neighborhoods
Providing resources for small business owners in disaster-impacted neighborhoods so they are equipped to rebound after storms like Hurricane Sandy.
"We've been existing far too long in silence... but if you allow people who have a passion about a particular cause to work on it, great things will happen," said Borough President Adams. 10,000 Concerned Brooklynites may be in its incubator phase, but has the potential to emerge as a prototype for not only other boroughs, but also other cities.
Calling all HuffPost superfans!
Sign up for membership to become a founding member and help shape HuffPost's next chapter