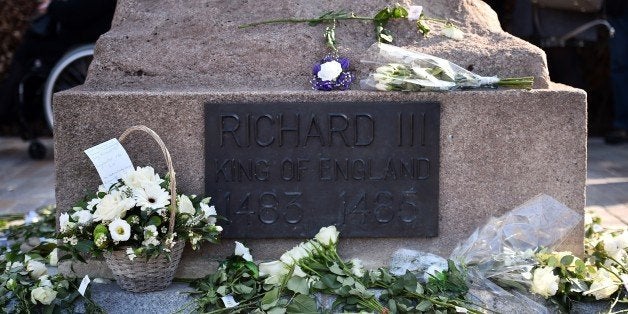 Today, the King of England will be deposited back into the earth. The public ceremony will be respectful and uncontroversial. Archaeologists will not write angry editorials, sign petitions or organize protests about Richard III, who died 530 years ago.
Richard III's body was a treasure house for science and history. Discovered in 2012 under a Leicester parking lot, the skeleton of the last English monarch to die in battle quickly became the subject of intense public scrutiny. The archaeological study of the remains provided vital historical answers to the king's controversial life and death. Just several bones and teeth offered science a wealth of data about the king's origins, movements, lifestyle and diet. Yet, Richard III's fate was not to be preserved in a museum but returned to a grave.
The silence of scientists on Richard III's reburial is deafening. It stands in stark contrast to how so many regard the reburial of Native American human remains in museums. Around the world archaeologists have resisted the return of skeletons for decades -- arguing that they are needed for science. Even nearly 25 years after the Native American Graves Protection and Repatriation Act became federal law, only 27% of the Native skeletons in U.S. museums have been offered for return. More than 100,000 skeletons continue to sit on shelves. In Europe, only in the last few years have the first sets of Native American remains come home.
Then again, the silence is not especially surprising. The double standard for White and Indian bodies has a long and established tradition.
In 1923, a Chicago journalist named Edward Page Gaston grabbed international headlines in a search for the body of the legendary "Indian-Princess" Pocahontas who died in England. In a kind of archaeological dragnet Gaston dug up 100 dead reposing in a cemetery. Britons didn't mind the search for the Indian royalty, but the disturbance of their own bloodlines was too much. Authorities stopped the excavation and reburied the dead.
In 1971, a cemetery was discovered during an Iowa road project. Archaeologists arrived. They excavated 27 skeletons dating to the 1800s. Based on the grave goods, 26 people were deemed white. They were placed in new caskets and swiftly reburied in a local cemetery. The last body, a young woman, was believed to be Native American. She was boxed up and taken to the Iowa state archaeologist for study.
These attitudes explain why museums across the U.S. and around the world are still filled with the remains of American Indians.
By the late 1980s, most archaeologists conceded that Native Americans should be able to rebury blood relatives. The parallel here with Richard III jumps out: His family's living relatives donated their DNA for identification and, although some disputed the location of his final resting place, helped direct the king's reburial.
And yet, to reduce the argument to biology only extends the injustice against Native Americans. Recent genetic studies do prove that some Native peoples' can trace their ancestry back thousands of years to people buried in their own backyard. But, the belief that a responsibility for an ancestor comes from biological connection is distinct to Western thought and law. Many Native Americans feel their ancestry is shaped as much by place (anyone who lived in their homeland), interconnectedness (all Native Americans came into being together), and spirituality (the dead, if disturbed, can harm the living). Western cultural norms should not exclusively dictate how Native Americans are allowed to be stewards of their own past.
I am heartened that the descendants of King Richard III were able to rebury their ancestor. Perhaps those in England and beyond might now offer the Indian dead the same respect. As the Leicester city mayor said, speaking of the king, "It's now our opportunity to put it right and to make sure this time that it's done with dignity and honour."
Why should Native Americans be treated any different?

Dr. Chip Colwell is curator of anthropology at the Denver Museum of Nature & Science, and the author of the forthcoming Plundered Skulls and Stolen Spirits: Inside the Fight to Reclaim Native America's Treasures.
Related
Popular in the Community