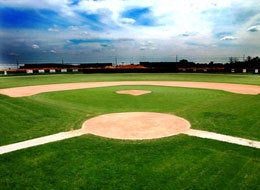 Just about everyone knew Skip Caray's voice. It was nasal and throaty, and thanks to the long reach of TBS, it was on just about every night for much of the year, whether the Braves mostly lost (in the '80s) or won (in the '90s), and TBS's entire programming schedule seemed to consist of baseball and bad action movies. When the games got really bad, he'd make fun of the movies, or say something like, "The bases are loaded, and I wish I was." When they got really good, he'd share his glee: "Boy, this is fun!" These days, the pendulum is swinging back the other way, as Skip commented, "It was more fun a few years ago." Yesterday, with Skip's passing at 68, the era of fun has come to a close.
As the son of one of the most famous broadcasters ever, Harry Caray, Skip had to work hard to carve out a niche for himself. Like his father, he got his start broadcasting professional sports in St. Louis, calling games for Hawks, whom he followed to Atlanta. He then followed the St. Louis Hawks back to Atlanta. While Harry's domain was Chicago, Skip became the voice of Atlanta, early in his life with the Crackers, then with the Hawks, and then, beginning in 1976, with the Braves, whose games he called till his death. The very next year, TBS started broadcasting the games on cable systems around the country, and Skip became to TBS what his father was to WGN: a national voice.
Father-son broadcasting tandems are not unprecedented -- Jack and Joe Buck, Marty and Thom Brennaman, Harry and Todd Kalas, Dick and Jeremy Schaap, Skip and his own son, Chip Caray -- but the children are rarely as idiosyncratic, or as truly great, as their fathers. However, Skip found his own voice, hilarious, wry, poking fun at himself and everything on the field, and despite spending thirty years in the public eye and in most homes in America, he managed to be unique.
TBS brought him to fame, and it also brought him low. This season was the first since 1977 in which TBS did not air Braves games, and Skip didn't survive it. TBS left him off their postseason announcing rotation in 2007, instead choosing his son, Chip, whose broadcasts were embarrassingly error-riddled. After battling alcoholism, arrhythmia, diabetes, congestive heart failure, and reduced kidney and liver function, Skip nearly died last October. Chip said, "I hope and pray he's sitting on a barstool somewhere with his dad arguing about baseball... He knew he wrote some checks that were getting cashed."
His most famous calls occurred when no humor was required: Otis Nixon's home run-saving grab in 1992, Francisco Cabrera's pinch single to win the 1992 NLCS, Marquis Grissom's World Series-winning catch in 1995. And longtime listeners knew he had a number of running gags: made-up traffic reports for overlong day games where he announced that each highway in Atlanta was blocked; announcing a hometown for each fan who caught a foul ball, an homage to Detroit Tiger broadcasting great Ernie Harwell.
But his greatest calls on the air were off the cuff. The notoriously slow-working pitcher Steve Trachsel often earned his wrath: "I wonder if Trachsel takes this long trying to decide what to wear in the morning. Must be distressing." "Trachsel will, because of the rules, inevitably have to throw one." "His outfielders are all standing out there, pictures of disgust. The pitch, and it's low-better throw to first again." "Nobody minds a three-hour game if something's happening. But watching a guy scratch himself and wander around the mound is hardly big-time entertainment. I'd be shouting Day-O too."
He was accused of "homerism" -- that is, being a fan of the team you broadcast -- which isn't entirely unfair, but is mostly beside the point. He certainly was the loudest to cheer when things went well, and he clearly had more fun when the team was winning, but it never prevented him from criticizing poor play on all sides of the ball, from applying his sardonic wit to players on the team or people within the organization, from calling the play as it happened, even if he had an emotional desire that the outcome benefit the Braves.
And that's what a home team announcer should be. He wasn't a dry, emotionless chronicler of the official record. He was our eyes and ears, the describer of the moment. Most of what he said will never be heard again, simply vanished into the ether of the airwaves. For Braves fans, he was the best and funniest of us all; for fans of opposing teams, he was serious about the sport and irreverent about everything in it, a hilarious curmudgeon whose tastes you didn't have to share but whose voice you couldn't help but enjoy.
Tonight, the bases may not be loaded, but a lot of Atlanta Braves fans will be, toasting Skip's health, shouting "Braves win!" together, and remembering every goofy smile Skip was able to steal from sadness, back when it was fun. Thanks for the laughs, Skip. We'll miss you.