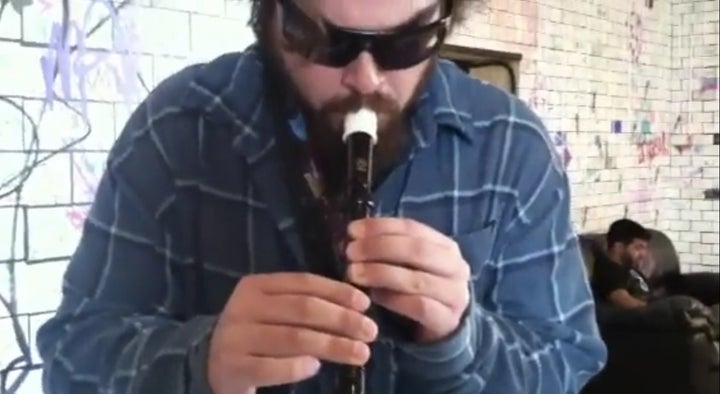 Now in its 26th year, SXSW has overcome many of the awkward growing pains that were evident in recent iterations. Event organizers finally figured out people don't like waiting in line and learned how to cap RSVP lists. Rumor mongering about special guests was kept to a minimum. The price of Lone Star was fairly consistent. On the downside, mainstream America fully embraced SXSW after slowly creeping in on the festival for years. Whether it was the 60-foot-tall Doritos vending machine, the party sponsored by Nike, or American Express broadcasting a live Jay-Z concert on Sixth Street, everybody wants a piece of Austin. SXSW is still about music, but it's also so much more.
For every complaint about SXSW becoming too corporate there is something like SXSWendy's. Over the course of four nights, more than 24 bands played full sets out of a school bus parked behind the Wendy's in downtown Austin. Concertgoers were welcome to bring beer from the nearby convenience store and listen to the likes of Rich Aucoin, Blastoids and Terror Pigeon Dance Revolt. Wendy's has nothing to do with the show other than benefiting from drunk people realizing the glory of the 99¢ value menu.
Technology folks know how to party too. Monday night before most of the music kids had even shown up Cheer Up Charlie's hosted a miracle berry party. Organizers passed out bowls with plain yogurt, grapefruit, lemon and a small pill that dissolved on your tongue and made sour taste sweet for a few minutes. Good clean fun.
Nigerian-born, Germany-based neosoul singer Nneka delayed her set by a good 20 minutes to get the sound right and it was well worth the wait. Not only was her music filled with lush, bombastic instrumentation, she stopped between each song to talk about issues affecting Africa and young people enacting social change. Quite refreshing.
Poliça (pronounced PO-liss-ahh) continued its under-the-radar bid to win indie artist of the year. It didn't matter if it was early in the morning or late at night; Channy Casselle sang her heart out. The haunting lyrics and dueling drummers create a commanding performance from such an unassuming group of musicians. One question: Where do all the electronic accents come from during the live show?
The man is a touring machine so if you haven't seen Astronautilus live it's only because you haven't tried. For those who aren't familiar -- the Minneapolis-based rapper is best known for pausing his show and soliciting topics from the crowd and creating a freestyle flow based on those subjects. On Friday at Side Bar he rapped about Daria and Burt Reynolds' mustache and on Saturday at Liberty Bar he went off the cuff on the madness of SXSW. You don't fully appreciate the bulging jugular in Astronautilus' neck until you see it in person.
Typically sponsored by a well-known corporate entity, these sparsely attended parties are off the radar and away from the madness of badge only and RSVP. After I wrote about how pointless branding was at the Fader Fort I should point out that sometimes it works. I spent some time at the Hard Rock Hotel Sound of Your Stay venue and ended up chatting with one of the hotel's marketing people. Even as he was telling me about new promotions like the in-house guitars and DJ equipment available for guests to use in their rooms I didn't know how or when I could work it into my coverage, but later that day I found myself telling friends all about it. So congratulations Hard Rock Hotel, consider your decadent party justified.
Tuesday night we were lucky enough to score a reservation at Alamo Drafthouse's newest venture, a recently shut down brothel transformed into a speakeasy complete with secret entrance and vintage cocktails. Midnight Cowboy promised drinks prepared tableside, an exclusive back patio and list of rules for customers to abide by -- which fell flat in an effort to be open in time for SXSW. It was more fun to speculate about the mystery behind Midnight Cowboy than it was to be an actual customer there. The cocktails are great and the décor is fitting, but the ambiance has a ways to go.
Single guys: Buy a Moleskine notebook
I was wearing pants the color of lemonheads and yet my small black notebook was getting all the attention. People gave second and third glances, even nudged their friends and pointed out the weirdo writing with actual pen and paper. The best was the girl who walked by and saw me writing in the notebook, puppy dogged her eyes and said, "Awwww, good" -- like I had just learned how to tie my shoes.
The award goes to... Breathe Carolina for combining dubstep with alt-rock-rap and still managing to take themselves seriously. It's unfair to judge a book by its cover but when your website says things like "Blackout Tip #33: Every Friday is blackout Friday" and your lyrics include "loose talk is the enemy of laughter/light up my cigarette and wait for disaster" you've pretty much type-casted yourself. And as much as I appreciate the enthusiasm, please refrain from using the F-bomb every other word when you're addressing a crowd of 40 on Saturday afternoon at 2 p.m. Let's not sell them short, this might be the worst band of all time.
Special mention for Young L, who took the stage at 3:30 on Wednesday afternoon already drunk off his ass and with champagne bottle in hand, which led to him slipping and falling down during his very first song. Which would have been awesome except there were only 20 people in the crowd at the time.
Clash of modern hipster values
Sustainability is a pillar of the 2012 hipster platform, and yet during SXSW thousands of lone star cans go unrecycled, reams of unnecessary marketing materials are printed, cigarettes litter the streets and general excess is celebrated. If SXSW wants to be a mature adult it needs to go green. Pedicabs are a good start, prominent recycling bins would be a step in the right direction and doing away with plastic wristbands is the future.
As far away from the stage as they could possibly be, Madeline Follin and Brian Oblivion of Cults sat on a picnic table at the Fader Fort smoking cigarettes. Nobody bothered them (except for me) and several hours later they performed to a crowd of thousands. #onlyatsxsw
The best conversation I had was with Bryan Steenerson, front man for Murzik -- a dark folk band that was playing its first SXSW. He told me a little bit about his music but mostly talked about Minneapolis where the band is based out of and the music scene that is slowly gaining traction there. When it came time to part ways he encouraged me to visit MPLS, bring friends and stay with the band in their huge house. That kind of hospitality is hard to beat.
How do Austinites relax on Sunday after SXSW? Certainly not with karaoke at Ego's because that would be boooooring. No sir, the answer is homemade brunch. Picture fresh, organic carrot-celery-apple-ginger juice followed by an elaborate spread of cheese and crackers. The main course: ricotta-stuffed french toast with strawberry bacon marmalade, cheddar jalapeno friend corn bread with soft eggs, biscuits and sausage gravy, broiled tomatoes and fried green tomatoes topped with rosemary yogurt and champagne being poured freely throughout. Follow it up with a game of dice in the backyard you're set. Friends are family in Austin.
Calling all HuffPost superfans!
Sign up for membership to become a founding member and help shape HuffPost's next chapter