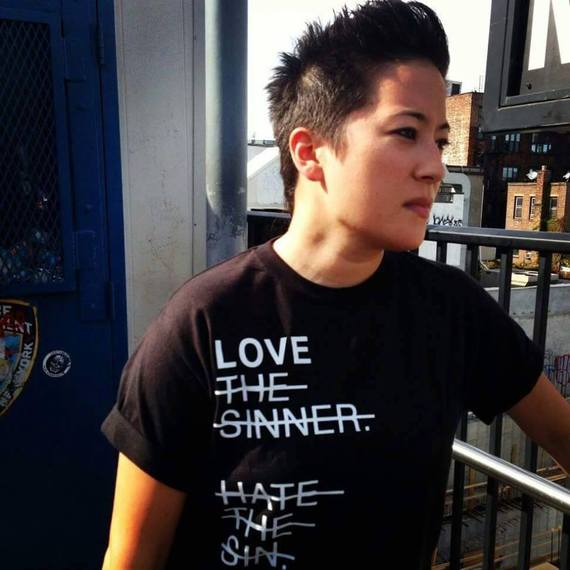 As New York stepped into 2016 filled with new hope and excitement and resolutions, Ellie Conant breathed her last breath. She was young and beautiful and taken from this world too soon, but her body was wracked with cancer and she went gracefully into the next plane of existence with her partner and her dog by her side.
Ellie was a long-time party promoter in the New York City lesbian scene, but the title does no justice to the many lives she touched along the way and the ripple effect she left behind. Since her passing, an outpouring of the lesbian and queer community has flocked to her Facebook page, sharing stories of how she impacted their lives and moments that etch her impermanence in the history of queer culture.
Like many people, I crossed Ellie in the shadows of the gay clubs and didn't know her terribly well, but her death represents something significant for me and everyone she left behind. When I think of Ellie, I think of the most electric days of my life, my youth as a dyke coming into my own; of Tuesday nights that wreaked of possibility. When I didn't think about tomorrow, let alone mortality. I think of walking into a space like Meow Mix and feeling a sense of belonging, seeing myself reflected in the beautiful women around me. Ellie is more than the incredibly well-networked and compassionate human so many adored; she is a symbol for the excitement of youth, the promise of a new experience, the comfort of community, the possibility of a night that could change your life forever. Ellie didn't create parties; she created safe spaces for LGBT people to gather and share experiences.
While I didn't know Ellie well, her death has been on my mind, her energy has been with me. Her passage has unlocked a flood of memories of life before smart phones and familial obligations and adulthood. Many of us knew Ellie as a passageway; we rose through the ranks and saw her profile as we moved through the young party years, now a distant memory as we sit at our cubicles and plan weddings and check our bank account balance. We may have even scorned those who continued to be bar flies and hang at the last vestiges of lesbian nightlife that still exist in our increasingly plastic, corporate franchised condo concrete city. Yet, Ellie's passing has reminded us of the incredible significance of those cobwebbed nights begot the indelible experiences that helped shape the who we are today.
One can't help but think that Ellie's passing represents the death of something in addition to the waning of our youth. In the era of shrinking lesbian spaces and Tinder, perhaps she takes with her the vestige of a bygone era, a world where social media and text messages didn't yet exist, but you wouldn't have even thought to use those things because you knew you'd meet your friends at the bar.
The death of someone young and beautiful awakens something in our collective consciousness. It could be me next. It could be my best friend, my love. Am I living my life to the fullest potential and are the choices I'm making once I'll come to regret on my own death bed? Perhaps Ellie had it right all along. She chose to live full-time in what many of us consider the most vibrant part of our lives.
Popular in the Community