UPDATE: June 23 ― A Texas restaurant said Monday that a server who claimed a customer left him a racist message on a receipt had "fabricated" the story.
"After further investigation, we have learned that our employee fabricated the entire story," Saltgrass COO Terry Turney said in a statement. He added that the customer, whom the company had initially banned from its restaurants, "has been contacted and invited back to our restaurant to dine on us."
"Racism of any form is intolerable, and we will always act swiftly should it occur in any of our establishments," Turney added. "Falsely accusing someone of racism is equaling disturbing."
A Texas restaurant is banning a customer who left one of its servers an offensive message on a receipt over the weekend.
The incident at Odessa's Saltgrass Steak House on Saturday apparently centered around server Khalil Cavil's name.
In a photo of the receipt Cavil posted on Facebook the next day, the customer appears to have circled the server's first name and written, "We don't tip terrorist."
As promised, the patron did not leave a tip on the $109 bill.
The restaurant is pledging to "stand by and support" its employee, Saltgrass Steak House COO Terry Turney told HuffPost in a statement.
"Racism of any form is unacceptable and we have banned this customer from returning to our establishment," Turney said.
Cavil, 20, said the experience with the customer left him "sick to my stomach."
"I share this because I want people to understand that this racism, and this hatred still exists," Cavil wrote in a Facebook message on Sunday.
Cavil told Texas' KMID that although he doesn't have Middle Eastern roots, people sometimes assume he does because of his name. He said he was named for one of his dad's best friends, a fallen veteran.
"My dad was in the military and a buddy that he was very close to, served with him ... Khalil was killed in an accident and so my dad just named me after him, one of his best friends," Cavil told KMID.
The name Khalil means "friend" in Arabic, and is a common name in some Muslim communities.
Civil rights groups have long pointed out that anti-Muslim bias affects not only people who identify as Muslim, but also those perceived as Muslims because of their race, religious attire or other factors. The most prevalent trigger of anti-Muslim bias incidents is the victim's ethnicity or national origin (33 percent), according to a report from The Council on American-Islamic Relations that tracked incidents in April through June of 2018. Seventeen percent of incidents were triggered by the victim being perceived as Muslim.
"I definitely hope this encourages other people — no matter what race, no matter what religion — to voice out that this kind of racism and this kind of hatred is not OK," Cavil told the Odessa American. "A light needed to be shed on it, and I'm so grateful and blessed to have this opportunity."
He also said the experience tested his faith. After Saturday, he said that he had to keep reminding himself that "Jesus died for these people too."
"I had to think, what would Jesus do in this situation," he told KMID. "I hope the people who left me that note find Jesus."
Before You Go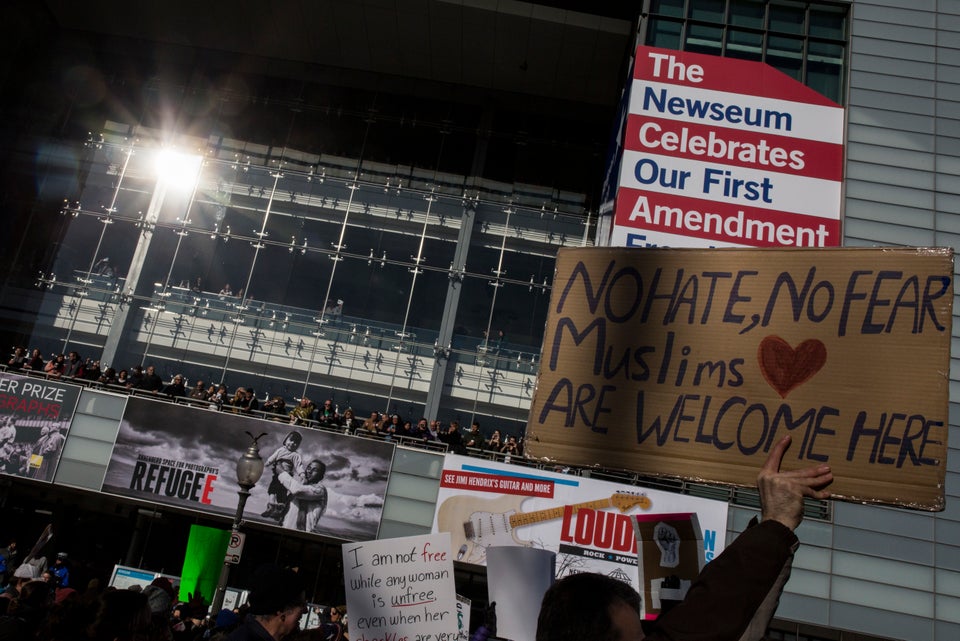 Interfaith Solidarity
Popular in the Community