An Italian restaurant in Albuquerque, New Mexico, is under fire after selling souvenir shirts and hats with the phrase "black olives matter," just one letter off from Black Lives Matter, the movement dedicated to ending violence against black people.
The owner of Paisano's, Rick Camuglia, told The Huffington Post that his intent was solely to promote his restaurant's tuna dish with a black olive tapenade. His chef came up with the slogan while labeling jars filled with the fruit. The chef sent a photo of the label to Camuglia and they both thought it was witty enough to put on the reader board outside of the restaurant to attract customers.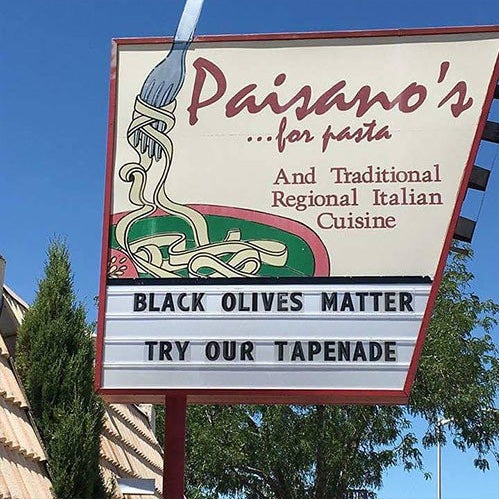 Camuglia told HuffPost that neither him or his chef correlated the restaurant's new slogan with the Black Lives Matter movement and that it was "just coincidental." 
"We didn't intend to offend anybody and didn't think it would," Camuglia told HuffPost. He said that once he learned people were offended by the reader sign, he immediately took it down. 
The restauranteur had a change of heart, however, after a FOX News story about the sign gained traction. Camuglia said he received "overwhelming support" from people who wanted to buy his olive tapenade and eat at his restaurant. So he put the slogan on shirts and hats "in response to demand" and decided to sell them for $20 and $25, respectively. He promoted them on the restaurant's Facebook page.
"The amount of people that are basically supporting us... it's 99 to 1," he said. "Most people can get a little satire." He said those who believe the slogan is in bad taste are those who "look to be offended by everybody it seems."
Camuglia told HuffPost that he saw a 25 percent spike in business from people across the country and internationally. He also said his "black olives matter" shirts have sold out, so he's having more printed.
With increased popularity, came increased backlash. Despite his "benign" intentions, some people expressed their disdain for the slogan, accusing the restauranteur of making light of black pain.
Camuglia said that he's unmoved by the negativity saying that his intention was never malicious. 
"I'm not a politician," Camuglia said. "It's not a political statement. It's not a racial statement. It's simply a culinary statement that was to be taken literally... It's not referring to black people, it's referring to black olives."
REAL LIFE. REAL NEWS. REAL VOICES.
Help us tell more of the stories that matter from voices that too often remain unheard.
BEFORE YOU GO
PHOTO GALLERY
Ridiculous Examples Of Accidental Racism