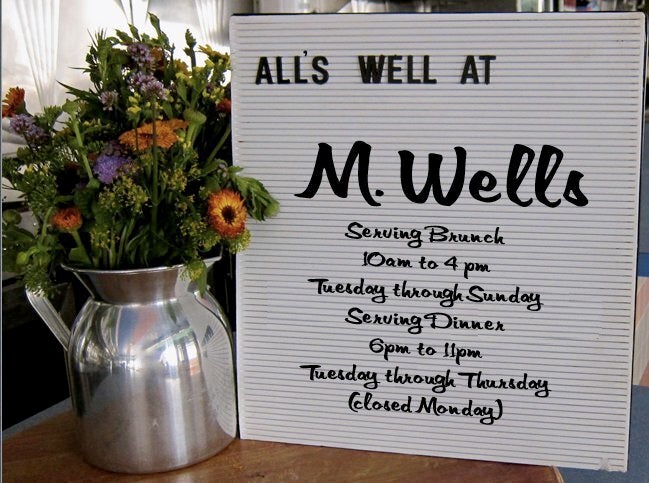 Since M. Wells, a funky diner in Long Island City, Queens, opened a year ago, the New York food world has been largely enamored with the laughably huge portions of ridiculously rich and extremely tasty food. The restaurant is closing at the end of the month due to landlord disputes (though it will likely re-open in another nearby location in the future). New York Times restaurant critic Sam Sifton wrote a short goodbye piece that celebrated the short-run of the restaurant, while foodies are scrambling to attend one of the several farewell dinners being held.
The good-heartedness couldn't last too long however. In his most recent column for GQ, Richman writes a rather bizarre piece that veers from food criticism to character defense. Although he generally enjoyed the food at M. Wells, Richman was disappointed after waiting 45 minutes with service (a complaint that we can relate to after having waited almost two hours after our reservation time). After requesting an interview, he grew a bit frustrated with the slow communication of the co-owner Sarah Obraitis. But then things really got weird.
Obraitis e-mailed Richman that a server "received a hardy pat on the ass from you," an action that Richman vehemently denies and claims he went "bone-cold when I read that." From there, Richman's piece becomes almost uncomfortable to read, as if the reader had become an unwitting voyeur of something better left out of print.
In the midst of his summary of events, Richman does make a larger point about the deterioration of restaurant service:
I wish I had never been so forgiving in my reviews of New York restaurants. I should long ago have paid attention to this disastrous decline in service. Casualness in restaurants does not automatically make customers feel more relaxed. It often has the opposite effect. Remember how tense my friends became when we received no attention at M. Wells.
The takeaway of Richman's article remains to be seen but does once again bring up the role-of-a-critic debate. Richman's decision to write this piece and GQ's decision to publish it does reflect upon just how personal the restaurant experience has become.
Related