A Louisiana cajun restaurant thinks your smoked ribs and fried catfish would go better with a side of firearms.
"There are people here with guns, this is not a gun-free zone," Kevin Cox, the owner of Bergeron's, told The Huffington Post in a phone call. "So if you want to cause trouble, you can think about who you're sitting next to."
Cox told HuffPost that the deal was originally designed to encourage law enforcement officers to visit the Cajun restaurant, but was then broadened to welcome all gun carriers.
"It makes us all feel better when state patrol, police and sheriff's department come in and have lunch here because you know when they're here we're safe," Cox said. "And I realized that we have a lot of good people that carry a firearm in Louisiana -- my cousins and relatives included -- and I'm equally as safe when they're here, and I need to encourage that."
Advocates for open-carry gun policies have recently forced some chain restaurants and retailers to clarify their policies on guns. Chipotle and Target adopted no-gun policies after gun rights activists flaunted their weapons in the stores.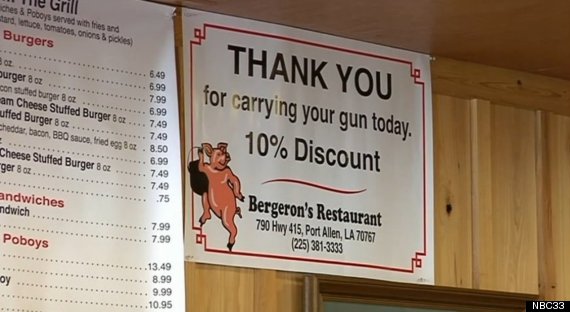 Cox said the recent gun bans inspired his unique discount, and that firearm bans actually invite crime.
"So now you have a choice: You're going to go to Bergeron's and cause trouble or you're going to go to Chipotle and cause trouble," Cox told HuffPost. "I don't think they're going come here if they're going to find good people carrying their guns."
It is legal to openly carry firearms in Louisiana without a permit, as long as you're over 18 years old and not prohibited from having a firearm under federal or state law.
He said "business is taking off" since the deal was introduced and reported by media outlets, and customers are driving from all over the region to show their support for the restaurant.