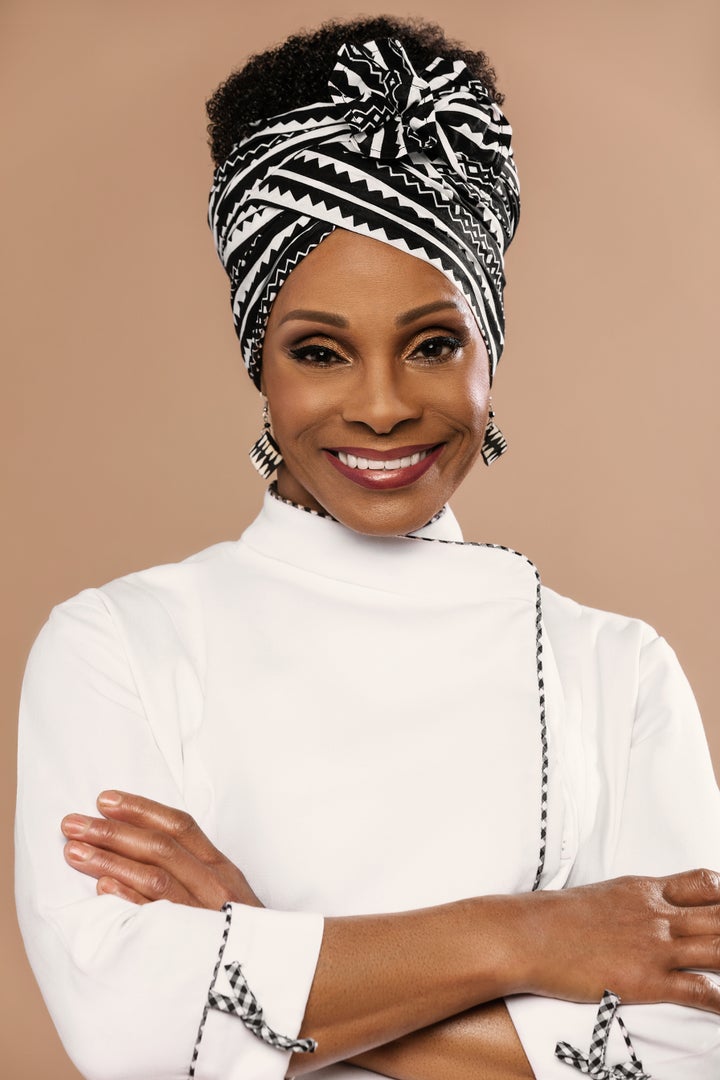 Chef Babette Davis is a world-class healthy cook, fitness expert and motivational speaker who runs the successful Inglewood, California restaurant, Stuff I Eat, and produces her own online cooking classes while participating in health summit events around the country. I'm exhausted just thinking about all that. Davis is a force of nature who seems to be able to do it all and transformed her life at the young age of 40. She has appeared on many lifestyle shows from Hallmark's Home & Family, to the HBO hit comedy series Insecure. A published author, featured in the best seller Juice Guru, Davis's life journey has been filled with challenges and opportunities. Diagnosed with severe asthma, and eczema, the Los Angeles native made the conscious decision to eat for the sake of nutrition. The best seller Fit for Life by Harvey and Marilyn Diamond initiated her journey towards self-healing.
Becoming a self-taught chemist in the kitchen, perfecting healthy foods that taste great, allowed her to eat and enjoy the meals she loved without the guilt or associated diseases or ailments. Initially becoming a Sunday food vendor at the City of Angels Church and Agape Spiritual Center, Chef Babette opened her own restaurant in the heart of downtown Inglewood, California. Opened in 2008, Stuff I Eat brings much-needed healthy soul food to a community that lacked such a healthful option. Continuing to spread the word of Chef B's delectable delights, she is working on her first book, Cash In On Cashews, focusing on the amazing nut. Chef B's motto: "Life is not complete unless you move. Our journeys are constant and our transitions are infinite, our health is merely a vehicle to enjoy all that's in between." She fuels her body with the nutrients to allow her to continue the active lifestyle and body she proudly displays at the age of 66. It is her passion to help other embrace health and start today no matter how old you are.
What is your background? Where did you grow up? How was your family life? What part did proper nutrition and exercise play in your early life?
I grew up on the East Side of Los Angeles in a single parent household, a mother who had to work multiple jobs and often times my sister and I were boarded out. I went to live with my godmother, who was a vegetarian because she was Seventh Day Adventist. However, she ate a lot of frozen vegetables and her food was mushy and different, so I did not have much of an appetite, but I was vegetarian while living with her. I suffered from a lot of allergies, eczema, and asthma being the most challenging. Never properly diagnosed and never knowing where the allergies were coming from, I constantly had rashes everywhere. When I got back with my mother permanently, my condition did not improve. When I became an adult, I also suffered from a lot of bloating and constipation.
My childhood family life was interesting, had its challenges, with my mother being absent because of work. I had to endure some unpleasant situations, so along with the physical illness, I was unhappy a lot as a child. I saw abuse in my family, and I am a victim of child molestation myself. I would say around my mother I was happy. At a certain point, life mellowed out a bit, especially when I got older and was able to make my own decisions.
Exercise was something I adopted more in my adulthood. As a child I was athletic, but I was never involved in school sports or anything like that.
You've said you transformed your life at the age of 40. Why then? What was your life like up 'til then? What motivated you to transform it, and how did you do so?
Because up until then, I lead a very sedentary lifestyle. My current husband, Rondall, introduced me to the world of fitness and healthy eating. We transitioned and became vegan at the same time, in 1990. The books Fit For Life, by Harvey and Marilyn Diamond, and the Mucus-less Diet Healing System by Professor Arnold Ehret, changed my life. After reading them, my entire perspective on the association of dis-ease and the consumption of animal proteins changed.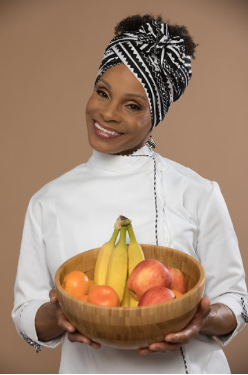 How did your Inglewood, California restaurant, Stuff I Eat, come about?
My husband and I were doing a catering and vending at Agape Spiritual Center and after awhile we decided we were ready to open a restaurant and found a location in Inglewood, near our home. We have continued to build on it together.
Why vegan, for the restaurant and for yourself?
Rondall and I believe in the lifestyle and we wouldn't have any other type of restaurant. Vegan represents us and our beliefs, and it is important for us to introduce people to vegan food. We also knew of many vegans in the community and wanted to eat out and not have to drive to miles to get a decent and tasty vegan meal.
Was your restaurant the first vegan restaurant in Inglewood? How was it received when you opened in 2008? How have things changed over the years?
We never investigated to see if we were the only vegan restaurant in Inglewood. However, shortly after opening, another one opened nearby, but they since closed.
When we opened our doors, it was slow at first. We believed that more of the crowd from Agape would support us, but it did not work out that way, so we had to rebuild our clientele.
Things have changed. Whether they are curious about the vegan lifestyle, new to the diet or vegan diehards, more and more people are enjoying and considering the option and our food. There's more empathy towards other sentient beings, so some come into the restaurant because they have made a conscious choice to change, some out of curiosity, some for the cause, but most all for the tasty food.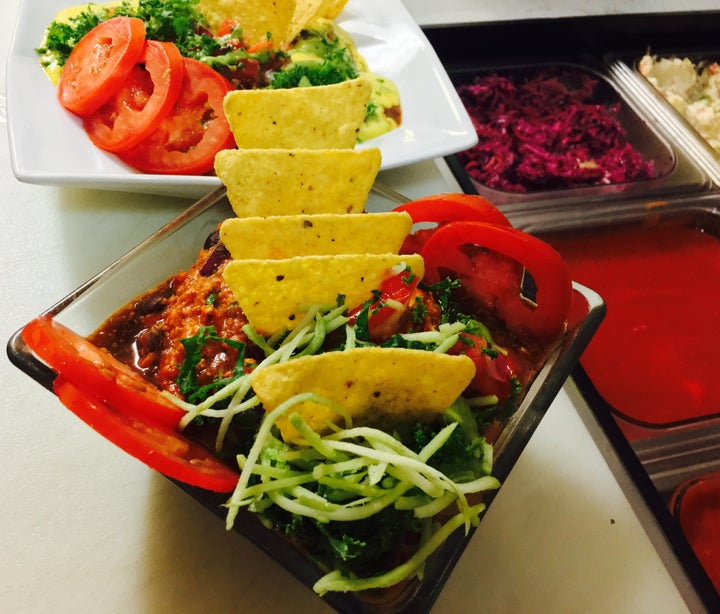 How did you create your restaurant's menu?
The menu was created by taking some of the foods we like to eat, and creating a vegan version. The food is familiar to our customers yet, a healthier version.
To what do you attribute your Fountain-of-Youth-like appearance at the age of 66?
Good attitude, exercising, keep moving, my diet, remaining positive and finding joy in everything I do, even when it's overwhelming and stressful.
Do you believe in plastic surgery for older men and women?
It's not for me. However, I allow people to make their own decisions. This journey is short, and if you believe that is what will make you happy, then I believe to each his own.
What part does exercise play in your life? How about yoga? Meditation? Massage? Anything else for overall fitness?
Exercise plays a big role in my life and in my ability to work the hours I have to put in. I don't do yoga, but my desire is to get on a really good yoga program. I love to meditate, and at some point in my day will close my eyes for even a brief moment. I love massages and wish I could have one daily. In terms of overall fitness, I love to create my own exercise challenges, like now I'm on the planks and it's incredible to me to set a goal and force myself to accomplish it.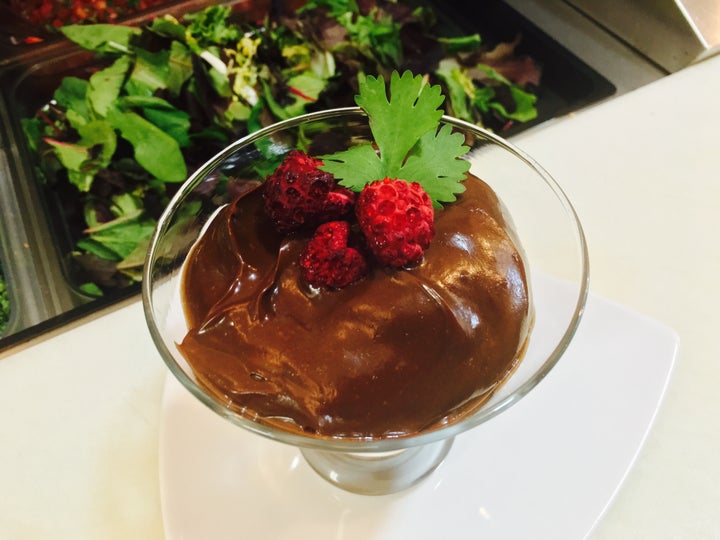 What is a typical breakfast, lunch, and dinner for you?
A typical breakfast for me is a hardy green drink, or a spirulina and add it to my orange juices. Lunch could be as much fruit as I like, and for dinner, I may have something cooked, with a salad, or just a simple salad.
What do you talk about in the motivational speeches you give?
The importance of eating to maintain a high quality of life. Women are suffering from heart disease like crazy, and we need to eat with intention. I try not to give people advice. It works better when I simply share what I do. So I often share what I do that helps me.
In your youth, you were diagnosed with severe asthma and eczema. How did you get through those?
It was pretty rough because my mother was a cigarette smoker. We had a cat and an old dusty house. I pretty much had it until I was about forty years old, and I changed my diet.
Which books, websites, or food and fitness experts have inspired you?
I would say; Steve and Julie Prussack – Juice Guru.
What made you decide to become "a self-taught chemist in the kitchen", rather than apprentice yourself to another chef or undertake a course of study at some school?
I never thought about being a chef. I was not interested in that. When my husband and I shared our menu with the world, I found my food and recipes were something others thoroughly enjoyed, so I was stuck on cooking vegan food. I would spend hours taking different food items and seeing what I can make with them. I simply love creating a colorful art piece that was filled with a variety of flavors in every bite.
What stands out about your time as a Sunday food vendor at the City of Angels Church and Agape Spiritual Center?
At City Of Angels, because I was brand new, I would say it was the loyalty of the customers, most of whom I still eat my food. At Agape, we got an enormous lesson in how to quickly prepare food on the spot.
Why focus exclusively on the topic of cashews for your upcoming first book, Cash In On Cashews?
Because I am so grateful to the cashew nut for allowing me to create and prepare some of the most delicious desserts I have ever tasted. So my first book is in honor of the cashew.
You lead programs to empower women's groups. Why make them exclusive to women?
I am not exclusive to women, however, being a woman, I can best relate to the issues we face. But I do welcome both men and women, and often speak to men and are approached by men seeking advice on how to help their health and physical appearance.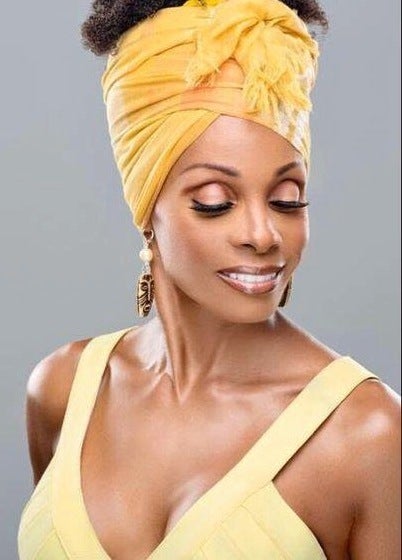 Any other secrets, recommendations, or words of wisdom to enable folks to live strong, healthy and empowered lives as they age?
I would like to say that change is inevitable, and the need to look at yourself and how you are aging is vital. If you don't like what you see, or how you are feeling, if you are finding yourself on too many medications, you might want to rethink how you do things and what you put into your body. You can't continue to live the same way and expect a different result.
Anything remaining on your bucket list?
I want to do some type of wilderness training. Meaning I want to feel what it's like to live off the grid, even if it's for only 24 hours.
What would be a perfect day for you?
Having a lifestyle show on network television, and continuing to enjoy the restaurant and not have to work there as often as I do.
Your desert island choices for:
Movie: Unity (a documentary)
TV series: Game of Throne and Insecure
Book: The Stand, by Stephen King
Anyone in history for conversation: Maya Angelou
Anyone in history for romance: Idris Elba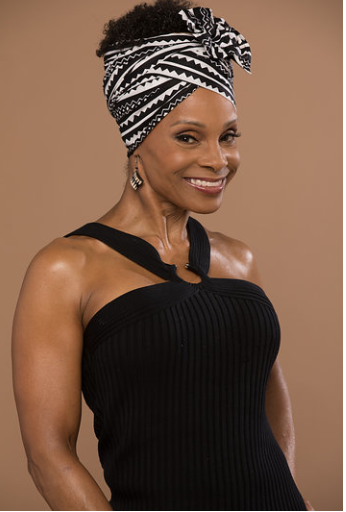 Popular in the Community