While visiting New York City over the holidays, I came upon a precious find in Harlem. I was writing an article about NYC, but one restaurant stole my heart. It made such an impression on me, it merits its own article. I had heard the Red Rooster Harlem featured both exceptional music and food…but I soon found out it offered much, much more.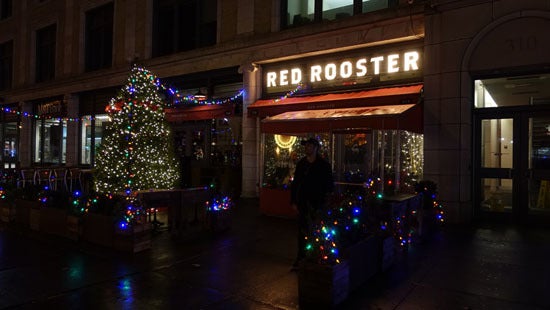 Co-Owners Marcus Samuelsson and Andrew Chapman opened Red Rooster Harlem in 2011. Chef extraordinaire Marcus Samuelsson was the youngest chef to ever receive two three-star ratings from the New York Times while at Aquavit as Executive Chef. He has had the privilege of being a guest chef for the first State Dinner of the Obama administration. He also was the winner of Top Chef Masters (Season 2, 2010).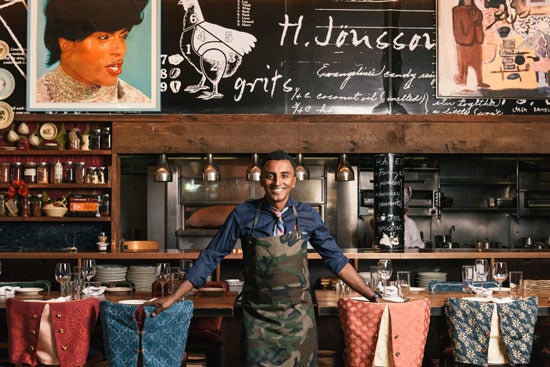 Harlem holds a special place in Samuelsson's heart. "My mother encouraged me to open a restaurant in a community I was passionate about," explained Samuelsson. "Red Rooster was inspired by the original Red Rooster, a speakeasy in Harlem in the 1930s. It was a place where a local politician or maid or famous person could all come together - it was accepting of all kinds of people, very inclusive which is what I was going for."
Samuelsson has opened numerous restaurants…several in the NYC area, Chicago, and all over the world. Downstairs is another spectacular venue called the Ginny's Supper Club and home to the well-known Gospel Brunch, featuring Vy Higginsen's Gospel Choir of Harlem.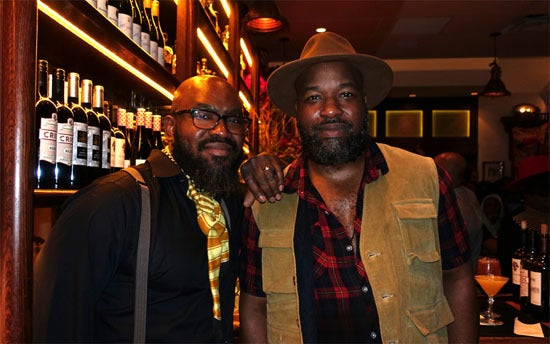 My photographer and I were looking forward to listening to some jazz. We were greeted by a cheery manager named Tynae Lester who has worked at the restaurant for nearly five years. He filled me in on the weekly music schedule which featured an eclectic mix of styles – Jazz, Latin Jazz, World Music, DJs and more. "Jazz has definitely played a big part of my life," laughed Lester. "It's sexy, it's elegant, and it says class."
We ordered a delicious Malbec (Susanna Balbo Crios, 2014, Mendoza) - a fruity full bodied red, with cherry overtones. The place was starting to jump when the Yep Chicken and waffles circa 1930 (Jesus' hot breath, Vermont syrup, pickle chips) arrived at the table. The chicken was perfectly fried with a spiced batter that tantalized my palette. The waffles were soft with a delicate crunch and complemented the dish, along with the zesty cilantro dip.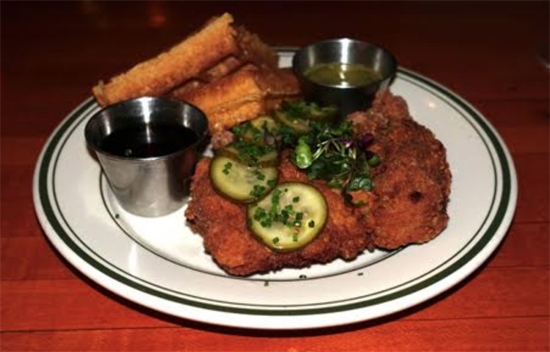 Next, we enjoyed the Warm Beef Kitfo (beef tartare, berbere spiced yogurt, awase vinaigrette, fried Injera) and Sister Franny's Crab Toast (blue crab, cheddar, ginger, yum tom, crispy shallots, cilantro, grilled flat bread). Both dishes were sensational. The Warm Beef Kitfo offered a multi-dimensional spice pairing. It was an exquisite flavor, but Sister Franny's Crab Toast knocked my socks off. The delicate crab mixed with cheddar was a wonderful savory combination, but the spicy sauce and jalapeños on top brought my taste buds to a whole new level. Dessert was also delightful. We enjoyed La Isla Bonita (tres leche, cake rum, passion fruit and banana), and Coffee and Doughnuts (dulce de leche ice cream and mocha).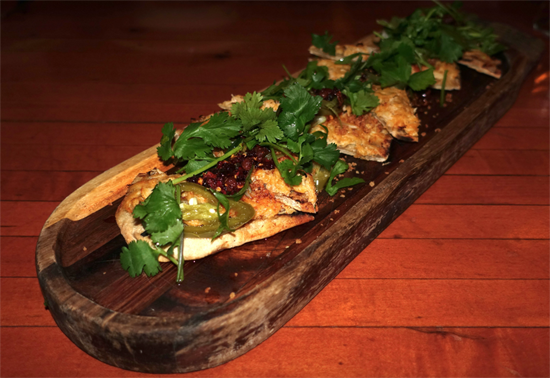 For a Monday evening, the Red Rooster attracted a huge crowd. The Rakiem Walker Project (RWP) played to a group of enthusiastic fans. The room was sizzling. The jazz band played from 8-12am and featured horns, drums, vocals, guitar, keyboards, etc., with many guest performers jumping in.
Then, supervisor and artist Leon Johnson came by to say hello and recounted his personal history with the restaurant. Johnson was recently promoted to supervisor at the Red Rooster, but has been a server for the past five years. Johnson was an artist and first met the owner at the Red Rooster. Samuelsson was working on a new cookbook. "I actually became involved with the cookbook when I handed Marcus my business card in passing," explained Johnson. "Later, he mentioned that he was putting together a cookbook and asked if I would be interested and I, of course, was totally honored."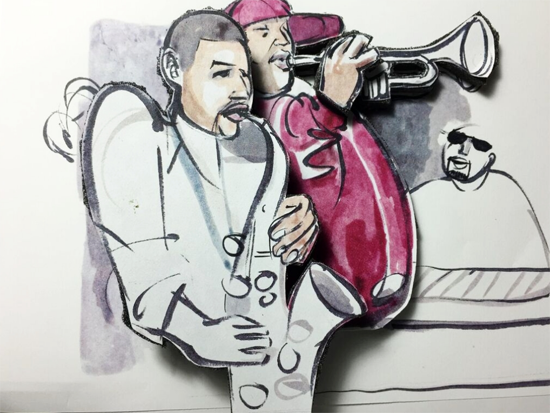 Johnson's illustrations that were used in the book are also on display at the Red Rooster. "I like my work to come together like jazz, incorporating every line, every mark, every splat of ink in order to create my visual song." Other artists who have work featured on the walls of the restaurant include Brandon Coley Cox, Bobby Fisher, Lorna Simpson and more.
After talking to Lester and Johnson, I soon realized the restaurant staff and musicians were a tight knit family, blending food, music, art, and cookbook to boot. Red Rooster Cookbook: The Story of Food and Hustle in Harlem recently published, features recipes of many of the restaurant's top dishes. Samuelsson has long been a lover of jazz. His book tour in October/November of 2016 featured the Rakiem Walker Project. Samuelsson's idea was to bring a slice of Harlem life with him on the book tour, so he invited the band and the dance group W.A.F.F.L.E., thus creating a one-of-a-kind experience for all.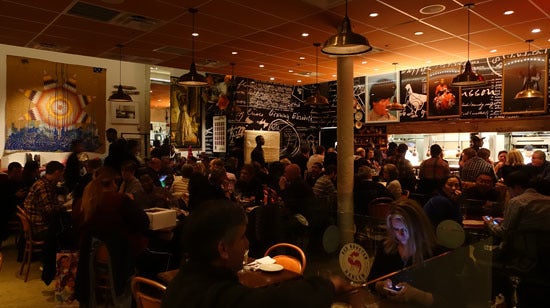 If you are a music/art lover, find yourself in NYC, and are in need of some comfort food or camaraderie, head straight to Red Rooster Harlem and kick back. Red Rooster Harlem, 310 Lenox Avenue, New York, NY 10027; http://www.redroosterharlem.com
REAL LIFE. REAL NEWS. REAL VOICES.
Help us tell more of the stories that matter from voices that too often remain unheard.
This post was published on the now-closed HuffPost Contributor platform. Contributors control their own work and posted freely to our site. If you need to flag this entry as abusive,
send us an email
.