They never thought he would have taken this offer.
Matt Pruim, manager of Big Star Sandwich Co., a restaurant in Vancouver, Canada, was super excited when he found out that one of his favorite actors, Liam Neeson, was in town filming a movie called "Hard Powder." So much so, that on Tuesday, he decided to go outside of the restaurant and leave a message on the eatery's chalkboard sign that read:
"Liam Neeson eats here for free."
The sign was put out at 11 a.m. The sandwich shop snapped a picture of it and posted it to its Instagram page.
"We absolutely did not think he'd actually show up," Alex Johrden, director of operations for Big Star Sandwich told HuffPost.
But at 6:30 p.m., staff at the cafe were shocked when the actor popped in.
One employee, Kyle "Doug" Gus, was inside the shop making sandwiches when he heard his co-worker, Serge Patoka, say, "Holy sh*t!"
Gus turned to tell Patoka off, but stopped dead in his tracks.
Neeson was in their restaurant.
According to Johrden, Neeson then asked the staff in an intimidating voice:
"Where's my free sandwich?"
"We're not sure how he saw the sign," Johrden told HuffPost. "We assume he heard it through the production crew, who had been in and out all day."
Unfortunately, Neeson didn't have time to eat, but he had time for a quick photo.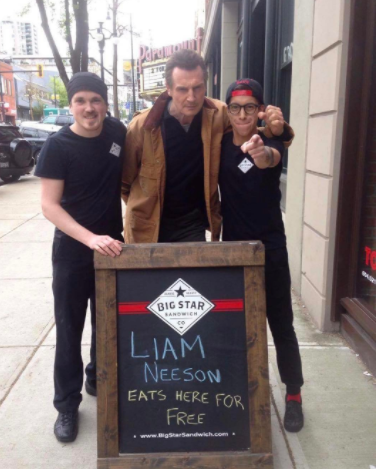 Gus and Patoka posed for one with the actor behind their sign.
Pruim, who came up with the idea for the sign, wasn't there when Neeson showed up and is all choked up about it.
"We're hoping he comes back in to take us up on the offer," Johrden told HuffPost.
Here's hoping Neeson isn't chicken (salad sandwich) and does pop back in for lunch.