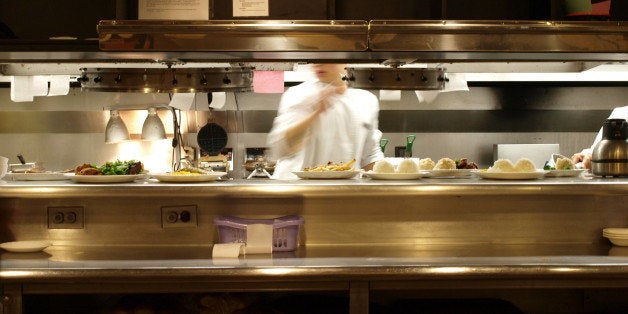 The experience of going out to a fancy dinner is about to become even more like going to see a rock concert or NBA game -- with benefits a-many for restaurateurs everywhere.
Last week, Nick Kokonas, who co-owns Chicago culinary standouts Alinea and Next with acclaimed chef Grant Achatz, offered what Eater rightfully dubbed a 6,000-word "manifesto" explaining how the unique ticketing system pioneered at his restaurants has made a tremendous impact on his bottom line. Kokonas will be offering the system for other restaurants to use shortly.
According to Kokonas, the ticketing system has helped practically eliminate no-shows and markedly increased bottom-line profits because diners are pre-paying for food and no staffers are needed to oversee reservations by phone. Both Next and Alinea currently boast no-show rates lower than 2 percent -- and those no-show tables are pre-purchased.
There's more to the system than your run-of-the mill event ticketing platform. It allows diners to log in to a website and view available days and times for meals -- usually, in the case of Kokonas' restaurants, weeks or months in advance -- and book and pay for their tickets on the spot. The tickets are not refundable, but can be transferred.
The system has also been used by Elizabeth in Chicago and Trois Mec in Los Angeles as part of a beta test. "Several amazing restaurants" in the U.S., Europe and Asia will also be taking up the system "over the next few months," Kokonas says.
Though Next and Alinea both offer fixed-price tasting menus -- with beverage pairings going for extra -- the ticketing system is adaptable to allow for specific dates and times to be priced differently based on demand. Tickets at Alinea cost up to $265, while a night at Next will set you back up to $185, including tax and tip.
At the Aviary, Kokonas' cocktail lounge, the tickets serve as a deposit toward the final check, and half of the bar's seating remains available for walk-ins. Revenue at the Aviary is up 22 percent and no-shows have plummeted to almost zero since the system was implemented, he said.
While he admits that the Next-style ticketing won't work for every restaurant -- it's most ideal for small chef-driven, high-demand spots -- Kokonas makes a clear case for why it makes a whole lot of sense for restaurants that fit the criteria given the tiny profit margins that are typical of the industry.
Benefits of ticketing systems to some restaurants' bottom lines are clear, but no data has yet made the case for tickets having a positive impact on diners' experiences. The "no refunds" policy may strike some diners as too inflexible, for example, though Kokonas has defended the practice.