Restaurant owners across the country are hoping the way to the nation's conscience is through its stomach as they prepare to close their businesses in solidarity with immigrants on Thursday.
"I'm happy about it," said Benjamin Miller, co-owner of El Compadre and South Philly Barbacoa restaurants in Philadelphia. "[I'm] glad to see that chefs are stepping up and taking agency and using their power to advocate for people who are more vulnerable. The most we as chefs risk are fines, but these people risk losing their families. They have a lot more to lose."
Miller's wife and business partner, Cristina Martinez, is especially invested in the cause because she is an undocumented immigrant currently unable to apply for a green card, despite being married to a U.S. citizen. The couple will close El Compadre on Thursday. (Their other restaurant opens only on weekends.)
It's no surprise that restaurateurs are taking a stand against the Trump administration's immigration crackdown, which has led to an uptick in raids by Immigration and Customs Enforcement authorities. An estimated 1.2 million undocumented immigrants work in food preparation and serving jobs in the United States, according to 2012 Pew Research Center data.
Some high-profile names in the restaurant business have signed on to the effort, including Spanish-born chef José Andrés, who was sued by Trump after he pulled out of plans to open a restaurant in the new Trump hotel in Washington, D.C. Andrés announced on Twitter that he will be closing all five of his D.C. area restaurants on Thursday in solidarity.
"This is not a casual decision," Blue Ribbon partner Eric Bromberg told Eater New York, adding that closing their doors will definitely impact their bottomline. "But there are times in life when money isn't the most important thing."
"We recognize the immigrant community is an essential part of the hospitality industry. ... We support the right for hospitality industry employees to have their voices heard," Garces said in a statement to HuffPost. "We are in close communication with any employees who plan to participate Thursday and doing our best to mitigate against any potential impact to our guests' experience. We will not take any adverse action with any employee who chooses to participate."
Any decision not to open even for a day is particularly difficult for those who own small businesses. Melissa Silva-Diaz, CEO and owner of the El Burrito Mercado in St. Paul, Minnesota, decided to close her family-owned eatery on Thursday after hearing about the day of protest from customers and workers.
"We had employees and a couple of customers send us the image of 'Un Día Sin Inmigrantes,'" Silva-Diaz, whose parents are from Aguascalientes, Mexico, said on Wednesday. "I began to ask around and I asked employees, and some said they were planning on not working. That triggered a conversation. We had a meeting yesterday. We had a healthy discussion about it. I asked each individually what they wanted to do. I reached out to other businesses. Everyone was talking about it. Then we took a vote and unanimously we decided to do it."
She acknowledged that many of her customers aren't happy about the decision. But she said, "That's what we want to do, to bring people awareness and get them talking."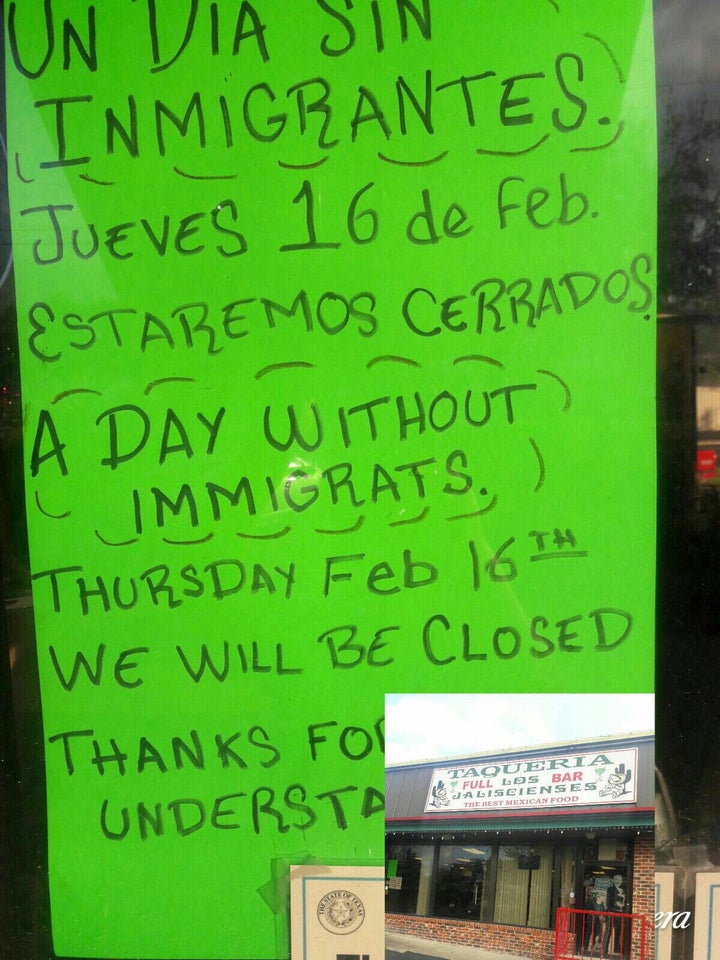 Juan Ramirez, manager of Taquerias Los Jaliscienses in Austin, Texas, understands firsthand the struggles that many undocumented immigrants face. The 54-year-old worked in the fields harvesting potatoes and wheat when he arrived from Mexico decades ago and gained legal status after the Reagan administration granted a major amnesty in 1986.
"I feel we are nothing without immigrants," Ramirez said. "We are all in the same boat. Why not row together to move forward?"
Ramirez said that his Austin restaurant will be closed on Thursday and that he supports his employees 100 percent. He also noted that many workers were concerned about having enough money to pay their bills, yet they were willing to make the sacrifice.
While mobilizing around immigrants is nothing new, Miller noted, the Trump administration's immigration directives have lit a fire under the community.
"This is part of a movement that has a long history," the Philly restaurant owner said. "I feel like this subject is not just about Trump. There were plenty of deportations under Obama. ... This political climate is mobilizing more people."
Miller also hopes consumers will do their part to ensure that "A Day Without Immigrants" makes a strong statement.
"As a patron tomorrow, don't go to restaurants," Miller said, addressing all Americans. "Don't spend money in restaurants. If you go to a restaurant and it's closed, don't go to another one. Stay home tomorrow. Cook for yourself. Show solidarity with immigrants. Restaurants not participating, they will feel the impact that immigrants make every day."
Support HuffPost
Every Voice Matters
Popular in the Community