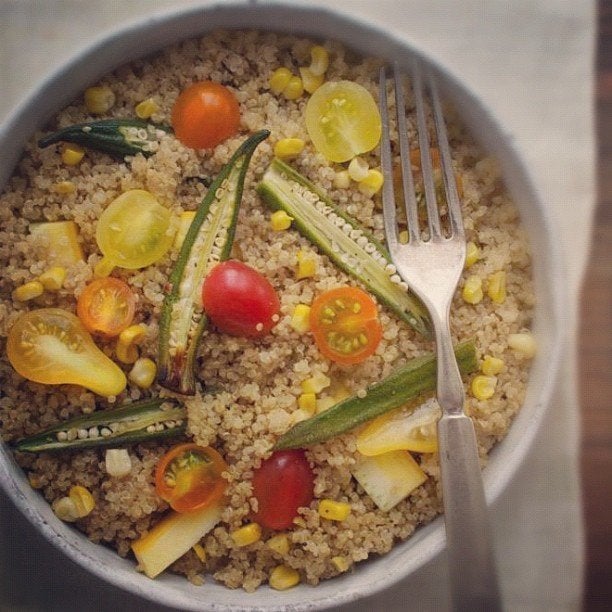 If you're on Instagram, then you know there are plenty of people addicted to pulling out their cell phones to take snapshots of the greasy burgers, frothy mochas and picturesque cupcakes they eat while out on the town.
Isn't it about time a restaurant took advantage of all this food porn?
Now Comodo, a Latin American restaurant in New York's SoHo neighborhood, is, by creating an "Instagram menu."
It works like this: Patrons are asked to snap pictures of their meals and upload them to Instagram, with the hashtag #comodomenu. Thus, a virtual "menu" of pictures is created, and customers are able to easily search the app for a quick glance of the restaurant's offerings. As of publication, #comodomenu had 50 foodie photos (and a few non-related images as well).
Restaurant owner Felipe Donnelly says the "idea of using the hashtag actually felt very organic." He told the Huffington Post in an interview that two friends of his helped come up with the idea of an Instagram menu after observing how many people pulled our their mobile phones once plates hit the table.
"You just see people snapping pictures of whatever they're eating," he states. "And with Instagram, the pictures are really good. It's one thing if people are taking pictures with their cell phones and a terrible camera. But Instagram helps tweak the picture and give it a nice feel."
Check out Comodo's video below, calling on patrons to submit their food porn to the app:
Comodo may be one of the first restaurants to promote an official Instagram menu, but other joints have also embraced the photo-sharing network. Frozen yogurt chain Pinkberry has been showing off new flavors and colorful toppings for over a year, under the handle @pinkberryswirl.
"Give your guests an experience beyond the dining room," Albert Im, marketing manager of Mama Fu's Asian House, told Restaurant News earlier this year. "Are you preparing for a special event? Maybe you're testing a new item in the kitchen." The restaurant runs the handle @mamfus.
Why do people feel so compelled to take pictures of their food?
"That's a question I can't even begin to answer," Donnelly said with a laugh. "I think that food nowadays has become such a prevalent part of pop-culture. It's kind of like 'Hey, look where I am, look at what I'm eating, look what this restaurant is serving.'"
Of course, not everybody's happy with food porn cluttering their Instagram feeds. "I really, truly, absolutely, do not care about you or your food," Katherine Markovich of McSweeney's recently wrote in "An Open Letter to People Who Take Pictures of Food With Instagram." "I don't. Sorry. Take more pictures of your cat. That might keep me interested."
What do you think about the Comodo's Instagram menu? Do believe that food on this photo-sharing app is mouth-water or annoying? Sound off in the comments section, or let us know your opinions at @HuffPostTech. Then check out a few of the #comodomenu images in the slideshow below, or read up on 11 things you should NEVER do on Instagram.
PHOTO GALLERY
Pics From Comodo's Instagram Menu
Calling all HuffPost superfans!
Sign up for membership to become a founding member and help shape HuffPost's next chapter
BEFORE YOU GO