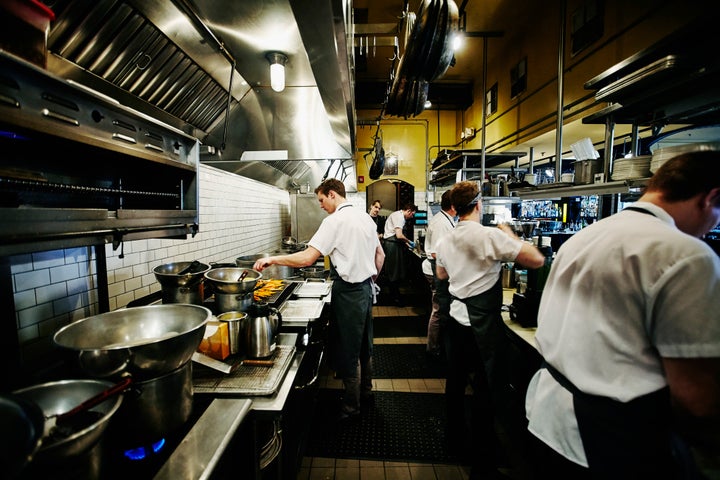 A single restaurant in the U.S. wastes about 100,000 pounds of food a year, according to the Green Restaurant Association, making them auspicious donors for hunger relief groups. But many restaurants are reluctant to give away their edible leftovers, citing fears of getting sued.
But they shouldn't be so worried about backlash, experts say.
Because no such lawsuit has ever been waged.
"There is no available public record of anyone in the United States being sued...because of harms related to donated food."
There is no available public record of anyone in the United States being sued ― or having to pay damages ― because of harms related to donated food, according to Nicole Civita, a professor and director of the Food Recovery Project with the University of Arkansas School of Law and assistant director of the Rian Fried Center for Sustainable Agriculture & Food Systems at Sterling College.
Why Restaurants Are Protected
Passed in 1996, the Bill Emerson Good Samaritan Food Donation Act protects restaurants from civil and criminal liability should a recipient get ill or hurt as a result of consumed donated food. Donors are only culpable in cases of gross negligence or intentional misconduct.
""...Lawyers are not interested in sticking it to people who make sure the needy do not starve.""
"As long as no one has acted in a totally reckless or deliberately destructive manner, lawyers are not interested in sticking it to people who make sure the needy do not starve," Civita wrote in "Food Recovery, Donation, and the Law in Food Waste Across the Supply Chain: A Global Perspective on a US Problem." "What is more, the very people who depend on donated food – the potential plaintiffs – hesitate to bite the hands that feed them."
Still, however, many U.S. restaurants say they're resistant to giving away their extra fare out of fear of getting sued.
According to a 2014 survey conducted by the Food Waste Reduction Alliance, 56 percent of large restaurants said concerns about liability kept them from donating food.
But those in the hunger relief world aren't buying those concerns.
"Liability is just an excuse," said Mary Risler, founder of Food Runners, a nonprofit that rescues leftovers from businesses in San Francisco. "There's no reason not to donate."
Claire Cummings, waste programs manager at Bon Appetit Management Company Foundation, is equally as frustrated by such claims.
"It's ridiculous because we are protected," Cummings told The Huffington Post.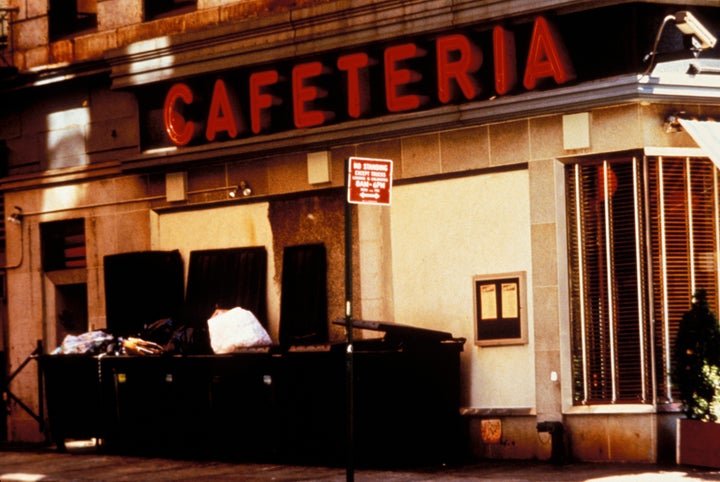 The Establishments Doing It Right
Bon Appetit has 650 cafes nationwide and donated more than 286,000 pounds of food last year. Cummings said that's a "low-ball" estimate though.
Restaurants are uniquely positioned to simultaneously tackle the country's food waste and hunger issues.
Yet, even with the protections in place and the vast number of groups that pick up and deliver excess food, many restaurants will still rifle off a host of reasons that keep them from participating in the rescue effort.
"I've heard every possible excuse and rationale in the book about why not to donate," Cummings said. "I guarantee you, every single one of them can be addressed."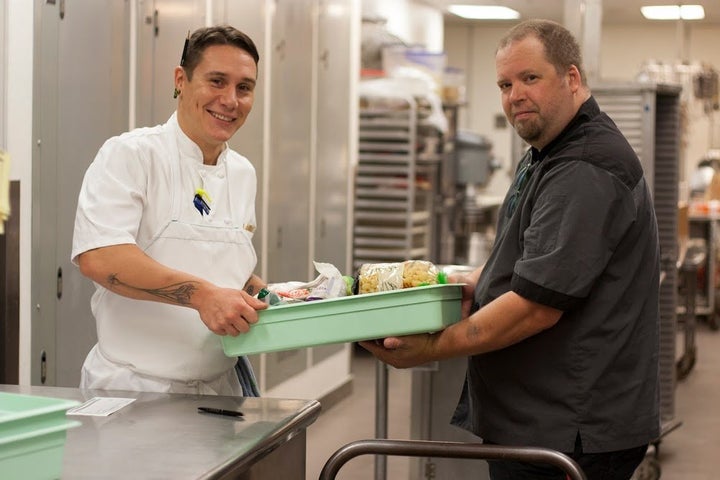 We Don't Waste, a Denver-based nonprofit, is an example of how food rescue groups can effectively partner with the food service industry to get high-quality, leftover food into the mouths of people in need.
Launched in 2009, We Don't Waste works with restaurants, universities, distributors and major stadiums and collects food five days a week. Because the goods are perishable, everything is delivered on the same day it's retrieved, Arlan Preblud, founder and executive director, told HuffPost.
""Chefs do not like to throw food away.""
The group has partnered with about 80 nonprofits, including shelters for domestic violence survivors, homeless shelters and low-income schools.
Preblud started out by knocking on the doors of caterers and restaurants and would load up his Volvo station wagon with the items they offered up. He put down the seats and laid down a tarp in order to fill the vehicle to its brim.
Now, the group is run by six employees and has three refrigerated trucks for pickups and deliveries. Last year, We Don't Waste delivered 6.8 million servings of food. This year, the organization has already doled out 10.5 million servings.
"We've grown quickly," Preblud said.
Preblud gets donations from about 12 Denver restaurants and said no restaurant has ever turned him down. If anything, he can't accommodate the amount of restaurants in his foodie city that are interested in working with him.
We Don't Waste typically only picks up food from places that can give him a minimum of 250 servings of food.
"Chefs do not like to throw food away," Preblud added.
But Denver might be the exception, not the rule, when it comes to restaurants' willingness to get involved.
A Colorado Act has been protecting its state's restaurants from liability since before President Bill Clinton signed the Bill Emerson Act into law.
Many restaurants that cook to order though, say they simply don't have that much left over to give away.
Elizabeth Meltz, director of environmental health for Mario Batali's restaurants, said that's pretty much the case with the establishments she oversees.
"We're not a California Pizza Kitchen," Meltz said.
Her goal is to identify ways the 25 U.S. restaurants can reduce waste from the get-go so that "you don't have to find a home for it later."
The group is working with a number of innovative tools. One of them weighs waste before it's discarded and records what's thrown out, so that a restaurant can identify repeated patterns.
For example, the staff may notice that they're consistently throwing out gallons of soup on a Friday night, which would indicate that they need to cut back on that product.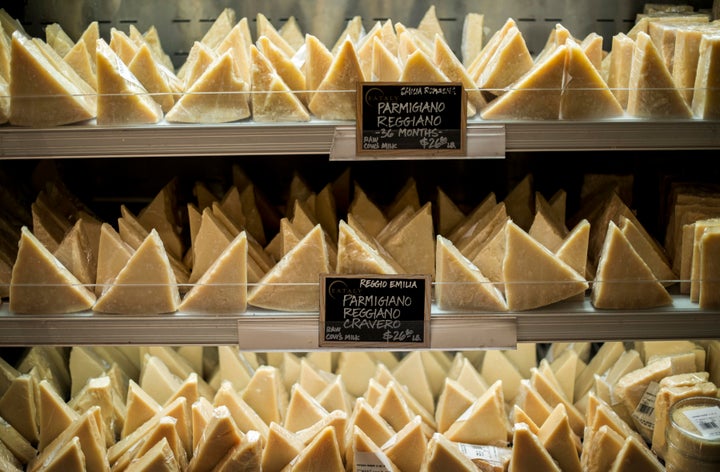 When it makes sense to donate food, the group finds ways to do so, Meltz said.
The company's New York-based Eataly, which doubles as a store, has partnered with City Harvest, a food rescue group. Between January and March, Eataly donated 35,177 pounds of food to the organization.
The Laws Need Serious Improvement
While restaurants nationwide are technically protected from getting sued should an issue arise, some say that the guidelines around donation procedures need to be more uniform to help assuage concerns and streamline the process.
In order to be protected under the Bill Emerson act, restaurants have to comply with state and local food sanitation and label regulations, which vary widely.
""There's no agreed upon system on how to safely donate food. When a health inspector, or the Department of Health and Human Services start intervening ― unfortunately, that perpetuates the myth that it's illegal.""
For example, one state might permit donating food that was put out for self-serve, while another might not. Some areas might require specific types of package labeling, while others don't.
"There's no agreed upon system on how to safely donate food," Cummings said. "When a health inspector, or the Department of Health and Human Services start intervening ― unfortunately, that perpetuates the myth that it's illegal."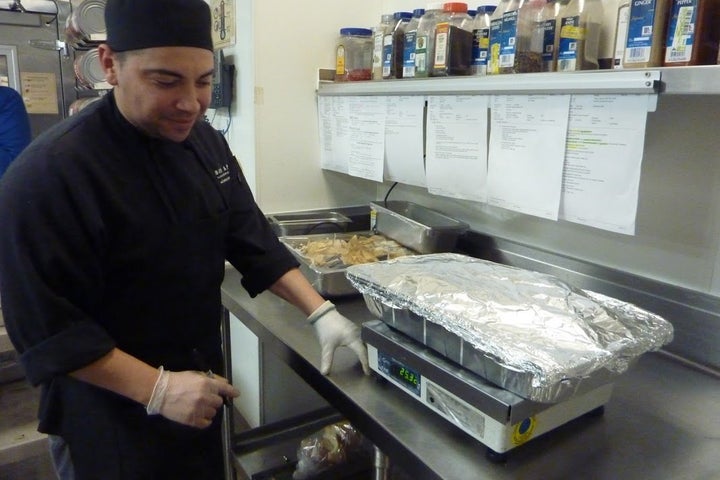 Bon Appetit has set an ambitious goal of having at least 80 percent of its accounts certified for food recovery by the end of 2018. That means a majority of the company's accounts will be donating food on a regular basis.
However, it often runs into problems setting up such programs because of variations in local regulations, and because health inspectors may not be well versed in the USDA's and FDA's guidelines for food recovery, Cummings said.
Bon Appetit, for example, is the food service management company for Oberlin College. It tried getting a food recovery program off the ground at the university in 2014, but the local health department said it couldn't happen until it obtained "special licensing" to transfer food offsite.
"It took so long to navigate what is actually true here. I'm not even sure they have the program up and running," Cummings said. "It throws a wrench in a very delicate process."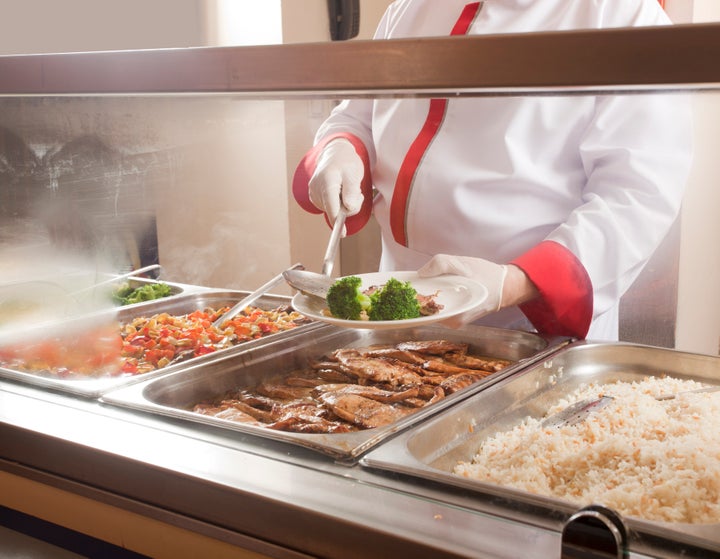 Both Cummings and Civita agree that getting the FDA and local health departments to help craft more clear guidelines on how to donate food safely is critical to getting more restaurants on board to donate.
Such partnerships have already proven to be effective.
Food Lifeline, a Seattle food bank, got together with the Washington Department of Health to launch Seattle's Table, a food recovery program. The collaboration has made the donation process so seamless that every one of Bon Appetit's accounts there can give away its excess food without a problem.
Cummings calls Seattle's Table her "shining example" of what she wants to see happening.
Civita said it's high time to improve such guidelines considering how far advancements have come in food conservation since the Bill Emerson Act was passed.
At the time, the industry didn't have a full scope understanding of how much food was being wasted. The act mostly had salvaging frozen food and expired packages of Rice-A-Roni in mind when it was passed.
"We're sort of trying to use this analog tool in a digital age," she said. "The world has changed dramatically since the Bill Emerson Act was passed. Now, it merits a second look, so it can continue to facilitate important socially responsible work."
Related
Before You Go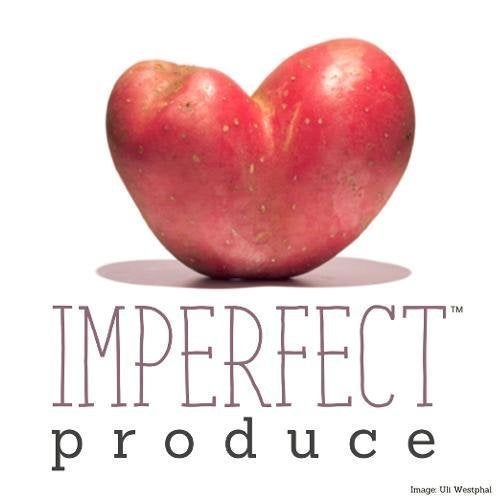 Companies That Fight Food Waste