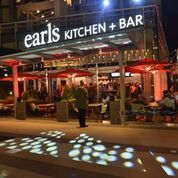 Earls Kitchen + Bar -- Junzi Kitchen -- Dizengoff

We love hearing about restaurants through the grapevine and, as food writers and consultants, have had our ear to the ground for decades. Our new feature, Restaurants to Watch 2016, explores innovative concepts, local/national roll-outs, and what's coming to the U.S. from abroad. We're excited about all of it.
Barbara-Jo McIntosh, proprietor of Vancouver's celebrated bookstore "Books to Cooks," years ago waxed nostalgic about her favorite local restaurant called Earls. I had never heard of it but was intrigued by her level of affection for a place that began in 1982 as a beer and burger joint and grew into an upscale-casual eatery with 67 restaurants across the U.S. and Canada. Recently, I dined in the company's newest outpost in Tysons Corner, Virginia. I loved its contemporary sprawl -- part hipster, part family-friendly -- designed with subtly and sass. I had envisioned an old-fashioned, seen-it-before kind of establishment, but instead found a mission-driven let's-take-care-of-you dining hall. It's very big. As is its innovative menu, its ramped-up lounge and bar, its extensive cocktail offerings, its level of generosity, and spot-on service.
The chef, Ryan Spicknell, a 27-year old Canadian, has traveled in Europe and fastidiously trained by Earls' culinary team. Price points for appetizers range from $10 to $12 and main courses from $16 to $28. One lingers for a long time over the globally-inspired menu. Choose tuna tostadas, chimichurri skirt steak, Korean bibimbap bowl, or a Royale burger with house-made mushroom ketchup, and you will sample a handful of Earls' most popular offerings. Unlike most chains, each restaurant cooks from high-quality ingredients, making fresh food from scratch. And it shows. Next up: Orlando and Boston Prudential (there are currently locations in Miami, Boston, Chicago, Denver, Lone Tree, CO and Bellevue, WA).
The brainstorm of a bunch of over-educated grad students at Yale, Junzi Kitchen is a northern Chinese version of Chipotle. Located on the edge of campus, down the block from the Apple store, Junzi's had lines out the door for two months. Unlike your typical mall-based Chinese steamtable business, this one makes all its food to order -- and by hand. Junzi specializes in "bings" (slightly puffy Chinese wraps) and bowls of noodles with enticing fillings and toppings.
Their tender braised beef shanks have overtones of bay leaf, fennel and anise. Braised pork shoulder and hock is perfumed with cardamom, clove, and cinnamon. Chicken is marinated in garlic, peppercorns, rice wine and soy sauce, then grilled. Charred tofu is glazed with kung pao pepper.
You mix and match these proteins with a seasonally changing array of hot and cold vegetables and house-pickled vegetables that make your mouth water. Even the garnishes are inspired: chive ash, shrimp salt, chili oil. Everything's prepared in front of you in about a minute. The bings and noodle bowls are portable but there's a small seating area, too.

The fast-casual food is memorable, craveable and authentic. Portions are enormous, and for under ten bucks this may be best meal bargain in New Haven. Locals go there several times a week. Naturally, these entrepreneurial Yalies are now on the prowl for locations in New York City and Boston. Gunpowder rose tea, anyone?
The powers-that-be at the wildly successful restaurant Za'hav in Philadelphia say there will probably never be another one. Instead, celebrated chef, owner, and recent author of the encyclopedic cookbook Za'hav, Michael Solomonov, has opened, in downtown Philly, the more casual hummusiya called Dizengoff -- named after Tel Aviv's main thoroughfare (and after the city's first mayor, Meir Dizengoff.) Located all over Israel, hummusiyas are places for just that -- hummus with a variety of "toppings" and warm pita for excavating. At Dizengoff, one gets a bowl of the chef's famously smooth, rich hummus topped with innovations - from roasted cauliflower, ground lamb with mint and pistachio, or with chickpeas, corn and lemon.
The big news is that Dizengoff will be opening in New York's Chelsea Market (home of the Food Network and many boutique-y dining outposts) in the next few months. This is a first-of-its kind concept in the U.S., and with hummus so ubiquitous it is a wonder that there aren't already a dozen or so in America. At Dizengoff in Philadelphia, one dines at communal tables. In NYC, one will eat at a counter. In addition to hummus, shakshuka (another Israeli import of baked eggs in a spicy tomato-pepper stew) will also be on the menu. In 1996, I was one of four "Women Chefs for Peace" on a mission to Israel. Upon my return I wrote an article for the New York Times about new Israeli cuisine and predicted it was the trend to watch. And now, it's here.
Rozanne Gold is a four-time James Beard award-winning chef and author of Eat Fresh Food: Awesome Recipes for Teen Chefs, Healthy 1-2-3 and Radically Simple: Brilliant Flavors with Breathtaking Ease.