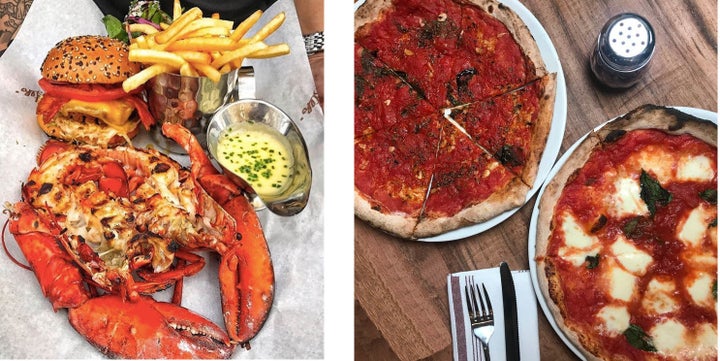 Here they are: Two New York dining spots heralding three of America's most-revered things to eat: Burgers, lobster, pizza. As someone aching for simpler food these days, I find the casual, straightforward, ingredient-driven approach to the British-born Burger & Lobster, and the decidedly southern Italian Tramonti, refreshingly satisfying. Many thanks to food trends guru Michael Whiteman -- a most affable dining companion and critic.
London's fabulously successful Burger & Lobster chain has just opened its second New York location, this time adjacent to Times Square. As you might surmise from its name, this restaurant venture is built are just two types of food: live lobsters of varying size, lobster rolls, and a roster of inventive hamburgers ... with varying combinations of the two.
The basic deal is for $20 you can get a one-pound Canadian lobster, or a 10-oz hamburger with bacon, cheese and onions, or a lobster roll, all with excellent skinny fries and salad. At the other extreme, you might select a 14.5-pound lobster from one of numerous tanks right at the restaurant's entrance; it is large enough to walk on a leash, costs $377, and comes with unlimited fries and salad. Their top-of-the-line $33 London Burger is topped with freshly-steamed lobster meat and truffle mayonnaise. Lobsters are expertly steamed or grilled and served with drawn butter or a most-addictive lemon-chive sauce. (You'll want to dunk your fries in it, too.)
More modestly, we ordered a 1.5 pound lobster ($28), their standard burger, and a corn-meal crusted lobster roll with spicy remoulade, and can proclaim them all to be well worth the money. And since lobster rolls in this city's self-service food halls cost around $20, the roll here is a deal. This is especially true for large families on-the-splurge who fill up their tables for not a lot of money, or for people seeking a pre-theater dinner that is gentler on the wallet than most other places.
People who just can't decide may order a grand combination called The Tower – any two burgers, any two lobster rolls, two whole one pound lobsters, any three sauces, unlimited fries, unlimited salad and any four specialty cocktails or a bottle of Cava – presented on a two tiered tray. Desserts are served in trendy jars – fabulous chocolate mousse or strawberry "cheesecake," and the wine list falls into the category of pretty good. There are great beers on draft.
The 160-seat restaurant is located mid-block on 43rd Street between 6th Avenue and Broadway next to the Stephen Sondheim Theatre, and you enter via a theatrical arcade of lobster traps. In addition to a cluster of these restaurants in London, there are Burger & Lobster franchises in Dubai, Bangkok, Kuwait, Stockholm and Jeddah, and we'll probably have more in the US as well. It is, after all, a refreshingly satisfying place to go. Say hi to the brilliant Vladimir, the operating partner who is spearheading the U.S. expansion of B&L and other concepts, or to the terrific executive chef, Danny Lee, who has cooked in some of the best fish restaurants in town. (132 West 43 St., 917-565-9044)
Tramonti Ristorante Pizzeria
You've probably never heard about 'ndunderi. Or re fiascone tomatoes. Or past' e patane. Or melanzane al cioccolato. Except for the melanzane al cioccolato -- a chocolate eggplant dessert that I wrote about several years ago -- all these dishes are new to me, too.
They have two things in common: they're ancient foods from the Amalfi area of Italy; and you can find them at the East Village pizzeria called Tramonti. New York is full of Italian restaurants calling themselves "authentic," but the recently- opened Tramonti is the real thing.
First, I must tell you about the pizza. The dough incorporates millet, barley, rye and whole wheat -- all traditional to the ancient mountain town of Tramonti from which this restaurant derives its name. It starts with a pinch of yeast and is left to rise for 48 hours, which accounts for its deep flavor and lightness of texture. This restaurant's classic pizza marinara, topped with intense re fiascone tomatoes (see below), oregano, tiny slivers of garlic and olive oil was a revelation. Tramonti's calzone was another stunner filled with some of that same tomato pulp, smoked provola, fresh mozzarella imported from Tramonti (of course) and hot soppressata (from a small producer in New Jersey); it tasted "Italian" in a manner that few restaurants here can muster.
The place is run by Chef Vittorio (Giovanni Vittorio Tagliafierro) and the food I'm describing was his everyday fare in Tramonti. His mother, grandmother and great-grandmother made 'ndunderi from a recipe left behind by the Romans who established the town. They are large dumplings made of ricotta and flour, served in an intense sauce of those tomatoes and braised beef, topped with his amazingly creamy mozzarella. UNESCO says 'ndunderi is one of the earliest forms of pasta.
Past'e patane consists of broken spaghetti cooked al dente with small bits of Idaho potatoes and then quickly sauteed with garlic, basil and olive oil. The potato's starch subtly coats the pasta and adds body to the sauce it is served in. You may have it with a dollop of tomato sauce but it isn't really necessary.
Re Fiascone reportedly were the original tomatoes on pizza margherita. Cultivated in the 1900s around Tramonti, they went into decline and only recently have been replanted in the area, the successful result of a crowd-funding effort. They are pulpy and intense, and Chef Vittorio exclusively imports vast quantities -- no sugar, salt, herbs, or even olive oil are added.
And now for the chocolate eggplant dessert, found in many of the towns abutting Tramonti: I went hunting for it in 2011 near Ravello and finally found two versions in a small town on the coast, neither of which compare to what's offered here. Theirs look like pancakes. Chef Vittorio's consists of thin layers of fried eggplant that are sugared and spiced, separated by layers of ricotta, and then enrobed in bittersweet chocolate -- as if it were a decadent square of lasagna. Melanzane al cioccolato originated in the Franciscan Convent de Polvica in Tramonti, spread to other religious orders and thence to local housewives. It often is spiked with concerto -- an heady ancient liqueur originally made by local nuns but now concocted in various domestic versions. You might find some in Tramonti's rendition of this dish.
Chef Vittorio, who has worked in New York's most upscale pizzeria (including Mezzaluna) is a hearty raconteur and it doesn't take much encouragement to launch him into the food history of his childhood, all of which rounds out a most delicious evening. (130 Saint Marks Place, 212-260-1441)
Related
Popular in the Community