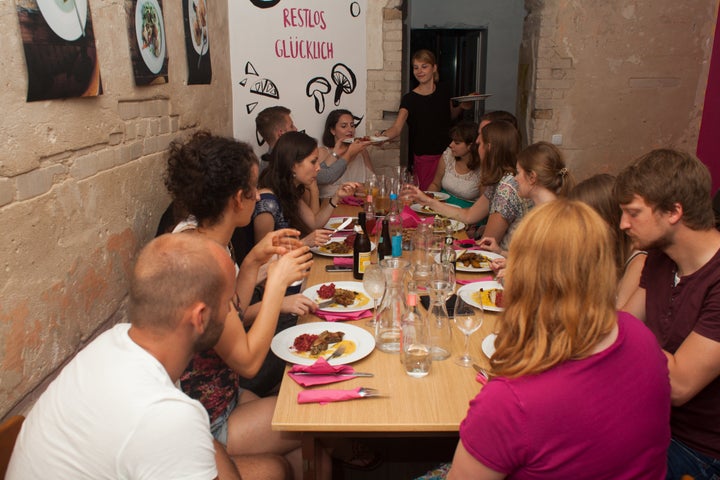 If eating food waste doesn't sound too appetizing, this might change your mind.
A restaurant called Restlos Glücklich (which translates to "Completely Happy") makes its dishes almost entirely out of items rejected by other food vendors. The not-for-profit eatery, which opened in Berlin, Germany, in May, also hosts workshops to teach people how to waste less food at home.
Around 70 to 80 percent of the ingredients used in the restaurant's meals are donations from wholesalers and supermarkets that don't want the items on their shelves. Some of this food is produce that looks "ugly" ― it's edible and nutritious, but it's not picture-perfect.
"These are products [grocery stores] can't sell because customers wouldn't buy them," Completely Happy team member Wiebke Hampel told The Huffington Post. "They don't look fresh enough, or have spots, or the dairy products are close to their expiration date."
While Completely Happy's dishes are mainly vegetarian, the daily menus are not predictable: The chefs regularly change them up based on produce they get from their partners. But visitors can always count on finding something unique, like foamy beet soup with ginger crème fraîche cheese, for example.
Here's a dish of fried tofu-balls on grilled vegetables with spinach risotto and asparagus-mint salad that Completely Happy whipped up: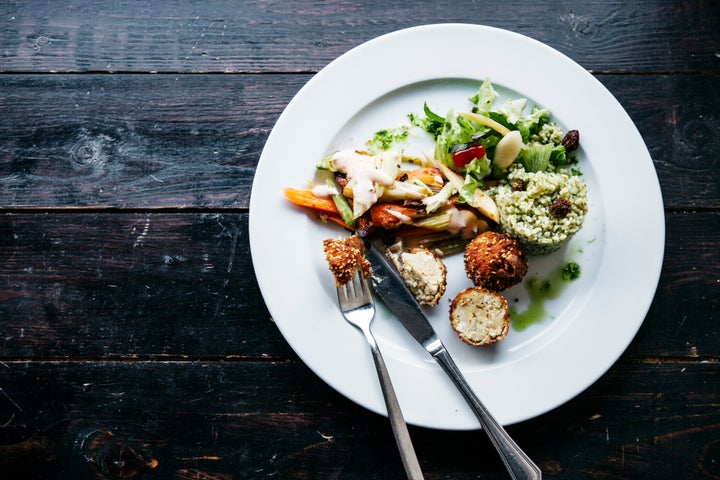 And here's another Completely Happy creation, a creamy pumpkin soup with pumpkin seed oil, served with thyme bread: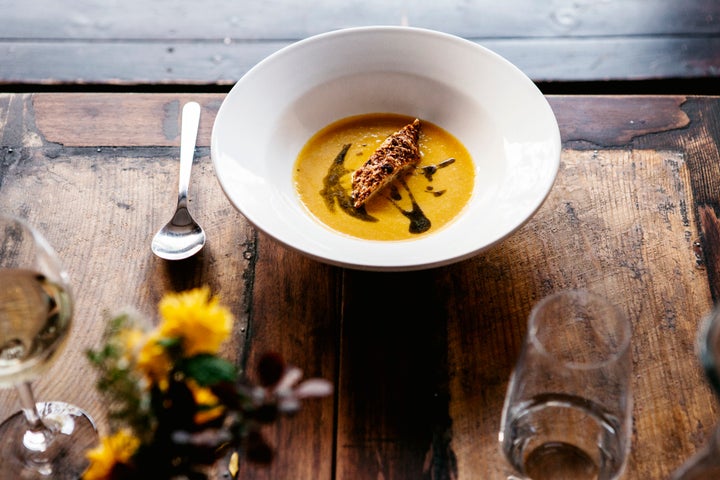 Part of this global problem, as Hampel mentioned, is that major grocery stores adhere to strict cosmetic standards for produce. In the real world, however, not every piece of fruit or fresh vegetable is unblemished and perfectly shaped.
The companies that donate food to Completely Happy tend to be more environmentally conscious than many supermarkets, meaning they're less likely to trash "ugly" food items, according to Hampel.
Another significant contributor to food waste comes from inside the home. American families, for instance, throw out about 25 percent of the food and beverages they buy. Germany faces a similar problem: People who live there toss more than 24 million pounds of food per year.
This happens for a variety of reasons. Sometimes people simply purchase too much and don't consume it all; other times they get confused by expiration dates and throw out food before it's actually gone bad.
Completely Happy wants to teach people how to curb such wasteful habits. Take the group's Creative Cooking Class, for one: This workshop shows folks how to make use of all the items in their fridge.
"People throw away food at home, because they don't know how to cook with all of it," Hampel told HuffPost. "And there's the problem of expiration dates ― so confusing. We want to teach people to start believing in their own senses again: If you see a carrot and it's fine, eat it, and if it's a little old, just make soup out of it."
Food waste experts generally agree that as long as people avoid food that's obviously gone bad ― such as chunky milk ― eating food that's close to expiring, or has recently passed it's sell- or use-by date, probably won't hurt you.
Completely Happy is open for dinners Wednesday through Saturday, making the space available for workshops the rest of the week, according to Hampel. While it's run by a handful of part-time staff, the restaurant is mostly powered by the dozens of volunteers who sign up online for shifts.
"What was cool for me was that, with a restaurant, we could raise awareness and start talking about this issue in a positive environment," Hampel said. "It's not about saying, 'You're so bad for throwing away food.' It's more like this food is still yummy and good and we can make creative meals out of it."
Completely Happy is just one of a growing movement of restaurants worldwide that have committed to fighting food waste.
Blue Hill chef Dan Barber, for instance, ran a pop-up restaurant in New York last year, serving only food waste for a month. The Saucy by Nature restaurant in Brooklyn makes meals out of leftovers from its catering business. In the United Kingdom, the Real Junk Food Project has cafes across the country that sell food rescued from other restaurants or vendors.
Still, waste-conscious restaurateurs are few and far between ― for now.
Related
Before You Go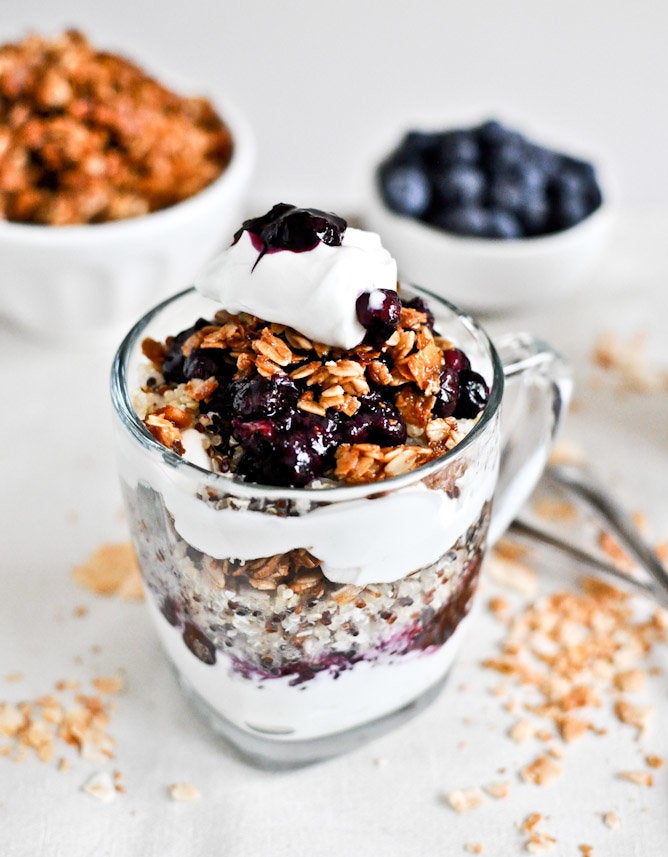 5 Healthy Recipes For Food Waste