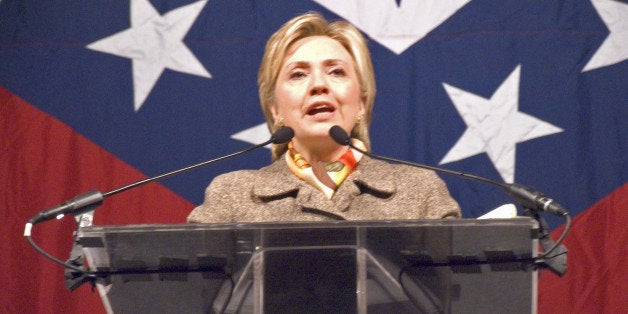 In the introduction to her upcoming book, Hard Choices, Hillary Clinton writes about the challenges she faced as secretary of state -- starting with "the problems we inherited, including two wars and a global financial crisis."
Indeed, any objective assessment of those early days would agree that the problems facing our country back in 2010 were extraordinary. America's status as the world's premier superpower was in peril. Our economy was on the brink of disaster. The American auto industry was imploding. Americans were out of work. Foreclosures were skyrocketing. Many of our men and women in uniform were serving their fourth and fifth tours of duty in Iraq and Afghanistan. America was in the cellar of international esteem.
In the midst of this chaos, Secretary Clinton engaged. As she writes in her book, she knew that, "While there are few problems in today's world that the United States can solve alone, there are even fewer that can be solved without the United States." American foreign policy took a new turn: An active secretary made restoring America's standing in the world a top priority. She used diplomacy to heal and strengthen bruised American alliances, traveling nearly a million miles for hundreds of meetings with foreign leaders in 112 countries. She worked with the administration and the international community to bring an end to the war in Iraq and develop a plan to end the war in Afghanistan. She coordinated the U.S. efforts in support of post-war Iraq.
Throughout her tenure as secretary of state, Hillary Clinton engaged in diplomacy with both our friends and our foes. And her results are clear.
The New START Treaty with Russia, the U.N. sanctions against Iran, and the historic negotiations with China that led to the release of Chen Guangcheng, all demonstrated how active diplomacy can work for America, and how compromises can be reached even in the most complex, sensitive situations.
British Foreign Secretary William Hague said it best when he told her, "Every Foreign Minister surely wishes for their country to be stronger in the world when they leave office than it was when they assumed it. Few can say this -- but you certainly can. You enhanced the standing of US diplomacy in the world."
She made the hard choices. And America is stronger for it.
Calling all HuffPost superfans!
Sign up for membership to become a founding member and help shape HuffPost's next chapter