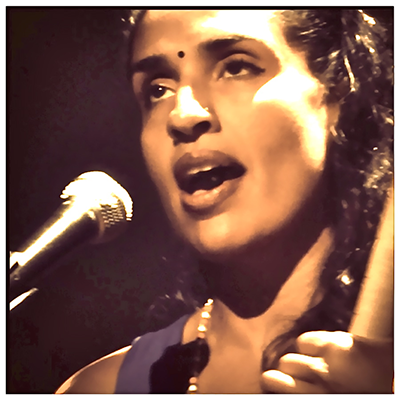 This is an interview with Roopa Singh, founder of South Asian-American Perspectives on Yoga in America (SAAPYA), and a business owner of Brooklyn-based health and wellness center Third Root. SAAPYA provides a platform for South Asian-American voices in yoga, cultural awareness in yoga trainings, and a network of South Asian-American practitioners of yoga.
Rob: What originally motivated you to do this work, and what continues to motivate you? How, if at all, has that motivation changed over time?
Stevie Wonder sang "Love's in Need of Love Today," and I feel strongly that yoga is in need of yoga today. The rising appropriation by the West of India as a spiritual home, and as a freely accessible intellectual property windfall, comes right on the heels of colonization, partition, and severe economic sanctions. This not appropriate behavior, particularly when the use of South Asia doesn't include an increase in integration for South Asian-Americans in the West. I'm motivated by bringing this to all our attention. I led a study on the past two years' issues of Yoga Journal, and it turns out there was never a South Asian person on the cover, and there has been a negligible South Asian authorship presence. The magazine is generally based on South Asian cultural history and theological property, yet this knowledge is primarily "authored," "embodied," and modeled by Western women. What happens when people rely on a country or culture as a panacea for their own wounds with respect to race, lineage, and home? No one comes out of this kind of political or personal violence unscathed, and segregation in yoga is injurious to us all.
Is there a standout moment from your work with South Asian-American Practitioners of Yoga in America (SAAPYA)?
What stands out to me about launching SAAPYA is the outpouring of voices saying, "Finally!" The night of our Brecht Forum panel in Manhattan, our Facebook event page was popping, "You have UK sisters staying up till 2am to watch the livestream;" "Can I help plan the West Coast tour;" and, "Please come to Vancouver!" People from all walks have the sense that yoga needs the stewardship of South Asian-Americans, that our lineage is meaningful. We have been speaking in private about segregation and appropriation in yoga, with our parents, aunties and uncles, our peers. The fact that SAAPYA is the first network and platform for South Asian-American Practitioners of Yoga in America is unbelievable. But I think we are right on time, ripe and ready to help shape the course of yoga in America, by bringing what has been a largely private discussion out into the public sphere.
What did you know about the population you are working with before you began teaching? What were some of the assumptions you had about this population, and how have those assumptions changed?
I am my target population, so I haven't been startled by what I've found. I was the first in my family to be born in America, and a core question that guides me is, is yoga considered more American than I am? I ask this as a first generation Indian-American, who navigated a maze of bridges to learn how to be in this society, built on a steep learning curve and with parents who did not grow up in this country. I grew up in San Diego, where my family and I always engaged in media analysis without calling it that, observing the biased coverage of India as either backwards, poor, or mystical. Meanwhile, I became steeped in 90's era Hip Hop (teaching my cousins in India the running man is a favorite teenage memory) while my mom sang bhajans (Indian devotional songs) in public on a weekly basis. My parents are retired now, and I worry about hate crimes against South Asians and segregation in their current hometown. I'm guided by wanting to shape the trajectory of yoga in this country I also call home.
What are two distinct ways that your teaching style differs from the way you might teach in a studio, and what are the reasons for these differences?
I know that when I call myself a yoga teacher, I am far more a student of yoga than I will ever be a teacher of yoga. That's a major difference between how SAAPYA rolls and how the yoga industrial complex operates. Calling ourselves yoga teachers doesn't translate easily within our South Asian diaspora families. It's a concession we make to the system of certification in the U.S., to market ourselves as yoga teachers or instructors, but the truth remains unshaken. Also, if I play Indian music in class, it is music that has been created by and is attributed to South Asian artists. To me, and to many others, these practices are second nature. However, we know from experience that even simple steps like these are revolutionary.
What has been the greatest challenge in your teaching experience, and what tools have you developed for addressing that challenge?
I think what is most challenging for me is simply entering into the melee of a western yoga industry in which much is lost in translation. For example, "yoga injury," is a phrase that only came into being with the advent of the yoga industrial complex. Yoga is not for men, yoga is too expensive: these are sentiments that are also antithetical to yoga. My toolbox includes thinking positively, being a licensed attorney and former adjunct professor, 20 years in social justice organizing, mindful healing from sexual violence, playing electric guitar and singing. All of these tools help me to refuel and navigate.

What advice would you give to South Asian yoga teachers in America?
We're building this network and platform now, and we need all of your voices to make it happen. If you'd like to contribute writing, sponsor a panel discussion, or engage a SAAPYA cultural awareness in yoga training, let's connect.
What are some of your ideas about, or hopes for, the future of "service yoga" in America in the next decade?
At social justice conferences in the U.S., there is often a moment when time is taken to acknowledge Native American stewardship of the land. Similarly, I envision service yoga and decolonizing/liberation yoga folks in the west making a good faith effort to integrate yoga by welcoming the stewardship of South Asian diaspora communities. Our lens, as South Asian-Americans, reveals best practices in yoga which otherwise remain buried under even the best humanitarian intentions. True integration means equal representation and better mindfulness for all, and I imagine that for yoga!
How has this work changed your definition of service? Your definition of yoga? Your practice?
The magnitude of the need for this emerging dialogue is something I'm getting used to day by day. As a result of my service work in yoga, my definition of yoga is expanding. Folks are so passionate about yoga, so the non-attachment of agreeing to disagree, well, that is a good skill to learn. I'm also shoring up the precision of what I think and say about yoga. The other day a dear friend said, "We are all yogis." Gandhi's notes on the Bhagavad Gita, that rare is the true yogi, came to mind. This is the kind of precision I mean.
What other organizations do you admire?
Third Root Community Health Center (of which I am a business owner), Colorlines, the Center for Media Justice, SAWCC, SAALT, SALGA, the Center for Constitutional Rights, Yoga Service Council, Off the Mat, the Interdependence Project, East Bay Meditation Center, Spirit Rock, the Omega Institute, and many more.
Related
Popular in the Community