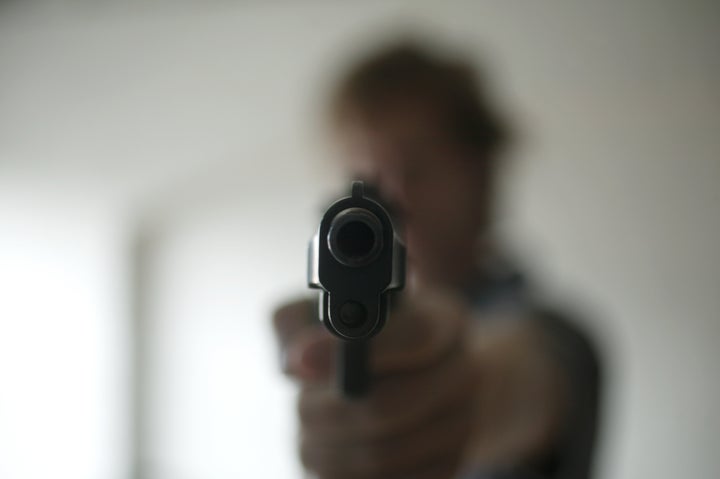 It's long been recognized in the U.S. that domestic violence and guns are a deadly combination. That's why people who have been convicted of domestic violence misdemeanors or who are subject to permanent protective orders can't legally own or buy guns.
But a leading group of attorneys from across the country doesn't think federal law goes far enough.
On Wednesday, Prosecutors Against Gun Violence released a 152-page report recommending that individuals who are subject to temporary domestic violence protective orders -- as well as permanent orders -- should be barred from having a gun.
"Those temporary orders are often the first step in the domestic violence protective order process, reflecting the immediate danger the victim faces," the report states. "Federal law should be changed ... to ensure that victims are provided safety throughout the entire process."
The difference between a temporary and permanent protective order isn't just semantics. Temporary protective orders are often sought when a victim is trying to leave a partner and urgently needs help with safety. They can usually be issued "ex parte," meaning that only the person who is making the allegations needs to be present at the hearing.
"If you're in a position to need a temporary restraining order, you are probably fearing that your life is in immediate danger."
It's a critical -- and highly lethal -- time period. Susan Sorenson, a professor of social policy at the University of Pennsylvania who researches violence prevention, previously told The Huffington Post that domestic violence victims are at the highest risk of being killed when they are leaving the relationship.
"We tell women repeatedly to leave the abuser, leave the abuser, leave the abuser, but when she does she increases her risk of homicide," she said.
The length of a temporary protective order varies from state to state, but they typically last between 7 and 21 days. After that, both the victim and alleged abuser have an opportunity to present evidence in court, and a judge decides if a permanent order should be granted. If it is, the abuser is then barred under federal law from owning or purchasing guns for the duration of the order.
But in some cases, it might be too late.
"If you're in a position to need a temporary restraining order, you are probably fearing that your life is in immediate danger," said Hollye Dexter, a board member of the advocacy group Women Against Gun Violence. "There is never a more important time to have a weapon removed from an abuser than that immediate moment."
The attorneys' group wasn't the first to have the idea to restrict gun ownership. In 2014, Sen. Richard Blumenthal (D-Conn.) introduced a bill that would stop people subject to temporary protective orders from purchasing or possessing a firearm.
"When the husband or intimate partner comes home and is told 'it's over, get out,' or 'I'm leaving,' rage and vengeance are at their highest points,'" Blumenthal told the Connecticut Post. "That's when an order against firearms is most important."
More women in the U.S. are killed by their intimate partners -- boyfriends, husbands and exes -- than any other type of perpetrator. HuffPost recently tracked and analyzed a month of deadly domestic violence. According to our analysis, there were 112 suspected intimate partner homicides in January, and firearms were responsible for 57 percent of the deaths. That aligns with existing data, which has found that guns are used more frequently than any other weapon in these lethal events.
"There's a consensus that abusers shouldn't have firearms," said Josh Horwitz, executive director of the Educational Fund to Stop Gun Violence, which coproduced the new report. "We are onto now the phase of people saying, 'We have a problem -- now what can we do about it?'"
Melissa Jeltsen covers domestic violence and other issues related to women's health, safety and security. Tips? Feedback? Send an email or follow her on Twitter.
Popular in the Community