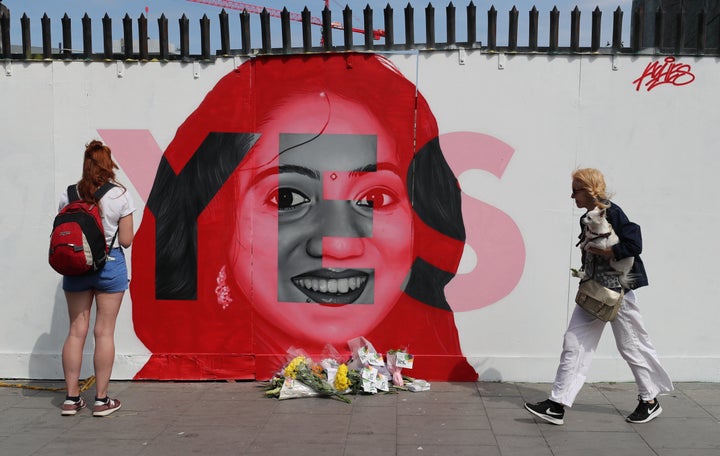 Irish voters on Friday repealed the country's eighth constitutional amendment, a decadeslong ban on abortion that had forced thousands of women to either illegally order abortion pills online or travel to the United Kingdom to access the procedure.
A total of 1,429,981 voted for the repeal and 723,632 voted against, Returning Officer Barry Ryan said Saturday.
The legalization of abortion in Ireland delivers a huge blow to the global anti-abortion movement, which had looked to the Western country's near-total ban on the procedure as a beacon for other efforts around the world. International religious and anti-abortion groups ― many of them American ― had poured money and resources into a sophisticated digital campaign to uphold the ban in Ireland.
"What we have seen today is a culmination of a quiet revolution that's been taking place in Ireland for the past 10 or 20 years. This has been a great exercise in democracy and the people have spoken," Prime Minister Leo Varadkar said in a statement.
"The people have said that we want a modern constitution for a modern country and we trust women and we respect them to make the right decisions and the right choices," he added. "It gives the government the mandate that we need now to bring forward the legislation that we promised and have it through the door ... and enacted before the end of this year."
The moral influence of the Roman Catholic Church is waning in the country. In 2016, Roman Catholics made up 78.3 percent of the Irish population, down from 86.8 percent in 2006. A series of scandals — chief among them the clerical sex abuse revelations in the 1990s — has undermined the church's authority. A younger generation in Ireland was poised to bring the country's reproductive rights laws up to speed with most other rich Western nations.
"It just seems a bit absurd to me that we essentially have abortion in Ireland already," said Aisling Grace, 20, in an interview three weeks before the vote. "The eighth amendment is a continuation of this Irish culture of burying our heads in the sand," the student at Trinity College in Dublin added.
Ireland is one of the richest countries in the world, but since adopting the eighth amendment in 1983 it has banned abortion except to save the life of the mother. This puts it in the unlikely company of countries like El Salvador and Nicaragua, which have some of the world's most draconian restrictions on reproductive rights. Ireland's enforcement of the abortion ban was not quite as extreme as El Salvador's, where a woman might be sentenced to decades in prison for having a miscarriage. But the European nation has denied women abortions even in cases where the pregnancy severely affects the mother's health.
The most infamous case is that of Savita Halappanavar, a 31-year-old dentist who died in 2012 from complications related to a septic miscarriage. Her medical team had denied her request for an abortion at 17 weeks of pregnancy. But that's not the only example. Just this year, 30-year-old Claire Malone, who has a congenital heart condition and one lung, was denied an abortion because Irish doctors decided that while her pregnancy was "high risk," her life was not sufficiently threatened.
Advocates for the repeal were also fighting a status quo that was wrapped up in certain conceptions of Irish identity. One 65-year-old man in Dublin, who asked HuffPost not to publish his name, said he believed that women should have the legal right to choose abortion, but he was still emotionally conflicted about which way to vote. "There are so few things that make Ireland unique anymore," he said. "We don't allow abortions, and our policemen don't carry guns. If you start changing those things, what incentive would people have to come visit our country?"
But pressure to change came from many directions. The United Nations Human Rights Committee began leaning on Ireland in 2017 to reconsider its abortion ban, which it called "cruel and inhumane." (Until Saturday, Malta was the only other nation in the European Union to outlaw the procedure.) And the U.K.'s Brexit vote in the same year made it unclear whether Irish women would still be able to travel to England as easily to obtain care safely and legally.
Progressive groups were also bolstered by the fact that Ireland voted to legalize same-sex marriage in 2015. Many of the same activists who had pushed for marriage equality moved on to reproductive rights advocacy with a favorable wind at their backs.
"Two years ago, we constantly had not only politicians but a lot of political media and those opposed to any progress saying, 'Nobody's interested in this. This will go nowhere,'" said Colm O'Gorman, executive director of Amnesty International Ireland. "We were able to demonstrate and show and build a very clear call for change."
Sara Boboltz contributed reporting.
Popular in the Community