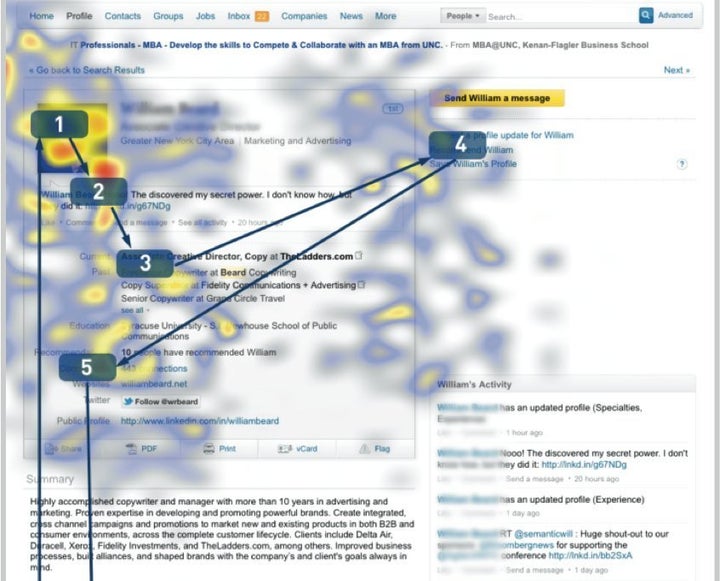 There have long been general guidelines for resume writing but rarely, if ever, has it been considered an exact science.
Over the course of ten weeks, 30 professional recruiters participated in a study in which they reviewed the resumes and online profiles of candidates.
"They didn't know that they were being timed," Will Evans, head of user experience at TheLadders, told The Huffington Post. "I had read a research report back in November that said recruiters had been spending 4 to 5 minutes when deciding is this person a fit or not."
But Evans wanted his own quantifiable data on the subject. Enter the eye-tracking software, which recorded how long the recruiters spent looking at items of information, how quickly their eyes moved between items, the trajectory of their eyes going from item to item, and what content was overlooked.
The software subsequently developed a heat map that aggregated the results of all the recruiters and showed the areas that they spent the most time on: the darker the spot, the more time recruiters spent looking at that section of the resume.
"They'll initially focus in on current title and the company you're at. Then right after that, what was your previous title and company. Then, their eyes literally go to the right hand side of the screen because that's where they're expecting to see the number of years you worked there," said Evans. "They're looking for job hoppers and steady progression in a career path ... then they scan right down to the bottom to see whether you have the education requirements or not. It's literally a binary decision: you have it, or you don't."
Evans suggests that job hunters keep their resumes to no more than two pages and make good use of white space -- that means avoid anything that looks cluttered.
"Have a very clean information hierarchy, meaning go directly from your summary of your skills to bolded highlighted current title and company," he said. "Don't try to use type ten font and cram every experience you've ever had ... You want quick bulleted lists of things accomplished; action oriented and quantifiable. They're going to be skimming. People really do skim, looking for clear bulleted lists, not huge chunks of content."
Another key finding of the research? Online profiles that feature pictures can be risky, as the photo itself captures the attention of the recruiter for a long enough time that it could mean he or she misses out on more essential information.
"When sourcing on LinkedIn, they spend a huge amount of time, almost on 20 percent, with their gaze completely focused on the profile picture," Evans said. "You as a candidate want them to be focused on your experience and not necessarily on your picture."
Popular in the Community