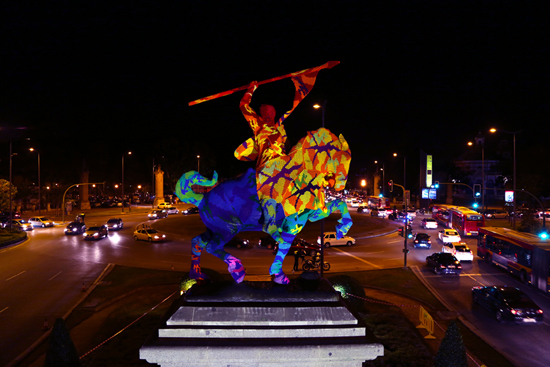 Greeks say there are two deaths: the death of one's body and the death of one's name, extinguishing when it ceases to exist on others' lips. However, in legends a name can live forever.

El Cid (the Lord) was a Castilian nobleman and military leader in medieval Spain. The legend recalls El Cid was badly wounded in battle. The last night of his existence he made his wife to sware to him that he would still appear in battle, alive or dead, the following day. Jimena kept her oath by ordering his corpse to be fitted with his armor and set atop Babieca, his infamous horse. It is said that the mere presence of El Cid's corpse not only led his troops to victory, but kept his name on the lips of Spaniards forever.

Isn't this the dream of all artists?
The legends of art have been nurturing my growth as a young artist since I can recollect my first memory of experiencing and witnessing an art piece. The pioneers of street art, the legends that opened the door for my crochet interventions, were recording their presence and their names, spreading both on every available surface for all to see. You might love it or hate it. You might try to steal it or repaint it. One thing is sure -- street art is more than simply coating over what already exists.

People still ask me why I "cover" things in public with yarn magic. I, emulating the street-art legends before me, hope to do more than merely cover surfaces. I (we) highlight existing truths, resurrect memories, honor history and memorialize dreams. I have been immersed in cultural studies since I can remember, not only as a student at the Adam Mickiewicz University in Poznan, Poland, but since I was a knowledge-hungry kid. Like everything else, I have learned history on my own. Books could not satisfy me alone; there were not enough of them in the old fashioned libraries in post-communist Poland, so I jumped on the road to learn more about this world. Museums, films and theatre festivals were my new high school. I remember as a 17-year-old girl I shaved my head and crocheted hats to keep warm. I hitchhiked by myself to many cities in Europe. Amsterdam, not to visit coffee shops, but to experience Van Gogh's genius in person. These personal experiences and encounters taught me history, art, culture and languages and remain the core of my evolving work. They appear in different ways and in varying levels of intensity, but none are forgotten; they are continually displayed to the world.

My work changes from place to place, influenced by each city, people and culture. Seville has given me so much already in my few weeks here. I am a week away from my show opening and this body of work is soaked in Spanish influences -- colors, traditions, aesthetics. Seville might be taken as a very old-fashioned town. And in one sense, that's true -- it is an ancient city, rich in history. This history can be seen clearly in my upcoming work. It is also a city of bold and idealistic people, unwilling to forget their centuries of greatness and resolve. By making the statute of El Cid, created by Anna Hyatt Huntington in 1927, available to my art, the town of Seville showed their drive to create and explore.
Creating public works is my own way of honoring the past, reinventing traditions and reviving memories of greatness. By transforming the statute of El Cid, I hope to resurrect El Cid's legend and give something back to the people of Seville. I want viewers to remember and be inspired by El Cid's name, his bravery in life and Jimena's bold new idea to place her husband's body on his horse that so inspired the people of Seville. I want to highlight and honor, not cover, this bold and daring history that makes Seville the city that it is.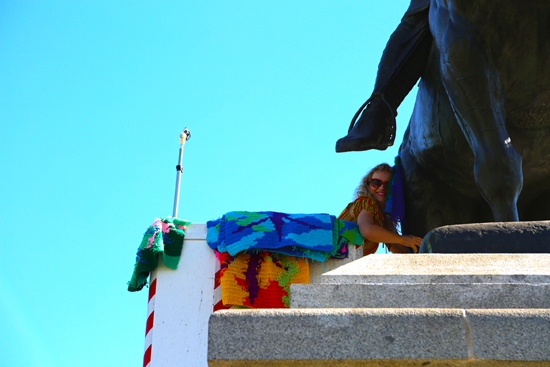 El Cid - Mi cariño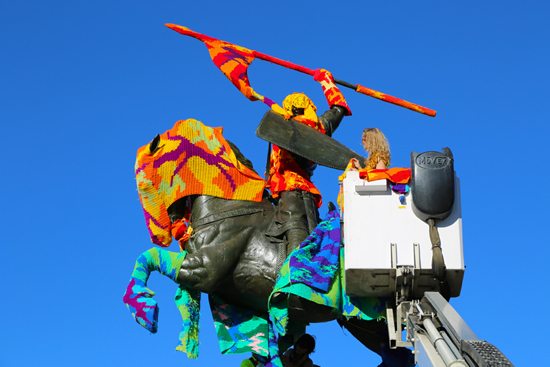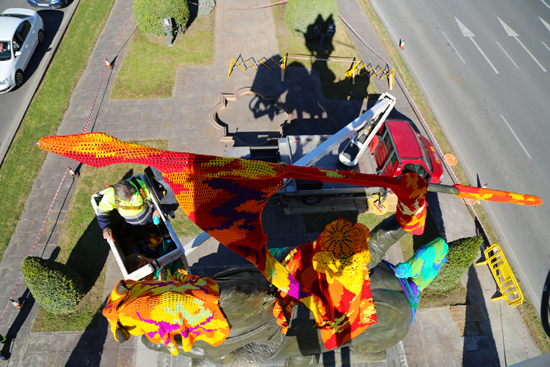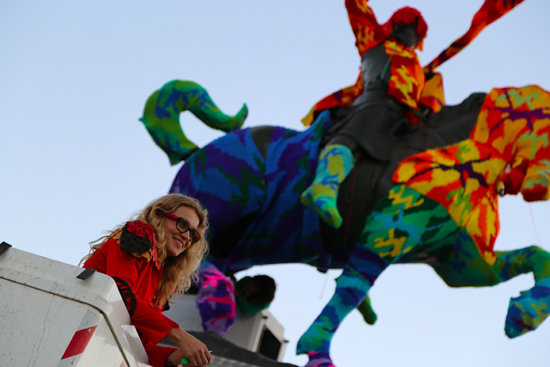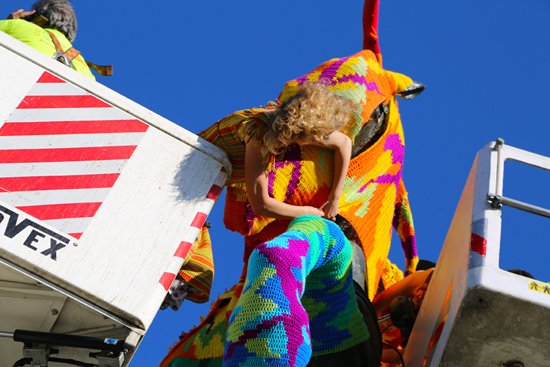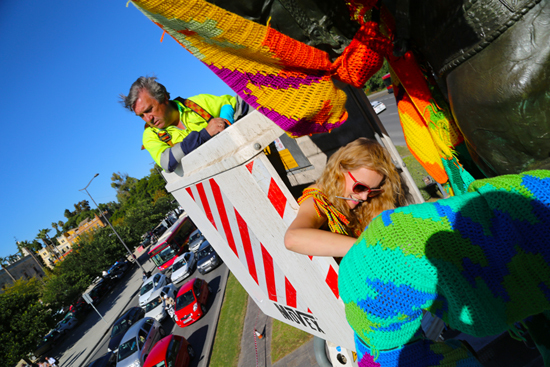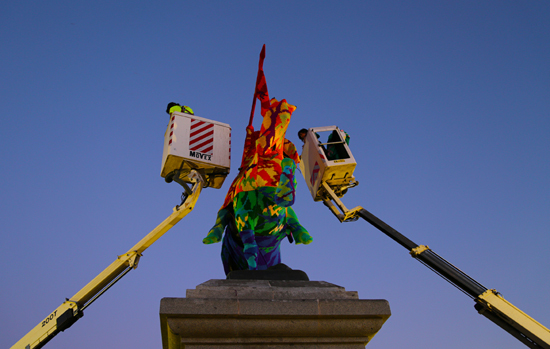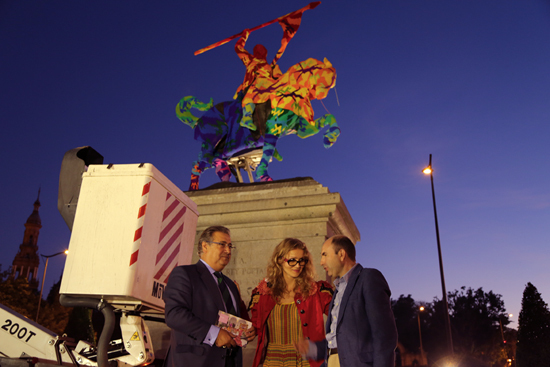 Special visit - Mayor of Sevilla - Juan Ignacio Zoido (left) and Benito Navarrete - director del área de Cultura del Ayuntamiento de Sevilla (right)
Photos: Olek and Lourdes Rodríguez