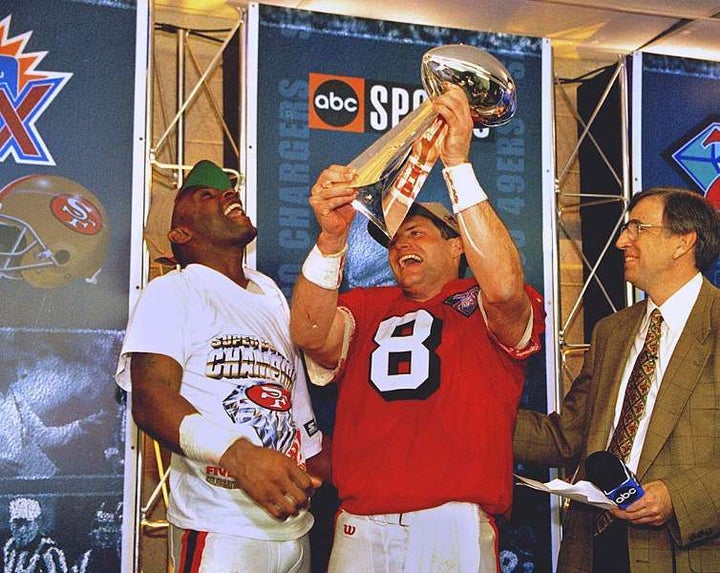 The San Francisco 49ers have long epitomized a premier football brand that represents on-field success, deep community roots, and lucrative financial benefits. With five Super Bowl championships, numerous National Football League (NFL) records, the state-of-the-art Levi's Stadium in Santa Clara, California, and a vibrant Northern California market, the team has been able to draft or attract superstar talent to the team's roster of players, coaches, and staff over the years. However, since the York family took ownership reins of the 49ers in 2000, the organization has struggled to win and their brand has been drifting into a free-fall. The team's only Super Bowl appearance during the York family's tenure thus far came in 2012 with polarizing quarterback Colin Kaepernick at the helm and a heartbreaking loss to the Baltimore Ravens.
This piece evaluates the critical issue that the 49ers are facing, outlines key metrics that highlight the impact of these issues, and proposes solutions that could help the franchise to tackle these issues and move forward into a prosperous new era of 49ers football.
CRITICAL ISSUE AND KEY METRICS:
According to Forbes, brand value is the "sum total of how much extra people will pay, or how often they choose, the experiences, expectations, memories, stories, and relationships of one brand over the alternatives." A pro sports team's brand incorporates team marks (logo, colors, graphics), mission/promise/values, the on-field product, marketing tactics, fan experience, community outreach programs, off-field player conduct, and associated products and services. The 49ers brand is eroding rapidly, and that is a problem. Jeff Bezos, Founder and CEO of Amazon, puts it best when he says, "Your brand is what other people say about you when you're not in the room." These days, there are not too many 49ers fans that are not talking ill of this franchise. A historically stellar 49ers brand is hitting a new low every season.
From their early days in the NFC, the 49ers improved from a 0.42 winning percentage in the 1970s to 0.68 in the 1980s and 0.71 in the 1990s. However, it has dipped to 0.43 since 2000. With the York family taking over the team in 2000, the team has compiled a record of 131-156-1, and has just one Super Bowl appearance (2012). From 2000-11, the team had a record of 87-105. After the Super Bowl appearance in 2012, the team has compiled a record of 33-47, failing to make the playoffs in the last three seasons and again this season. Atrocious on-field performance in recent years, coupled with a below .500 overall winning percentage in the last 17 seasons, has contributed to the 49ers' eroding brand value.

Additionally, the internal turmoil between team executives and staff has played a role in the deteriorating brand value. Unlike many other pro teams, the 49ers have failed to leverage analytics in team operations. Former 49ers Team President Paraag Marathe pushed for increased use of analytics on the team side of things. FiveThirtyEight called Marathe "one of the elder statesmen of NFL analytics," and he is noted for creating an NFL precedent for quarterback contracts with Colin Kaepernick's refundable, "pay-as-you-go" contract in 2014 that was based on analytical research. However, according to ESPN, former head coach Jim Harbaugh was a staunch opponent to using analytics (and often clashed with Marathe), while current 49ers CEO Jed York has distanced himself from the analytics department in recent years. Marathe now serves as the Chief Strategy Officer/Executive VP of Football Ops. Note the abysmal 8-24 record since Marathe changed roles. Moreover, the team has made poor coaching, staff, and player decisions in recent years. Former head coach Jim Harbaugh, while opposed to use of analytics, did revolutionize the struggling organization and injected life into the fan base after leading the team to the Super Bowl in just his second season as head coach. He won 44 regular season games in his four years as head coach, which is five more wins than the 49ers had in the seven seasons before he was hired. He also won five playoff games, which is more than the 49ers had in the previous 15 seasons. According to Business Insider, Harbaugh desired more say in team operations and often clashed with Baalke. Rather than resolve personality politics, the 49ers ownership decided to let Harbaugh go in 2014. During the York family's tenure, the team has gone through nine head coaching changes, including three since Harbaugh. As a result of these recurring personnel changes, the team has lacked any clear strategy or processes for roster creation, leading to terrible on-field play and little hope for improvement.

Besides team roster and on-field problems, there are other factors adversely impacting 49ers' brand – unaffordable housing, congested traffic conditions, decreasing confidence in the overheated local economy, and competition from other local pro-sports franchises. According to Redfin Brokerage Services, the median home price in the Bay Area has skyrocketed to $742K+, causing 1 in 5 home seekers to look for homes outside of the region, mostly in Sacramento and Seattle. According to a Bay Area Council poll, 40% of Bay Area residents overall and 46% of millennials want to move out of the Bay Area due to unaffordable housing. Most 49ers fans are from the lower middle class and cannot afford the escalating costs of living. Hence, the net loss of fans, particularly the millennials, is bound to shrink the team's market size and diminish the brand value. Similarly, a report published by the Metropolitan Transportation Commission (MTC) found that traffic congestion in the Bay Area was up 80% since 2010, making it the second worst traffic in the country behind Los Angeles. Perhaps most importantly, Levi's Stadium has turned into a traffic logistics nightmare for the team, fans, and the City of Santa Clara, further alienating the fan base. Fans may choose to stay home instead of sitting in traffic for hours, especially for Thursday Night games, which start during the heart of the Bay Area rush hour. According to another Bay Area Council poll, the housing and traffic crises in the Bay Area have led to a significant slip in Bay Area economic confidence. In 2014, 53% of respondents held that the Bay Area economy was doing better compared to the previous six months, but just 31% believe that today. The poll also found that the millennials showed less confidence in the Bay Area economy than older generations. Such degraded economic confidence has a direct bearing on consumers spending less on non-essentials like entertainment and sports. Another cause is competition from other professional sports teams in the Bay Area, particularly the red-hot Golden State Warriors. The team's 168% increase in gate receipts from 2013-2016, coupled with a staggering annual average increase in team valuation of 120% from 2012-2016, far outpaces the 49ers' numbers. The 49ers must find ways to compete with the Warriors for the attention and the finite amount of time and money of fans.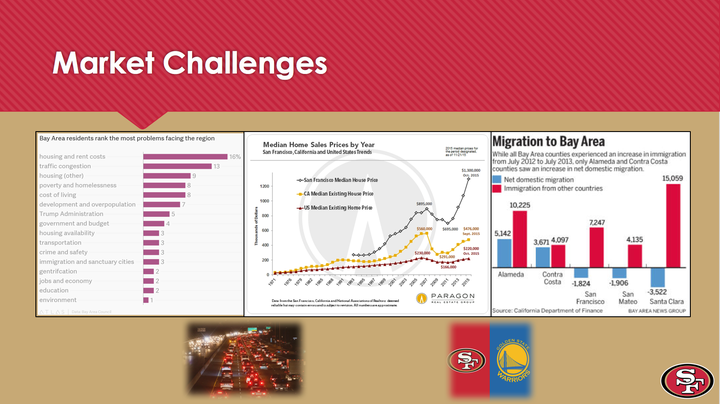 The causes of brand erosion discussed above have resulted in a degraded financial performance of the franchise. Fan attendance and participation is declining, revenue and valuation numbers are slowing in growth or outright dropping, and the team is relying on their past successes and glories to market the team and "distract" fans from the poor on-field product.
On the surface, the team's financial health looks quite positive. The team is currently valued at $3.05B, which is the fifth highest in the NFL. Since 2014, the team's valuation has increased by over 90%. Additionally, the team's annual gross revenue for 2016-17 was $458M, which represents a 58% jump from the 2013-2014 season. $79M was generated in gate receipts for the 2016-17 season, which was 17% of the team's gross revenue. This involves the amount of money brought in through ticket sales, including club seating ticket sales. Furthermore, the naming rights deal with Levi Strauss & Co. for Levi's Stadium, the 49ers' state-of-the-art home since 2014, will generate another $220.3M over 20 years (~11M per year) for the team. This deal ranks in the top ten for biggest stadium naming rights deals across all American professional sports. The team's ancillary revenue from merchandise sales, certain facilities factors, and hosting different events (soccer matches, college football games, motocross races, and concerts) has also improved. With the move to Levi's Stadium in 2014, the team's home attendance was promising – #12 ranking out of 32 total NFL teams in 2014 (566,192 fans attending the eight home games), and #11 ranking in 2015 (566,392 total fans in attendance). However, since then the team's on-field performance has led to a dramatic dip in fan attendance – ranked 12th in 2016 (561,424 in attendance) and down to 18th at the lowest point this season. Herein lies a key contributing factor to the effects of the 49ers' brand value erosion.
Moving to Levi's Stadium provided the team a one-time boost to valuation, revenue, and attendance numbers, as well as to marketing tactics and strategies. The stadium move improved franchise valuation ($1.6B to $2.7B, a 69% increase). Gross revenue jumped 58% from the 2013-2014 season to the 2014-2015 season ($270M to $427M), directly attributable to the move to Levi's Stadium. While the above attendance numbers may seem strong, the near empty images of 49ers home games on social media tell a different story. Perhaps, the ticket sale numbers released by the franchise include many non-attending season ticket holders. It is imperative to emphasize that the 49ers have failed to rank in the top 10 for NFL game attendance since 2006, the farthest back the ESPN NFL Attendance Report goes. Three out of the four NFL teams that rank ahead of the 49ers in terms of valuation (Dallas Cowboys, NY Giants, Washington Redskins) currently rank ahead of the 49ers in total home game attendance this season, and have consistently ranked in the top five for total NFL home game attendance since 2009. The 49ers' $3.05B valuation is the fifth highest in the NFL, but has increased just 2% in the past year. Only the New York Jets experienced a worse one-year value change (0%). Also, after the 49ers' first year at the new stadium, annual revenue growth shrunk to 4% and then to only 3% last year. While the ticket sales revenue since moving to Levi's Stadium has improved ($52M in 2013 at their old stadium, and then $77M, $76M, and $79M respectively from Levi's), much of this increase in revenue is due to the significant increase in ticket prices, not due to more ticket sales. According to Statista, the average ticket price rose roughly 40% when the 49ers moved to Levi's Stadium in 2014, explaining the ticket sales jump of 48% and the gross revenue jump of 58%. Levi's Stadium was supposed to enhance the 49ers brand, and it did for a while, but has now actually turned into a problem for the team. Furthermore, this brand erosion has forced the 49ers to rely on their past in order to market the current product. A fascinating example of this is the 49ers "Faithful Cruise," which the team announced earlier this month. In February, the organization is offering an exclusive 49ers-themed cruise to fans where they get to meet past 49ers players and engage with the team's history while being on sea. The team is focusing less on marketing their on-field product and more on brand extensions that revolve around the team's past.

Strategic planning and a forward-thinking vision are required for the 49ers to mend their brand value. To achieve this, the 49ers should follow a two-pronged approach of leveraging the innovations of their Silicon Valley hub while injecting their brand into the local community. I am calling this the "Gold Rush Accelerator" program. The program will have the following elements:
· Big data and analytics for improving the team roster
· Stadium transportation innovations for addressing traffic problems
· Social media engagement model for fans
· Youth and community programs rooted in sports technology
· Targeted marketing and loyalty programs utilizing machine learning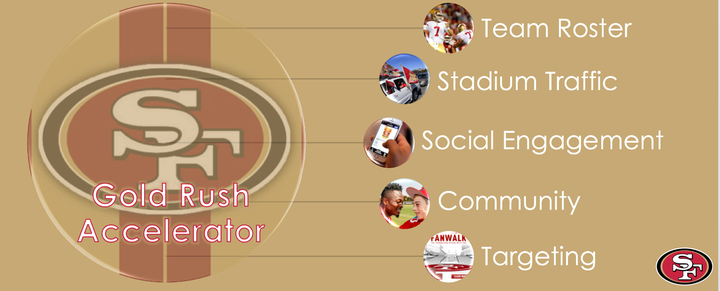 According to ESPN, in terms of the team roster, the 49ers have solved their glaring quarterback issues after acquiring Jimmy Garoppolo from the New England Patriots earlier this season. Garoppolo is just 26 years old and has a career passer rating of 110.1, showcasing his potential. Additionally, this smart move by the 49ers involved taking on a very meager Garoppolo salary of $434,158 this season, and giving up only a second-round draft pick to get him. Garoppolo shocked the entire league with his phenomenal performance, leading the then 1-10 49ers to five straight wins while going undefeated in his first season as a starting quarterback. With that problem solved, the team needs to turn to other glaring issues in their roster. According to CBS Sports, the team ranks 17th out of 32 teams in total offense (yards per game) and 25th out of 32 teams in total defense (yards allowed per game) this season. Within these rankings, the team ranks 22nd in total rushing yards per game and 16th in total passing yards. On defense, they rank 25th in rushing yards allowed and 20th in passing yards allowed. Clearly, the roster overhaul requires a focus on offense (wide receiver, tight end, and running back) as well as on defense (pass rushers, cornerbacks, and stack linebackers). Instead of spending precious cap space money on aging veterans, the team should target up-and-coming players. Having identified these gaps, 49ers should leverage big data and analytics to evaluate the talent available in the league, with a focus on skills and a fit in the 49ers' culture. For instance, the 49ers can build upon their existing partnership with SAP, a technology pioneer, and leverage the SAP "Scouting" application to help with the draft. Besides acquiring playing talent, 49ers can address internal team turmoil by scouting support staff, including coaches, based on data and analytics. Building a strong roster is simply the starting point. Honing the on-field performance is the key to winning championships. The 49ers can learn from the Golden State Warriors on how to work with local startups such as Athos (player conditioning sensors) and Second Spectrum (play analysis) to improve their on-field performance.
The Silicon Valley technology stalwarts, such as Cisco, Oracle, Fujitsu, Google, and Microsoft, have thriving innovation programs on smart traffic management. These companies are using Big Data and IoT (Internet of Things) technologies for understanding traffic patterns and congestion solutions. The 49ers, in partnership with the City of Santa Clara, should engage with such innovators in developing a game-day traffic management program. Besides managing traffic patterns, the 49ers' logistics teams should sublease ample corporate parking space within two miles of the stadium for game-days, particularly on Sundays when most of this space is vacant. The 49ers should add additional bus fleets for bringing fans from these distributed set of parking lots to the stadium location. Building community awareness of such a traffic management program will help 49ers to repair the damage caused in the last three years to their fan relationships because of traffic and logistical headaches.
The 49ers have already built up a tech-savvy reputation with the creation of Levi's Stadium, which is one of the most modern and technologically advanced stadiums in all of professional sports. After partnering with engineers from companies like Google, Yahoo!, and Facebook, the team ensured high speed Wi-Fi accessibility throughout the stadium and created the popular Levi's Stadium app (enhances fan experience by offering mobile ticketing, in-venue maps, instant replays, and in-seat ordering and delivery of merchandise and concessions). Additionally, they created the "Toyota Fan Zone" video wall inside the stadium, which integrates social media with the team brand to promote engagement and increase customer loyalty. They want fans to feel part of the "49ers family" while in the stadium. As a next step, the 49ers' online social media platform should extend beyond the stadium experience. One of the keys to managing any brand is to control the discussion about the brand. Hence, the 49ers' online social media assets should engage with the fans in pre-game "virtual tailgates," post-game analysis, front office news discussions, "meet the Star" virtual conferences with players, and other techniques that keep fans engaged with and closer to the 49ers franchise. The 49ers mobile application should include social gaming features that reward fans with incentives for participation.
Perhaps, the most strategic element of the "Gold Rush Accelerator" is the community and youth engagement model. Several professional sports teams, such as The LA Dodgers and Green Bay Packers, have started community Accelerator programs that provide mentorship and resources to aspiring startups as well as access to local venture capitalists. It is proposed that 49ers should extend such an Accelerator program by engaging the local community. By working with the local venture capital funds, the 49ers can setup the "Gold Rush Accelerator" fund for supporting aspiring local startups with a specific focus on sports-tech. The startups can compete for investment funds by participating in 49ers sponsored "hackathons" that seek to prototype and develop solutions for sports-related opportunities. For instance, 49ers can pose a problem like "optimal usage of 49ers' projected $111.9M cap space in 2018 free agency" that startups can attempt to solve by utilizing big data algorithms. Besides providing avenues for such startups, 49ers should work with various high school youth programs to engage budding entrepreneurial students with internship opportunities with such startups. Additionally, the 49ers can organize youth entrepreneur programs and competitions where high school students learn about building sports-tech companies – product launch, capital raising, business planning, and go-to-market strategies. The winners should get additional incentives, such as team memorabilia, game tickets, interaction with players, and donations to their high school STEM (science, technology, engineering, and math) programs. Such actions can cause youth (the future paying fans) to deepen their association with the 49ers brand. It will create opportunities for startups to leverage the 49ers brand as well as become future sponsors and advertisers for the 49ers' commercial interests.
Since the ultimate objective of enhancing a brand is to monetize it, the team should engage a technology platform like Marketo for sharpening their targeted marketing programs. Marketo offers solutions such as lead management, email marketing, consumer marketing, customer base marketing, and mobile marketing to help organizations amplify and personalize their message to consumers while measuring customer engagement and understanding the needs and wants of customers. Currently, 49ers appear to be utilizing manual means of sifting through customer data in designing their marketing programs. With a platform like Marketo, the 49ers can create personalized and targeted marketing campaigns aimed at certain segments of fans. For example, with the Oakland Raiders relocating to Las Vegas by 2020, the 49ers, as the only NFL team in Northern California, should pursue disgruntled Raiders fans to switch allegiances. Similarly, the 49ers franchise can support economic development causes in depressed Oakland neighborhoods to attract these fans. According to Vince Ircandia, former Senior VP of Business Operations for the Portland Trail Blazers, the organization chose Marketo to "capture and integrate fan behavioral information, measure fan engagement, and amplify and personalize their message with Marketo's marketing automation technology." The Blazers saw a 30% growth in single game ticket sales, experienced a 96% season ticket renewal rate, and had a 45% open rate by customers on personalized and targeted marketing communications. Given the challenges that 49ers are having with attendance, leveraging a marketing platform like this can help course-correct this crisis.
Despite past successes, the 49ers are currently experiencing a gradual erosion of their brand value. An abysmal on-field performance over the last several seasons has primarily contributed to this brand erosion. However, there are several other factors, such as internal organizational turmoil, poor roster decisions, stadium traffic and logistics nightmares, declining economic confidence, and competition from other local pro-sports teams that are also having a significant impact. The net effects of this brand value erosion are declining fan attendance and participation, slowing growth or decline in revenue and valuation numbers, and a focus on past glories and successes instead of implementing a more forward-thinking vision. It is proposed that 49ers should embark upon an overarching program called the "Gold Rush Accelerator" that leverages technology for addressing core issues of on-field performance, roster enhancement, community engagement, and targeted marketing.
As legendary 49ers coach Bill Walsh once said, "Concentrate on what will produce results rather than on the results, the process rather than the prize." That is what will take the 49ers to the promised "Gold."
__________________________________________________________________________________________________________________________________________
"About Levi's® Stadium." Levi's Stadium, Levi's Stadium, www.levisstadium.com/about-levis-stadium/.
"All Aboard, Forever Faithful!" 49ers "Faithful Cruise", San Francisco 49ers, faithfulcruise.com/.
Badenhausen, Kurt. "The Dallas Cowboys Head The NFL's Most Valuable Teams At $4.8 Billion." Forbes, Forbes Magazine, 1 Nov. 2017, www.forbes.com/sites/kurtbadenhausen/2017/09/18/the-dallas-cowboys-head-the-nfls-most-valuable-teams-at-4-8-billion/#76eed13f243f.
Badenhausen, Kurt. "Warriors, Chase Bank Tie-Up Ranks Among Biggest Stadium Naming Rights Deals Ever." Forbes, Forbes Magazine, 28 Jan. 2016, www.forbes.com/sites/kurtbadenhausen/2016/01/28/warriors-chase-tie-up-joins-ranks-of-biggest-stadium-naming-rights-deals/#66ad0c8655c0.
"Bay Area Economic Confidence Slipping as Housing, Traffic Crises Take Serious Toll." The Registry, The Registry Bay Area Real Estate, 4 Apr. 2017, news.theregistrysf.com/bay-area-economic-confidence-slipping-housing-traffic-crises-take-serious-toll/.
"Bay Area Traffic Congestion." Metropolitan Transportation Commission, mtc.ca.gov/tags/traffic-congestion.
"Bay Area Traffic Congestion Hits Record For 4th Straight Year." CBS San Francisco, CBS SF Bay Area, 19 Sept. 2017, sanfrancisco.cbslocal.com/2017/09/19/bay-area-commute-traffic-is-getting-worse/.
"Brian Hoyer Stats." Pro-Football-Reference.com, www.pro-football-reference.com/players/H/HoyeBr00.htm.
Cabanatuan, Michael. "Thursday Night 49ers Game to Further Complicate Typical Traffic Gridlock." SFGate, 20 Sept. 2017, www.sfgate.com/bayarea/article/Thursday-night-49ers-game-to-further-complicate-12216488.php.
Carl Bialik. "NFL Teams Are Analyzing Everything From The Salary Cap To Fan Loyalty." FiveThirtyEight, FiveThirtyEight, 23 Dec. 2014, fivethirtyeight.com/features/nfl-teams-are-analyzing-everything-from-the-salary-cap-to-fan-loyalty/.
"Case Study - Portland Trail Blazers - Marketo." Marketo.com, 26 Jan. 2016, www.marketo.com/customers/portland-trail-blazers/.
"C.J. Beathard Stats." Pro-Football-Reference.com, www.pro-football-reference.com/players/B/BeatC.00.htm.
Disis, Jill, and Dylan Byers. "NFL Approves Raiders' Move to Las Vegas." CNNMoney, Cable News Network, 27 Mar. 2017, money.cnn.com/2017/03/27/news/nfl-raiders-las-vegas-move/index.html.
"15 Facts about Seats at San Francisco 49ers Levi's® Stadium." Levi's Stadium, Levi's Stadium, 20 Oct. 2014, www.levisstadium.com/2014/05/15-things-know-49ers-seats-levis-stadium/.
"49ers Reach Stadium Deal with Levi's (Associated Press)." ESPN, ESPN Internet Ventures, 8 May 2013, www.espn.com/nfl/story/_/id/9255090/san-francisco-49ers-reach-stadium-naming-rights-deal-levis.
"Golden State Warriors Franchise Value 2003-2017 | Statistic." Statista, Statista Internet Statistics, www.statista.com/statistics/194654/franchise-value-of-the-golden-state-warriors-of-the-nba-since-2006/
"Golden State Warriors Gate Receipts 2010-2016 | Statistic." Statista, Statista Internet Statistics, www.statista.com/statistics/381541/gate-receipts-of-the-golden-state-warriors-national-basketball-association/.
"Golden State Warriors on the Forbes NBA Team Valuations List." Forbes, Forbes Magazine, www.forbes.com/teams/golden-state-warriors/.
Gutierrez, Paul. "49ers To Reassign President Paraag Marathe." ESPN, ESPN Internet Ventures, 4 Dec. 2015, www.espn.com/nfl/story/_/id/14287507/san-francisco-49ers-demote-team-president-paraag-marathe.
Inman, Cam. "49ers GM to Raiders Fans: 'Come Jump on Our Train.'" Mercury News, Bay Area News Group, 27 Mar. 2017, www.mercurynews.com/2017/03/27/49ers-dynasty-emerged-last-time-raiders-fled/+.
"Jimmy Garoppolo Stats." Pro-Football-Reference.com, www.pro-football-reference.com/players/G/GaroJi00.htm#site_menu_link.
Lauletta, Tyler. "The NFL Is Getting Hammered after Another Game Was Played in a Half-Empty Stadium." Business Insider, Business Insider, 22 Sept. 2017, www.businessinsider.com/nfl-attendance-down-2017-9.
Levy, Ari. "The Close Ties between Silicon Valley and the NBA's Best Team." CNBC, CNBC, 13 Feb. 2017, www.cnbc.com/2017/02/11/golden-state-warriors-silicon-valley-tech-industry-enjoy-close-ties.html.
Maiocco, Matt. "Forbes: Levi's Stadium Lifts 49ers to No. 5 in NFL Franchise Value." NBCS Bay Area, NBC Universal, 14 Sept. 2016, www.nbcsports.com/bayarea/49ers/forbes-levis-stadium-lifts-49ers-no-5-nfl-franchise-value.
Manfred, Tony. "The 49ers Getting Rid Of Jim Harbaugh Had Nothing To Do With Football." Business Insider, Business Insider, 29 Dec. 2014, www.businessinsider.com/why-49ers-got-rid-of-jim-harbaugh-2014-12.
Mano, Daniel. "Report: 49ers Acquire Highly Coveted Quarterback, Drop Brian Hoyer." The Mercury News, The Mercury News, 31 Oct. 2017, www.mercurynews.com/2017/10/30/report-49ers-acquire-jimmy-garoppolo-from-patriots-for-draft-pick/.
Morrison, Todd. "49ers Scout for Better Football Players with SAP Analytics." SearchSAP, TechTarget Network, searchsap.techtarget.com/news/2240178808/49ers-scout-for-better-football-players-with-SAP-analytics.
"NFL Attendance Report." ESPN, ESPN Internet Ventures, www.espn.com/nfl/attendance.
"NFL Teams Revenue Ranking 2016 | Statistic." Statista, Statista Internet Statistics, www.statista.com/statistics/193553/revenue-of-national-football-league-teams-in-2010/.
"NFL 2018 Salary Cap Tracker." Spotrac.com, USA TODAY Sports Media Group, www.spotrac.com/nfl/cap/2018/.
"Oakland Raiders History." CBSSports.com, CBS Sports Digital, www.cbssports.com/nfl/teams/history/OAK/oakland-raiders.
Olenski, Steve. "Brand Value: What It Means (Finally) And How To Control It." Forbes, Forbes Magazine, 15 Sept. 2015, www.forbes.com/sites/steveolenski/2015/09/15/brand-value-what-it-means-finally-and-how-to-control-it/#5f5d484f13b2.
Perro, Justina. "How The 49ers Use The Power of Mobile To Connect With Fans." Localytics, Localytics , info.localytics.com/blog/how-the-49ers-use-the-power-of-mobile-to-connect-with-fans.
Puri, Deepak. "Levi's Stadium Uses IoT to Enhance 49ers' Fan Experience." Network World, Network World, 2 Dec. 2016, www.networkworld.com/article/3146162/internet-of-things/levis-stadium-uses-iot-to-enhance-49ers-fan-experience.html.
"Research Brief - Income Inequality in the San Francisco Bay Area." JointVenture.org, Silicon Valley Institute for Regional Studies, jointventure.org/images/stories/pdf/income-inequality-2015-06.pdf+.
Rosenberg, Mike. "49ers' Kick off Move to Santa Clara with Far-from-Traditional Groundbreaking." The Mercury News, The Mercury News, 13 Aug. 2016, www.mercurynews.com/2012/04/19/49ers-kick-off-move-to-santa-clara-with-far-from-traditional-groundbreaking-2/.
"San Francisco 49ers Average Ticket Price 2006-2016 | Statistic." Statista, Statista Internet Statistics, www.statista.com/statistics/201592/nfl-average-ticket-price-for-san-francisco-49ers-games/.
"San Francisco 49ers Franchise Value 2002-2017 | Statistic." Statista, Statista Internet Statistics, www.statista.com/statistics/194500/franchise-value-of-the-san-francisco-49ers-since-2006/.
"San Francisco 49ers (NFL) Ticket Sales/Gate Receipts 2010-2016 | Statistic." Statista, Statista Internet Statistics, www.statista.com/statistics/320620/nfl-san-francisco-49ers-revenue-from-ticket-sales/.
"San Francisco 49ers on the Forbes NFL Team Valuations List." Forbes, Forbes Magazine, www.forbes.com/teams/san-francisco-49ers/.
"San Francisco 49ers: Paraag Marathe." 49ers.Com, National Football League, www.49ers.com/team/staff/paraag-marathe/003aa543-ba13-4dea-a5f1-f18113cd9245.
"San Francisco 49ers Stats." CBSSports.com, CBS Sports Digital, www.cbssports.com/nfl/teams/stats/SF/san-francisco-49ers.
"San Francisco 49ers Team Encyclopedia." Pro-Football-Reference.com, www.pro-football-reference.com/teams/sfo/index.htm.
Schefter, Adam. "Niners Have Options at QB with Jimmy Garoppolo in Fold." ESPN, ESPN Internet Ventures, 5 Nov. 2017, www.espn.com/nfl/story/_/id/21296578/san-francisco-49ers-not-sign-qb-jimmy-garoppolo-long-term-deal.
Scheinin, Richard. "Faced with Sky-High Prices, Homebuyers Look to Leave Bay Area." The Mercury News, The Mercury News, 28 Apr. 2017, www.mercurynews.com/2017/04/24/sjm-homeexit-0425/.
"Sports Money: 2017 NFL Valuations." Forbes, Forbes Magazine, www.forbes.com/nfl-valuations/list/2017.
"Statistics." National Football League Stats - by Player Category | NFL.com, www.nfl.com/stats/categorystats?statisticCategory=PASSING.
"The Great Analytics Rankings." ESPN, ESPN Internet Ventures, www.espn.com/espn/feature/story/_/id/12331388/the-great-analytics-rankings#nfl-sfo.
Wagoner, Nick. "49ers Check in at No. 4 on Forbes' Annual Franchise Value List." ESPN, ESPN Internet Ventures, 15 Sept. 2016, www.espn.com/blog/san-francisco-49ers/post/_/id/19518/49ers-check-in-at-no-4-on-forbes-annual-franchise-value-list.
Young, Eric. "San Francisco 49ers Sign SAP as Newest Stadium Sponsor." BizJournals.com, San Francisco Business Times, 24 Sept. 2012, www.bizjournals.com/sanfrancisco/news/2012/09/24/san-francisco-49ers-sign-sap-as-newest.html.