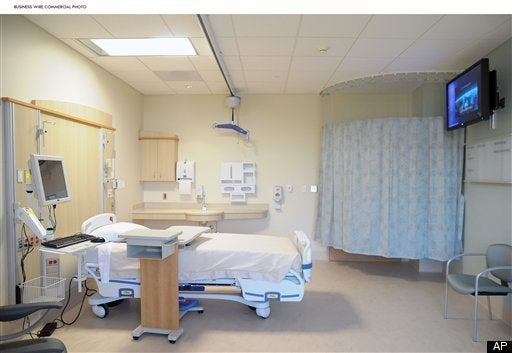 While Planned Parenthood and the Catholic church don't agree on much when it comes to a woman's right to choose, a new program at a Chicago hospital has support from both parties.
Resurrection Medical Center, which is part of Chicago's largest Catholic health care system, has teamed up with anti-abortion groups to help women stop second-trimester abortions that have already been started.
Sister Donna Marie Wolowicki, Resurrection's chief executive officer, explained to HuffPost Chicago that stopping the abortion is possible due to the nature of second-trimester abortions. Abortions that occur during a woman's second-trimester take two or three days to complete, and begin with the insertion of a laminaria, which softens a woman's cervix. A woman then has to return a second day (or third) for the fetus to be completely removed.
Only two clinics provide second-trimester abortions in Illinois--and only one in Chicago. Wolowicki said Resurrection didn't realize the need for a program that halted a second-trimester abortion, until a patient came in asking for one.
"This summer, a pro-life organization that is not too far from the hospital was talking to a woman who had just left a clinic," Wolowicki said. "[The woman] wanted the laminaria removed. This is the first time [the group] had experienced that. They called the hospital."
"If that is what the woman wants, that is what we are here for," she said. "We are here to help."
Wolowicki said the hospital, which does not perform abortions due to its Catholic beliefs, wanted to have a process in place to assure that women were not being pressured into having their abortions reversed. They make sure any women wanting to undo an abortion is fully informed and receives counseling from trained hospital staff.
"Our medical staff agrees with [Resurrection's] protocols," Pam Sutherland, Vice President of Public Policy at Planned Parenthood Illinois, told HuffPost Chicago, adding that the hospital's staff councils the women to assure that the decision is theirs--and not an anti-abortion activist's.
The activists in question are members of the Pro-Life Action League and The Women's Center, who stand outside of a Chicago clinic that offers second-trimester abortions. The Chicago Tribune interviewed a woman who admitted that a "pushy" activist told her she could have her abortion reversed, but said the decision was ultimately her own and she was happy with it.
Wolowicki stressed that the hospital's connection to the pro-life groups is "a collaboration, not a partnership" and that the hospital ultimately respects whatever decision a woman makes.
Sutherland said Planned Parenthood does not condone women being harassed outside of clinics, but said the hospital is providing "the best medical care possible" to these women.
The vast majority of abortions in the U.S. (roughly 89 percent) are performed within the first trimester, according to the Guttmacher Institute. Only 12 percent of American women seek out second-trimester abortions. Those women are more likely to be disadvantaged, young and below the poverty level.
Halting an abortion by removing laminaria does not guarantee that the mother will have a healthy child. The Tribune cites a New York University study showing that in two of four cases where the abortion was interrupted, the infant was born premature and did not survive. Other doctors and abortion providers say that undoing a second-trimester abortion is a gamble.
Wolowicki said the hospital has only performed a few laminaria removals, and has not been contacted further by patients regarding their progress. At least one of the three women treated so far has had a healthy child, according to the Tribune.
Resurrection offers a prenatal program and clinic called "New Beginnings" for women without insurance or dealing with financial hardships. Wolowicki said the pro-life groups help out-of-state women who had their abortions halted find affordable medical care as well.
The hospital's staff ultimately said the program was about a woman's choice, and Planned Parenthood agreed. With vicious battles over abortion rights happening in Congress, this rare program seems to be something both sides can agree on.
Calling all HuffPost superfans!
Sign up for membership to become a founding member and help shape HuffPost's next chapter