During 2013's government shutdown, a great deal of attention was focused on the closure of national parks, popular visitor attractions, and federally-run museums. Although the media tends to focus on highly visible public monuments, my mind went to places like the Library of Congress, the Smithsonian Institution, and one of its most undersung attractions: the National Museum of American History.
Opened in 1964, this facility was originally known as the Museum of History and Technology. However, over the course of a half century, it has evolved into a museum of American culture. While the building contains such familiar items as Julia Child's kitchen, the ruby slippers worn by Judy Garland during the filming of 1939's The Wizard of Oz, one of the cars from the original Dumbo the Flying Elephant Ride, and Archie Bunker's chair, it is essentially a massive collection of cultural artifacts.
Numerous small collections of memorabilia dedicated to the preservation of theatrical history are scattered throughout the nation. Although Lincoln Center is the official home of the New York Public Library for the Performing Arts (which houses a treasure trove of archival materials), its preserved performances appear on videotape and in digitized recordings.
How does one keep a literature of musical theatre alive and relevant? One could look to the world's great opera companies, which have often taken on the responsibility of keeping the basic repertoire alive while creating new works and resurrecting long-neglected operas from the public's view. Or one could look to nonprofit arts organizations like the New York City Center's popular Encores! Great American Musicals in Concert program and San Francisco's 42nd Street Moon, which offer semi-staged productions of a half dozen old musicals every year.
In 2003, theatre historian and documentary filmmaker Rick McKay released Broadway: The Golden Age, by the Legends Who Were There, the first part of a trilogy whose other titles are Broadway: Beyond The Golden Age and Broadway: The Next Generation.
Back in the days when America's regional opera scene was thriving, I dreamed of a very different kind of entity: A Museum of the American Musical Theatre which would be devoted to the following:
Building an archive of photos, posters, playbills, interviews, oral histories, and other materials documenting the history of the American musical theatre.
Helping to facilitate costume and set rentals to regional theatre companies that desired to present musical productions.
Following in OPERA America's footsteps as a facilitator for co-productions of major revivals and/or new commissions whose costs could be shared by a string of theatres (similar to the National New Play Network's Continued Life of New Plays Fund).
The main focus of my dream, however, was so financially prohibitive that it could only rest in my imagination. Just as great opera companies are capable of producing at least a dozen different operas over the course of one season, I dreamed of a living museum dedicated to staging works from the American Musical Theatre.
This museum would have a musical, dramaturgical, and fundraising staff whose goal was to produce 10 shows a year.
As a resident theatre company, it would employ a core group of musicians on yearly union contracts.
The company could have an education department which would help strengthen the basic curriculum for students who wanted to earn a degree with a specialty in musical theatre.
The company would debut new productions that could eventually tour or play limited engagements in regional cities.
Some of its productions might be digitally preserved, telecast over PBS, or shown in movie theatres (like the Metropolitan Opera's live-streaming broadcasts).
Most important, this company would be able to build a loyal and very much alive subscription audience.
It was only a dream, but what a dream! By a curious set of circumstances, in 2013 I attended the San Francisco opening night performances of two revivals of ill-fated Broadway musicals.
Each had had a troubled original run.
Each was preserved on video.
After extensive revisions, each seems to have found its niche and garnered raves from critics and cheers from new audiences.
Will wonders never cease!
I was lucky enough to see the original 1966 production of It's A Bird...It's A Plane...It's Superman not once, but twice. There were lots of reasons people looked forward to this musical.
Any show about Superman was bound to have a loyal following of people who had grown up reading DC Comics about Superboy and Superman.
As both an action hero and a brand, Superman was invincible.
As a director Harold Prince had impressed audiences with 1963's She Loves Me, 1964's Fiddler on the Roof, and 1965's Baker Street. As a producer, he had helped bring 1954's The Pajama Game, 1955's Damn Yankees, 1957's New Girl in Town and West Side Story, 1959's Fiorello!, 1960's Tenderloin, and 1962's A Funny Thing Happened on the Way to the Forum to Broadway.
The songwriting team of Charles Strouse and Lee Adams had already written the scores for 1960's Bye Bye Birdie, 1962's All American, and 1964's adaptation of Golden Boy.
Robert Randolph's set designs for Bye Bye Birdie, 1961's How To Succeed in Business Without Really Trying, and 1964's Funny Girl had impressed Broadway audiences.
The cast included Broadway's beloved Jack Cassidy and a hot new talent named Linda Lavin (who had scored strongly with audiences in the original cast of The Mad Show).
Even though an unknown (Bob Holiday) had been cast as the Man of Steel, after having watched Mary Martin fly across the Winter Garden's stage as Peter Pan, audiences were keen to see a man -- make that a Superman -- show what he could do in a pair of tights and a red cape with the help of some piano wire.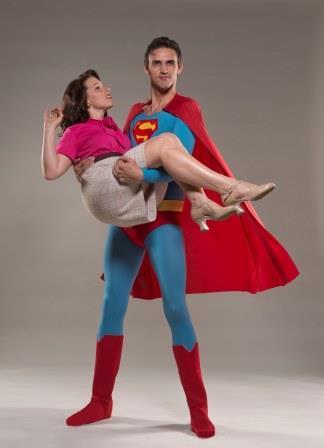 Superman (Lucas Coleman) holds Lois Lane (Jen Brooks) in his arms
in It's A Bird...It's A Plane...It's Superman (Photo by: David Allen)
Alas, It's A Bird...It's A Plane...It's Superman only ran for 129 performances at the Alvin Theatre. In 1975, a condensed version was made for television (you can watch it in its entirety in the following clip).
In 2010, the Dallas Theater Center presented a revised version of the show starring Matt Cavenaugh doubling as Clark Kent and Superman. In October 2013, Dyan McBride directed a rollicking new production of the show for San Francisco's 42nd Street Moon.
By adding a woman's touch to a traditionally testosterone-driven action hero story, the ever-inventive McBride created a whole new source of laughs for the show. In the original Broadway production, the villain was a mad scientist played by Michael O'Sullivan in a style that became more creepy than comical. His henchmen were a group of Chinese martial artists (the Flying Lings) who were led by the evil Father Ling. But back in the 1960s, the women's movement was just starting to gain momentum and Chinese men with Fu Manchu moustaches were seen as the most sinister and exotic kind of villains.
Fast forward 45 years and Abner Sedgwick has been transformed into Agnes Sedgwick (who is convinced that one of the reasons she's never gotten the Nobel Prize is because she's a woman). Imagine Darlene Popovic in a Phyllis Diller fright wig channeling a demented version of Elaine Stritch and you've got one very mad scientist!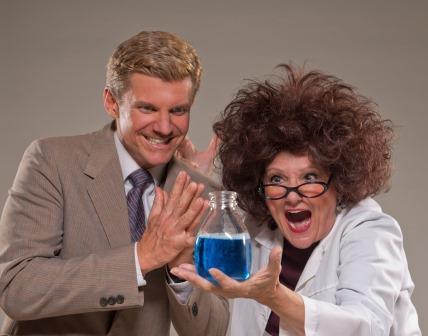 Publisher Max Mencken (Brent Schindele) and Dr. Agnes Sedgwick
(Darlene Popovic) conspire to destroy Superman in
It's A Bird...It's A Plane...It's Superman (Photo by: David Allen)
Change Father Ling and the Flying Lings to Mama Grimaldi and a group of Italian acrobats called The Amazing Grimaldis and the only critical line that gets ditched is Lois Lane's "Help, I'm being held prisoner in a Chinese fortune cookie factory!" Plus, Mama Grimaldi starts to look like a very desperate housewife.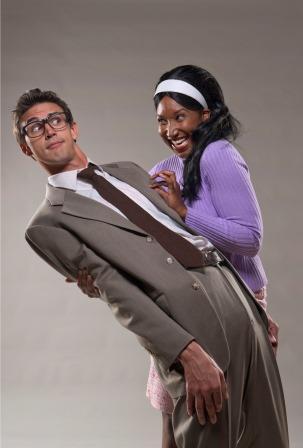 Clark Kent (Lucas Coleman) is a tempting target for his co-worker,
Sydney (Safiya Fredericks), in It's A Bird...It's A Plane...It's Superman
(Photo by: David Allen)
The biggest coup, however, was casting Lucas Coleman as Clark Kent and concentrating on Clark's awkwardness rather than Superman's muscularity. Coleman is a phenomenal physical comedian, taking pratfalls and using his tall body's lean elasticity with the kind of grace one associates with great clowns like Stan Laurel and Dick Van Dyke. Whether rushing to a telephone booth or leaping into the wings, he brought a great sense of comic book panache to the proceedings.
Even with reduced orchestrations, Strouse's score still charms, especially with such numbers as "The Woman For the Man," "You've Got Possibilities," "The Strongest Man in he World," and "You've Got What I Need." Staci Arriaga's choreography, Alvin Shiu's set design, and Felicia Lilienthal's mod costumes added to the fun. I especially liked Brent Schindele as the Daily Planet's greedy publisher, Max Mencken; Safiya Fredericks as his secretary, Sydney; and Jen Brooks as Lois Lane.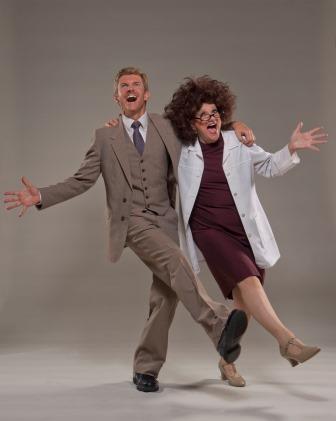 Publisher Max Mencken (Brent Schindele) and Dr. Agnes Sedgwick
(Darlene Popovic) conspire to destroy Superman in
It's A Bird...It's A Plane...It's Superman (Photo by: David Allen)
While It's A Bird...It's A Plane...It's Superman may have only chalked up 129 performances on Broadway, it did a whole lot better than Carrie, the legendary disaster that instantly became known as one of Broadway's most expensive flops. Based on Stephen King's 1974 novel about a teenage girl who is brutally bullied at school (but discovers how to use her telekinetic powers for revenge), the show's pre-Broadway tryout opened on February 13, 1988 for a four-week run at the Royal Shakespeare Company in Stratford-Upon-Avon.
With choreography by Debbie Allen -- and Barbara Cook singing the role of Carrie's hyperreligious mother -- the production had major technical problems (a near-fatal incident with a piece of stage machinery on opening night caused Cook to withdraw from the project following the Stratford run). Although the number of people who actually saw Carrie on Broadway (where Barbara Cook was replaced by Betty Buckley) is quite small, archival footage from the Royal Shakespeare Company now allows YouTube viewers to watch the original Stratford production and hear the effect of Cook's voice on the role of Margaret White.
Alas, Carrie did not fare well on Broadway, where it opened at the Virginia Theatre on May 12, 1988 and quickly closed after a total of 16 previews, five performances, and a loss of nearly $8 million. The show's legend, however, like Stephen King's Christine, simply would not die.
Following revisions by its original composers (Michael Gore and Dean Pitchford), and extensive script revisions by Lawrence D. Cohen, seven songs were replaced and the revised Carrie was successfully produced off-Broadway by the MCC Theatre with a cast headed by Molly Ranson as Carrie and Marin Mazzie as her demented mother. In September 2012, Ghostlight Records released the first cast recording of Carrie.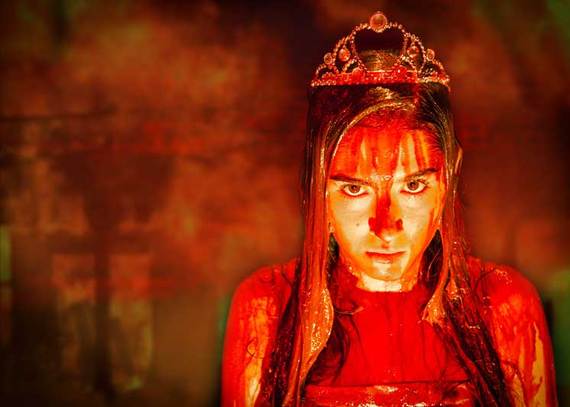 A cruel prank played on Carrie (Cristina Ann Oeschger) sets
a tragic pattern of events into motion (Photo by: Erik Scanlon)
Late in 2013, San Francisco's Ray of Light Theatre debuted a stunning production of Carrie at the Victoria Theatre which received the kind of screaming opening night reception from an ecstatic and electrified audience that actors and producers can only dream about. Directed by Jason Hoover and choreographed by Amanda Folena, the production made brilliant use of Kelly James Tighe's unit set and Joe D'Emilio's crafty lighting (with projections designed by Erik Scanlon).
As with most productions by this tiny nonprofit arts organization, the exceptional musical preparation by Ben Prince was on a par with any major arts organization. The astonishing sound design by Anton Hedman put the frequent distortion one hears at touring productions booked into the Orpheum Theatre to shame.
Ray of Light Theatre has found a major talent in Cristina Ann Oeschger, whose energetic performance as Carrie bubbles over with seething resentment, naive hope, a willful determination to chart her own course in life, and literally "carries" the show. Heather Orth (who did an exceptional job as Mama Rose in Broadway By the Bay's 2011 production of Gypsy) delivers a solidly-crafted, emotionally complex, and beautifully sung portrayal of Carrie's delusional mother (who was raped after her high school prom and subsequently turned to Jesus).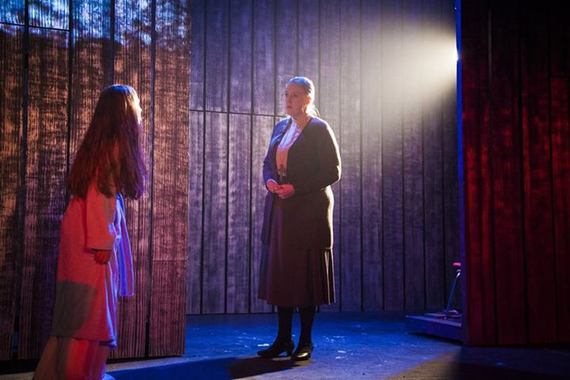 Carrie (Cristina Ann Oeschger) confronts her mother (Heather Orth)
in a scene from Carrie (Photo by: Erik Scanlon)
The supporting cast didn't have a weak link in it. Nikita Burshteyn demonstrated strong physical and vocal appeal as Tommy Ross (the football stud with a secret passion for poetry). Courtney Merrell was sincere without being cloying as the concerned girlfriend who convinces Tommy to take Carrie to the prom. Jessica Coker scored points as the girls' gym teacher who attempts to take Carrie under her wing while Riley Krull did an outstanding job as the conniving Chris Hargensen.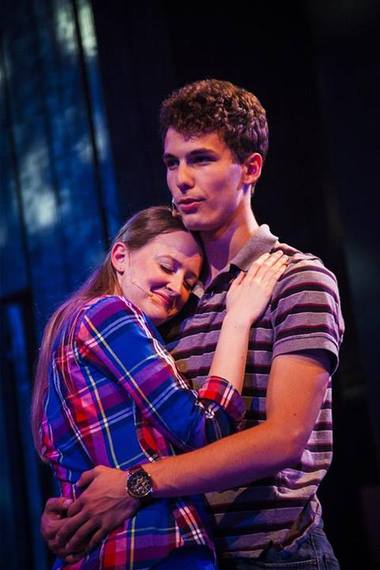 Tommy Ross (Nikita Burshteyn) comforts his girlfriend, Sue Snell
(Courtney Merrell) in a scene from Carrie (Photo by: Erik Scanlon)
It's an extremely rare pleasure to experience a show that was originally pronounced dead on arrival, but has been lovingly exhumed and reworked by its creators. Thanks to Ray of Light Theatre's outstanding production, there can be no question that the revised Carrie is a tautly-constructed, fast-moving musical that quickly catches the audience in its dramatic grip and never lets go.
This new version of Carrie should enjoy a long life in regional and community theatres (as well as becoming a favorite choice for high school performing arts programs). With an energetic young cast, some cool technical surprises, and an amazing sense of dramatic momentum, it makes a show like Legally Blonde seem almost pathetic.
REAL LIFE. REAL NEWS. REAL VOICES.
Help us tell more of the stories that matter from voices that too often remain unheard.