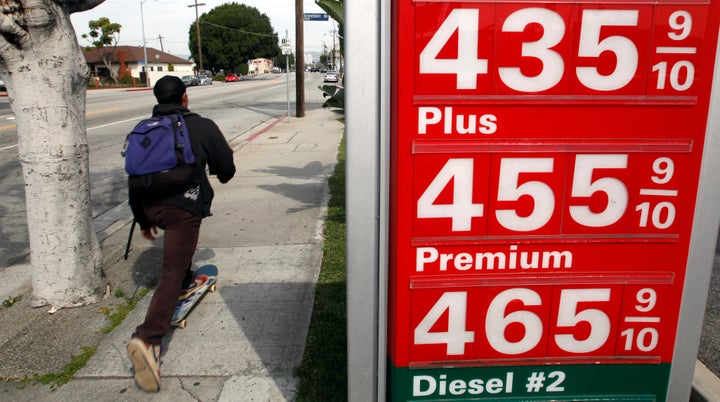 Higher gas prices buoyed a 0.4 percent jump in retail sales in March, according to figures released by the Commerce Department on Wednesday.
Consumer spending, which makes up 70 percent of the U.S. economy, is up over 7 percent since last March and has risen for nine consecutive months. But, sales at gas stations accounted for almost 11 percent of overall retail sales in March.
In line with rising gas prices, sales at service stations increased by 2.6 percent in March after rising 2.4 percent in February. Excluding gas sales, retail sales were only up 0.1 percent in March, while in February, retail sales excluding gas were up 0.9 percent, Reuters reported, suggesting higher gas prices are forcing Americans to make tough spending choices elsewhere.
Even though most of the gains were tied to gas expenses, economists said the numbers were an encouraging sign for the wider economy.
"We saw broad based gains in building materials, clothing, sporting goods, even restaurants, which is interesting," said Jennifer Lee, senior economist at BMO Capital Markets. "These are things you wouldn't be buying if you were in dire straights." Spending in clothing stores rose by 0.6 percent, and sales at stores that sell sports equipment, books and music were up 0.1 percent. Sales at merchants which sold building and gardening materials were up 2.2 percent.
Lee said the increase in spending reflected modest drops in unemployment. "It's a better job environment, certainly not a strong job environment," said Lee, adding that she was interested in finding out how much of the increase in sales figures could be attributed to rising prices.
With unrest in the Middle East and North Africa, oil prices reached a level not seen since 2008, when a summer of record-high prices helped drag the economy further into recession. As a result, gas prices are approaching $4 a gallon around the country, and signs suggest Americans are cutting back on driving -- sales dropped 3 percent at most of the nation's major gas-station chains, according to a March survey by the Oil Price Information Service.