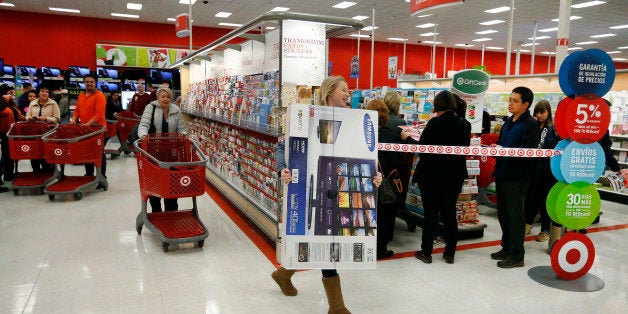 Retailers are banning the Confederate flag.
Last week's massacre in Charleston, South Carolina, which left nine black church members dead and a white supremacist gunman charged, kicked off a movement to remove the flag from the grounds of the state capitol.
This week, protests spilled into the private sector, as a growing number of major online and brick-and-mortar retailers vowed to pull the rebel flag from their shelves.
Here are some of the companies that have banned the flag:
1. Walmart
The nation's largest retailer decided to discontinue sales of Confederate merchandise in the aftermath of last week's shooting. Walmart spokesman Brian Nick
:
"We never want to offend anyone with the products that we offer. We have taken steps to remove all items promoting the confederate flag from our assortment -- whether in our stores or on our web site. We have a process in place to help lead us to the right decisions when it comes to the merchandise we sell. Still, at times, items make their way into our assortment improperly -- this is one of those instances."

2. eBay
EBay announced Tuesday it will ban Confederate flags and related items containing the flag's image from its website. A spokesperson for the online auction site said:
"We have decided to prohibit Confederate flags, and many items containing this image, because we believe it has become a contemporary symbol of divisiveness and racism."
3. Sears
Sears, which owns and operates Sears and Kmart retail stores, does not sell Confederate flags in its stores. However, it announced that it will no longer allow the sale of Confederate merchandise by third-party venders on its website,
. Sears spokesman Chris Brathwaite told Reuters:
"We are in the process of scrubbing our marketplace to pull those items down."

4. Target
Target pulled one Confederate soldier costume from its website
questioned a spokesperson about it. In a statement to HuffPost, spokeswoman Molly Snyder said:
"Our intention is never to offend. We all recognize the great sensitivity around this and have removed that one item from our website. But ... that was the only item."

5. Etsy
The online marketplace Etsy, known for homemade crafts, said it planned to remove all Confederate flag items from its site. In a statement to HuffPost, Etsy said:
"Today, we are removing confederate flag items from our marketplace. Etsy's policies prohibit items or listings that promote, support or glorify hatred and these items fall squarely into that category. With each new application of our policies, we strive to strike the right balance between creative freedom, Etsy's values, and establishing a safe and respectful marketplace for members. The challenge of defining and eliminating offensive items raises deep and complex issues -- both philosophical and pragmatic -- which we at Etsy wrestle with regularly. We strive to think about our site holistically and determine what is best for the entire community."
6. Amazon
The e-commerce giant said Tuesday that it plans to remove all flags and related merchandise, according to
and
.
Alexander C. Kaufman contributed reporting.
This page contains materials from The Huffington Post and/or other third party writers. PricewaterhouseCoopers LLP ("PwC") has not selected or reviewed such third party content and it does not necessarily reflect the views of PwC. PwC does not endorse and is not affiliated with any such third party. The materials are provided for general information purposes only, should not be used as a substitute for consultation with professional advisors, and PwC shall have no liability or responsibility in connection therewith.