If you're a retailer and you target Millennials, it's time to take note. This new Facebook feature could be a game changer.
Facebook recently announced it will roll out several updates, including one that is particularly relevant to those who sell online: It will allow eCommerce retailers to embed Facebook Messenger into the shopping process.
For those unfamiliar, Facebook Messenger is the instant messaging part of Facebook, allowing people on the platform to DM (direct message) each other. On mobile, it's also a separate app from Facebook, making it useful as a method of communication.
Retailers will be able use Messenger in a variety of ways, including addressing questions during the actual shopping experience, sending order details after the sale is complete, and sending push notifications. Two savvy e-tailers are already piloting the integration -- Zulily and Everlane.
Why is this so awesome when it comes to communicating with Millennials? Let me count the ways:
For Millennials, FB Messenger is the perfect way of interacting with a certain demographic. We often use it to get to people we want to talk to, but who we don't necessarily want to give our phone number to. It's like texting but with a layer of anonymity.
This also makes it ideal for interacting with brands. I can get a question answered in a way similar to texting a friend, but if I don't want to look at it, I can just leave it there. It's also nice because Messenger is somewhere I already live; it's not another app or another channel. I'm in and out of it already, so it's a thread where I already am.
A study by Forrester found that "44% of online consumers say that having questions answered by a live person while in the middle of an online purchase is one of the most important features a Web site can offer."
Read that again: 44%. Almost half of all shoppers say it's the most important feature a website can offer. And it makes sense: When I'm shopping online, one of the most important things to me is to have someone available to answer my question right when I have it. If I'm looking at a leather jacket, I want to know right then whether it runs small. Plus, if you don't catch me I'm likely to get distracted (or just go to Amazon). Never underestimate the power of urgency.
The truth is, it would be a novelty chatting with a brand rep in FB Messenger, or getting order details there. It could also be nice to have everything related to that brand all in the same thread -- I could scroll instead of searching through my inbox.
There's also a lot of potential for creativity on the part of brands, since Messenger can be integrated with the brand's own mobile app (if they have one). As Lisa Bustos of Get Elastic says, "Brands and merchants that already enjoy peer-to-peer content sharing will have the most success. For example, a bridal shop app with a "style my wedding" feature that shares a user-generated "look" with a group of bridesmaids through Messenger makes sense."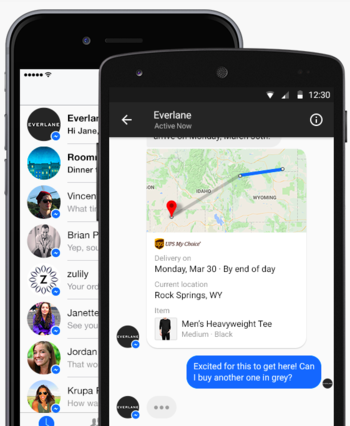 The bottom line is that this is good for shoppers and brands alike. A study by eDigital Research showed that live chat was by far the preferred customer service channel, beating out email, phone, and social media (yes, even social media). People want it.
And it's good for brands because it increases sales. Research repeatedly demonstrates that having live chat boosts conversions -- a Forrester study cited Wells Fargo as reporting a double-digit increase in converted shoppers after instituting live chat.
So as both a Millennial and a brand advocate, I can say that I Like it. I Like it a lot.
Calling all HuffPost superfans!
Sign up for membership to become a founding member and help shape HuffPost's next chapter